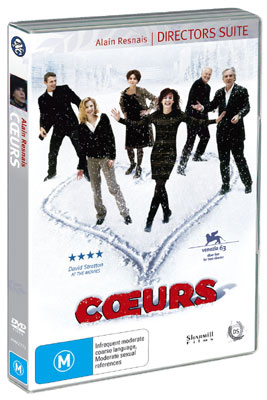 Director: Alain Resnais

Inspired by British playwright Alan Ayckbourn's Private fears in Public Places, Alain Resnais critically-acclaimed masterpieceCoeurs follows the intricate web weaved between 6 people searching for love during a snowy winter in Paris. The multi-award winning veteran of the French New Wave teams up with the finest actors France has to offer in this cinematic snapshot of modern relationships in all their romantic, frustrating, heartbreaking and joyful glory.

Real estate agent Thierry is looking for a flat for his difficult clients, Nicole and Dan; saintly Charlotte works at the office with Thierry, who fancies her; Nicole finally dumps the alcoholic Dan, so Dan drinks alone at Lionel's bar while Charlotte nurses Lionel's unbearable invalid father; Dan meets Gaëlle on a blind date at Lionel's bar, and Nicole always knows where to find her ex; Gaëlle lives with her brother Thierry, who is lent videos by Charlotte of her favourite religious TV show, Songs that Changed my Life. And boy is Thierry in for a surprise!