Total Face Group gets a facelift with acquisition of beauty brands company The Giving Brands Company
Total Face Group Limited (ASX: TFG), an ASX-listed medical clinic, skincare, cosmetics, and wellness company in Australia completes a $7 million placement to acquire 100% of The Giving Brands Company Pty Ltd (GBCo).

Founded in July 2014 and listed on the ASX in January 2016, TFG's ten clinics provide cosmetic treatments across three core treatment types - cosmetic injectables, skin rejuvenation and body fat reduction.

Acquiring The Giving Brands Co is set to transform the look and feel of TFG and its clinics by not only bringing in an expert management team with a rejuvenated strategy, but with the addition of the well-known and respected self-tanning brand Jbronze, along with bespoke brand INfinite a professional Cosmeceutical skincare range.

Christine Parkes, Founder and CEO of GBCo steps into the role of Managing Director and CEO of TFG to lead the re-shaping of the TFG clinic network and GBCo integration. The clinics are designed to provide a head-to-toe spa service with a complete book of services that will encompass tanning, body shaping, remedial therapies and injectable treatments.

The addition of the GBCo is set to send TFG's growth through the roof as the company's new services capitalise on $7.4billion cosmetics and toiletry wholesaling industry in Australia, which has projected annual growth of 2.2% from 2018-2023[1].

Demand for the Health and Wellness Spa industry's services has increased due to a rising focus on health and appearance. Spas have become popular with a wider client base, including men, corporate users, couples and families. The industry in Australia is currently valued at $438.2 million, with anticipated revenue growth of 3.5% from 2018-2023[2]. Considering this, the combination of the two businesses sets TFG up for a strong business growth trajectory in the coming years.

Most famously, GBCo owns Jbronze the celebrity founded self- tanning product range and the first port of call will be to fully integrate this brand across the group. The clinics are primed for a facelift and are soon to begin offering spray tans using the professional tanning range.

Further proprietary brands will be rolled out into clinics to capture new clientele and support the clinical service offering. As the product offering develops, using its clinic network to soft launch new brands will enhance consumer and retailer uptake, resulting in significant increases in margins on retail products.

GBCo also has access to a hefty number of potential consumers via its relationships with Chemist Warehouse, Priceline, Terrywhite-Chemmart and Independent Pharmacy groups. These channels create a wealth of brand exposure and selling opportunity for the company to increase build the brands' exposure and open additional doors for sales.

GBCo partners with well-known brand names to develop licensed proprietary branded products. The company recently signed agreements with publisher, Lagardere Paris for the branding rights of ELLE fashion magazine, one of the top selling fashion magazines in the world. In September, the company signed a further two licensing agreements with Bauer Media, which owns Country Style Magazine and Australian Women's Weekly. Together they will create natural, premium and competitively priced lifestyle, bath and body ranges.

Christine commented: "We are thrilled to bring our new partnerships into the group at this exciting time to complement our other product ranges including Jbronze, INfinite and NailKALM. With the vertical integration of ELLE and TFG, we are thrilled to be launching the ELLE Colour Cosmetic range in 2019, with an additional ELLE Kids range well into design and development.

Additionally, we are working with expert teams at Bauer Media on Country Style the lifestyle brand and Australian Women's Weekly's ERA Home Spa/ Laundry range both in development. The premium yet affordable ranges of natural products will enable us to leverage our existing industry relationships and build traction across all retail markets".


Interview with Christine Parkes, Newly appointed Managing Director and CEO of Total Face Group
Question: Congratulations on being newly appointed the Managing Director and CEO of Total Face Group? What does this new title, mean to you?

Christine Parkes: Thank you! It is an interesting experience as the industry is quite male-dominated which is fascinating as our consumers are women. I think there is something lovely about being able to bring together a vertically integrated business, in this space, where we can combine wellness, health and beauty all together, it's a lovely marriage. I am excited at the prospect of opportunity and growth within the industry, for us, as we are working with remarkable partners. The opportunity for us to work with ELLE magazine is profound; for years ELLE has told us how to dress, what to think and what to eat – this guidance comes from great, ambassadorial women.

It is fun but I know it will also be a lot of work. Building businesses with purpose is my drive; we all get to a point in our lives, careers and relationships where we decide we want to do something that is very meaningful. The space of beauty is consistently driven by what is on trend or what someone says to you or how they perceive you and what looks good in your bathroom. In our daily life you can't get away from beauty; beauty is in magazines, on digital marketing and social media. Communication platforms drive the beauty industry. We are responsive to the industry and people which is exciting as we can have some influence in a positive, meaningful and purposeful way in a space that is fashion-conscious. Beauty crosses over into numerous spaces where we get to follow and lead.

It's a lovely journey and I am fortunate to have been in the industry for a while now both from a back-end sense working with innovative beautiful brands which are still thriving in the market and now, to partner with other wonderful brands to bring beautiful merchandise.


Question: Can you tell us about your role?

Christine Parkes: For me, my role is to be strategic in the way we work, meaningful in everything that we do and build great culture. Nothing I have ever done has happened because of just me, it's always about us as a group, the people I work with – they are paramount. You can have dreams but if you can't action the dream, it is just a dream.


Question: What's a typical day like for you as the Managing Director and CEO of such a large company?

Christine Parkes: A typical day for me is like every other woman who strives desperately for balance and more often than not, doesn't achieve it. I have two teenage kids and my role is to get them off to school and support them in their year 10 and 11 studies. I get up, quickly, and tell everyone to have their beds made and those types of things (laughs).

My day is long, I don't mind it as it doesn't feel like 'work' and that's a great gift; I get into the office and say g'day to everyone and we get onto planning our week ahead and as a consequence of these recent changes, planning our year. I have a predominately female team and we work very collectively. I also work closely with the Operational Managers both in the clinics and with new brand and product development. I have my finger in a lot of parts of the pie and that's going to continue for a while whilst we integrate the businesses. As a group we are creative and able to multi-task; I answer questions around design and development, manufacturing, clinical applications and pricing which is all behavioural flexibility.

I meditate before I come to work, every day, meditation is very important for me. I have a strong belief system which is focused around maintaining my values in the choices made in the workplace including making sure everyone is treated respectfully and being positive. Part of our day is to make sure everyone is on the same page, on the same bus heading in the same direction. Drilling down is an interesting concept in the workplace, the broad brushstroke of what is a business's vision can only be achieved by making sure the foundations are strong: the business practices, protocol, system and support is strong.


Question: What have you currently learnt since being appointed the Managing Director and CEO of Total Face Group?

Christine Parkes: I am learning the art of delegation and I think this a skill I will be forever learning, as will anyone who steps into a senior role. I ensure that I work with people that are equipped with the skills and backing to make really good decisions in what they do and be accountable and empowered to deliver.

A lot of what I am doing is people-management and for that culture is everything. It is a big change for this company and the other, we are bringing two big changes together and to do this we are making sure we all share in the same values. When you are purposeful, profit always follows; we are all coming at this change from the right place.


Question: What advice do you have for other women who want to achieve their business goals?

Christine Parkes: There is a very big difference between making decisions from a business-practice of fear and making the decisions from certainty. If I didn't believe in me and I didn't know what my truth and values were then it would mean I was working at juxtaposition from what those are on a daily basis and that doesn't bring joy or personal success. We each have a reason for being in our business – a reason to turn up to work, every day; turning up is about being present in the moment but also having a clear vision of what the future might look like. If you can visualise your future and know you can make it happen because you believe in yourself and the people around you to make it happen, then absolutely you can make it happen, it's about staying focused.


Question: What do you do to remind yourself of these visions?

Christine Parkes: I make jokes of being a ten-year overnight success (laughs); there has been a lot of work that came before this moment. As mentioned, I meditate and practice gratitude before I go to sleep at night and every morning.


Question: What has been a highlight from this recent acquisition?

Christine Parkes: Sitting down with ELLE Magazine on the top floor of a beautiful Paris office; I was kicking myself that I was sitting there with Head of this particular organisation and laughing whilst talking about being creative and using our imagination. This whole industry is about being creative with yourself and giving yourself time; skin regime is not just skin-deep, beauty is not superficial when you break it down. We have stepped into a space where we are a part of the life of women - women are remarkably good at doing everything for everyone else and sometimes not so great at doing things for themselves – we get to be a part of the moment when a woman stops, for ten minutes, in the morning and evening to care for themselves. I want to make a difference.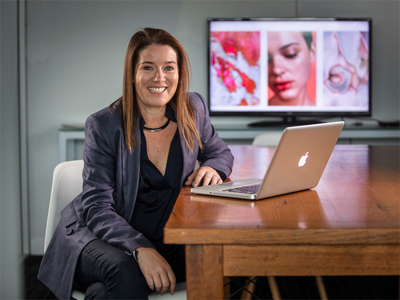 Question: Can you tell us about what is ahead for you and the company for the rest of the year?

Christine Parkes: The rest of the year is going to have our knees under the desk to become one unit which coincides with building a remarkable team. The Giving Brands Co has been a small team of amazing people I've worked with for ten years and now we are a team of many, many more and I am spreading the word to bring us all together.

I have made jokes about the make-over business having a make-over which is where we are heading with the clinics through a reshaping including introducing an overall wellness feel. We believe this is what the market needs and there is currently a gap in that space. We can combine science with nature and nurture which is where we see the clinics heading with the make-over, during this Christmas period.

J-Bronze is a beautiful brand with a strong foothold in certain Pharmacy groups; we want to build this to be more inclusive of women as we see the brand as a brand with purpose. The J-Bronze product keeps you safe from the sun and gives you a tan but we are also conscious of keeping the brand ethos the same as what the Founder wanted; J-Bronze is vegan, safe and good for your skin.

Every brand that we will launch next will always have a purpose. When ELLE Cosmetics is launched it will include all cultures, different skin types and all different women – it is a brand for women and kids as it is fun, safe and conscious with recyclable packaging whilst still being good for the skin and having a great story.

It's no mean feat – I am standing at the bottom of Mount Everest and trying not to be overwhelmed as we just have to get to Base Camp. Let's go! We need to acclimatise to everything but if everyone is rowing in the right direction, we will be flowing downstream instead of paddling up.


Question: Can you tell us about the market you are focusing on and how they differ when investing their money in the beauty industry?

Christine Parkes: People buy people; all industries have realised that being socially conscious is important and a number of businesses understand it is important, but struggle to maintain the concept. We have come together for a reason and that is because the integrity of social consciousness is critical – when we say it, we have to mean it, be it and live it or it has no integrity.

I am very focused on the millennial market and the over 50's market (I am also focused on the in-between) which is fascinating because if you look at both markets, you have a very interesting parallel in the investment of the dollar is not dissimilar. A millennial will potentially spend similar amounts to what a 50-year-old will on their skin, what they look like and how they feel – for two totally different reasons. What is interesting is that our communities especially the millennial market do care and want to feel like they are making a difference in some way. It's again about achieving the goal of being purposeful.

Some of the brands that we will be launching will be disruptive but we want them to make a noise – it will make a difference. Beauty is a flooded and matured market, globally, and if we don't do something that is meaningful it won't last as there is no life to it.

This is the most fun I have ever had and I'm fortunate enough to have amazing back-up with a remarkable husband and supportive extended family at work and at home. What do I have to complain about?


Question: Fun is crucial in business and life!

Christine Parkes: How can you not have fun when your dreams are coming true?

I sometimes work until 1am and have to tell myself 'stop it'. I am allowed to be creative in what I am doing which is a gift, creativity isn't work – we're here to add value to the planet and that's what I want to do.


Interview by Brooke Hunter