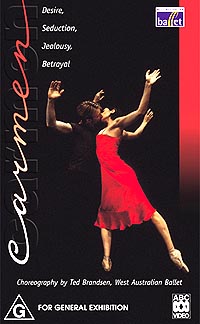 A red hot tale of love, obsession and betrayal.


"a triumph for the West Australian Ballet" - Dance Australia

ABC Video presents the West Australian Ballet's full scale new production of Carmen. Featuring Bizet's lush and dramatic music specially arranged for dance by Rodion Shchedrin, it will send your emotions soaring.

Obsession, jealousy, love and betrayal intertwine in this blood red and potent tale of survival. Carmen is a woman who will not be tied down. Don Jose is a man caught between desire and duty, driven to despair by a love he cannot keep. This passionate story has captured the imagination of audiences the world over.

This acclaimed production of Carmen features Benazir Hussain as Carmen, Daryl Brandwood as Jose, Errol Pickford as Escamillo and the dancers of the West Australian Ballet. Ted Brandsen's choreography places the action in a contemporary, urban industrial environment, rather than the traditional Spanish setting. It is powerful and sleek, tantalising and darkly seductive.

Filled with basic human emotions of love, lust, jealousy, hate and revenge, coupled with music so well known everyone will recognise the famous melodies, Carmen speaks to audiences as if it was written yesterday. It is a journey to a place where romance and passion are brought to life on stage, and in the heart.


Carmen is available from ABC Shops, ABC Centres and video retailers from 4 February 2002 for $29.95srp*.
* Prices among retailers may vary.