Cast
: Jake Gyllenhaal, Natalie Portman, Tobey Maguire
Director
: Jim Sheridan
Genre
: Drama, Thriller, War
Rated
: M
Running Time
: 104 minutes
Synopsis
:
When a decorated Marine goes missing overseas, his black-sheep younger brother cares for his wife and children at home-with consequences that will shake the foundation of the entire family.
BROTHERS tells the powerful story of two siblings, thirty-something Captain Sam Cahill (Tobey Maguire) and younger brother Tommy Cahill (Jake Gyllenhaal), who are polar opposites. A Marine about to embark on his fourth tour of duty, Sam is a steadfast family man married to his high school sweetheart, the aptly named Grace (Natalie Portman), with whom he has two young daughters (Bailee Madison, Taylor Geare). Tommy, his charismatic younger brother, is a drifter just out of jail who's always gotten by on wit and charm. He slides easily into his role as family provocateur on his first night out of prison, at Sam's farewell dinner with their parents, Elsie (Mare Winningham) and Hank Cahill (Sam Shepard), a retired Marine.
Shipped out to Afghanistan, Sam is presumed dead when his Black Hawk helicopter is shot down in the mountains. At home in suburbia, the Cahill family suddenly faces a shocking void, and Tommy tries to fill in for his brother by assuming newfound responsibility for himself, Grace, and the children.
But Sam is not dead; he and a fellow soldier have been captured by Taliban fighters. In Afghanistan's harsh, remote Pamir Mountains, Sam is subjected to traumas that threaten to rob him of his very humanity. At the same time that Sam's sense of self is being destroyed overseas, Tommy's self-image is strengthening at home. And in the grief and strangeness of their new lives, Grace and Tommy are naturally drawn together. Their longstanding frostiness dissolves, but both are frightened and ashamed of the mutual attraction that has replaced it.
When Sam unexpectedly returns to the States, a nervous mood settles over the family. Sam, uncharacteristically withdrawn and volatile, grows suspicious of his brother and his wife. Their familiar roles now nearly reversed, Sam and Tommy end up facing the ultimate physical and mental challenge when they confront each other. In the shifting family dynamics, who will dominate? And how will the brothers come to terms with issues of love, loyalty, and manhood-and with the woman caught between them?
Lionsgate and Relativity Media proudly present the riveting family drama BROTHERS, directed by six-time Oscar® nominee Jim Sheridan (IN AMERICA, Writing - Original Screenplay, 2003; IN THE NAME OF THE FATHER, Directing, Best Picture, Writing - Adapted Screenplay, 1993; MY LEFT FOOT, Directing, Writing - Original Screenplay, 1989), from a screenplay by David Benioff (THE KITE RUNNER, STAY, TROY), and starring Tobey Maguire, Jake Gyllenhaal, Natalie Portman, Sam Shepard, Bailee Madison, Taylor Geare, and Mare Winningham. The producers are Ryan Kavanaugh, Sigurjon Sighvatsson, and Michael De Luca. Executive producers are Tucker Tooley, Jon Feltheimer, Scott Fischer, and Zach Schiff-Abrams, with co-executive producer Jeremiah Samuels and co-producers Kenneth Halsband, Mark Fischer and Matt Battaglia. BROTHERS is based on the Danish motion picture BRĂ˜DRE by Susanne Bier and Anders Thomas Jensen.
The talented behind-the-scenes team on BROTHERS includes cinematographer Frederick Elmes, ASC (BLUE VELVET, DAVID LYNCH'S WILD AT HEART, THE ICE STORM), production designer Tony Fanning (MUNICH, SPIDER-MAN, OCEAN'S ELEVEN), editor Jay Cassidy, A.C.E. (INTO THE WILD, THE INDIAN RUNNER, THE CROSSING GUARD), costume designer Durinda Wood (A MIGHTY WIND, BEST IN SHOW, MULHOLLAND DRIVE), and casting director Avy Kaufman, CSA (THE BOURNE ULTIMATUM, BROKEBACK MOUNTAIN, SYRIANA).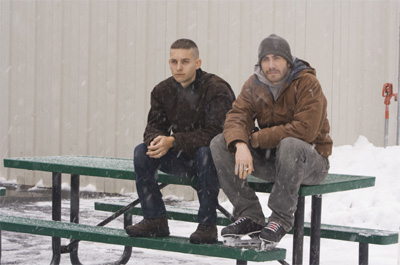 ABOUT THE PRODUCTION


With BROTHERS, celebrated filmmaker Jim Sheridan again affirms his mastery of the subtle, emotionally truthful character drama. Set against the backdrop of the war in Afghanistan, BROTHERS visits several themes that have figured prominently throughout Sheridan's career, including family relationships, the long shadow cast by war, and the enduring possibility of forgiveness and healing. For his first work set in suburban America, Sheridan teams with a high-profile, award-winning cast, including three of Hollywood's strongest young actors, Tobey Maguire (the SPIDER-MAN franchise, THE GOOD GERMAN), Jake Gyllenhaal (ZODIAC, BROKEBACK MOUNTAIN), and Natalie Portman (THE OTHER BOLEYN GIRL, CLOSER); the august playwright/actor Sam Shepard (THE RIGHT STUFF); and esteemed character actress Mare Winningham (GEORGIA).
BROTHERS is based on the 2004 Danish drama BRĂ˜DRE (BROTHERS), co-written and directed by Susanne Bier. The film deeply impressed veteran producer Sigurjon Sighvatsson (David Lynch's WILD AT HEART, Kathryn Bigelow's K-19: THE WIDOWMAKER and THE WEIGHT OF WATER), who divides his time between California, his native Iceland, and Denmark. Sighvatsson saw a connection between the narrative of BRĂ˜DRE and a post-Vietnam era of American films, such as COMING HOME and THE DEER HUNTER. Those films explored "the war at home": how war makes itself felt off the battlefield, in the domestic lives of soldiers and their families. With that kind of intimate drama in mind, Sighvatsson set out to produce an American version of BRĂ˜DRE. "To me," says Sighvatsson, "this story is about family. It's not about killing people, but about the effect on the living."
While Sighvatsson was negotiating with Bier in Denmark, on the other side of the globe in Los Angeles, BRĂ˜DRE had also caught the attention of Michael De Luca and his associate Zach Schiff-Abrams at Michael De Luca Productions. De Luca was intrigued by the film's study of two temperamentally different brothers living unfamiliar and opposing experiences: one constructive, the other destructive.
Says De Luca, "I thought the original film was a great exploration of two questions: what are the things that build a man up in his life, and what are the things that break a man down? For the younger, ex-convict brother, being part of a family builds him up from the brink of self-destruction. And then the older brother, who's been the straight arrow his whole life, what breaks him down is war, captivity, and the violent loss of moral clarity. The two brothers almost switch places, and it was that dynamic that really attracted me to explore the story in an American context."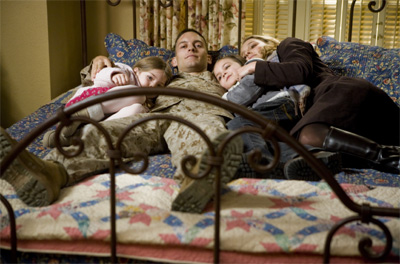 When De Luca went to buy the remake rights, he found out that Sighvatsson had already purchased them. Because the two producers viewed the material in compatible ways, Sighvatsson and De Luca decided to partner as producers on the American remake of BRĂ˜DRE.
Sighvatsson and De Luca tapped acclaimed screenwriter David Benioff (THE KITE RUNNER, STAY, TROY) to adapt the story to an American milieu. Benioff incorporated recent American history in crafting the story of Sam and Tommy Cahill, sons of retired Marine officer who served in the Vietnam War. The basic storyline remained the same, says Benioff. "It's two brothers, one who's always followed the straight path and been the high-achieving do-gooder and never let anyone down, and his younger brother, who is kind of the ne'er do well."
The producers began approaching directors and cast with early versions of Benioff's script. When they learned that Jim Sheridan was available, they were delighted. Sheridan's films, from MY LEFT FOOT and IN THE NAME OF THE FATHER to THE BOXER and IN AMERICA, have explored the intricacies familial relationships - the vital core of BROTHERS. Says Sighvatsson, "Jim is always focused on the emotion. While he has an eye on the story and the actual events, that is less the thrust of the movie than the emotion propelling the characters. That is his uniqueness as a filmmaker."
Beginning with MY LEFT FOOT, Sheridan has portrayed characters from working class families, and he felt an affinity for the small-town Americans of BROTHERS. "The Cahills are blue-collar, which I know. They're torn asunder by the war, and the film is about whether they can heal." Sam's harrowingly plausible ordeal in captivity adds another dimension to the film's portrait of the human condition. Comments Sheridan, "Sam's experience in Afghanistan is beyond normal understanding, and that changes the story. It's beyond tragedy, and I was attracted by the heightened emotions that emerge from that."
Relativity Media founder Ryan Kavanaugh joined the creative team of BROTHERS as a producer, and Relativity provided financing. Like Sheridan, Kavanaugh was compelled by Sam's dilemma, its aftermath and the impact on the entire Cahill family. "The movie is not so much about the war, as it's about what happens when a human being is damaged that deeply and is forced to take measures that a lot of us can't even comprehend. What does that do to a person, and what is the impact on the people around him? When Sam returns, he has turned into a very dark, secretive person with huge anger and paranoia; he's keeping this secret from everyone, including his family. And Tommy has taken on Sam's role as the responsible, even-keeled brother."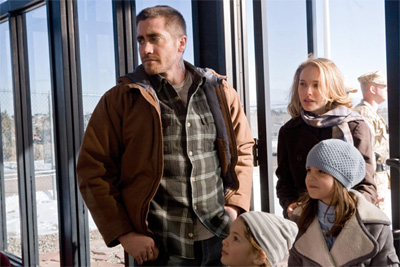 The promise of working with Sheridan on a substantive character drama quickly attracted an A-list ensemble. Jake Gyllenhaal was the first to sign on, taking the role of black sheep brother Tommy. "I wanted to work with Jim very much, and I wanted to work with him on a character that was a little different from what I'd played before," the actor explains. "Tommy has grown up in Sam's shadow, and he feels that he's not loved. He's angry and closed-off. And through horrible circumstances, his heart is awoken in the most innocent way."
Tobey Maguire had been intrigued by the character of older brother Sam Cahill since reading an early version of the BROTHERS script. Maguire sees Sam's military career as the choice of a serious man accustomed to responsibility and desirous of stability. "Probably because of family dynamics, Sam gets almost a sense of security from being in the military," reflects Maguire. "Sam lost his mom as a kid, and his dad came back from Vietnam with his own emotional wounds. Sam definitely took care of his brother after their mom died, and perhaps felt like he was another parent to Tommy."
Maguire researched his role by visiting California's Camp Pendleton and New Mexico's Army National Guard. As he describes the training exercises, "It was never looking at the guy next to you trying to get a half-step ahead. It was always looking at the guy next to you going, `C'mon, let's go. We got this, we can do it.' Which of course makes sense -- every man and woman is part of a team. I was just really impressed. It felt like a big net of all these people taking care of each other."
Sam has flourished in the Marines and in his marriage, fulfilling his designated role as the Cahill golden boy. But when Sam is taken prisoner with another soldier in Afghanistan, he loses virtually all control of his destiny. As events unfold, the imperative of survival thrusts him into agonizing moral and psychic terrain. "Basically," observes Maguire, "his whole life is shattered-or at least the construct of his life: his ideas and ideals, and what's important and what he's built his life on. Everything is just shaken."
Sheridan agrees. "On one level, the story is about a man who attacks. Sam is pushed to the limit of male companionship and male bonding. And then an act occurs where Sam loses all self-care, self-mothering, self-regard. The question is whether he can get back to his soul, which is represented by his wife and family, or has he shattered his soul irredeemably by his act?"
Natalie Portman portrays Sam's wife, Grace Cahill. Grace and Sam were high school sweethearts and she is an exemplar of the military spouse: supportive, uncomplaining and good-humored. "I was interested in playing a mother and wife," says Portman. "Grace is someone who went into her lifestyle very young, and was looking for a stable life." Portman visited military bases to better understand the responsibilities and demands of being a military wife. "There are a lot of challenges to being away from their husbands for a year and only getting them home for three months at a time. They have to run the household and take care of the kids, who are acting out and wondering why their daddy's gone and what their daddy's doing and why. And then they have to take care of their husbands when they're back, and deal with whatever they lived on tour."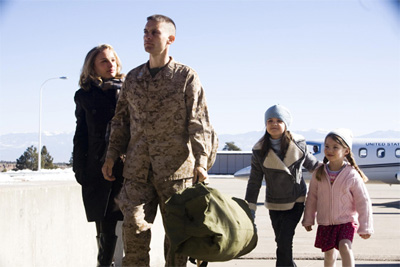 Sam Shepard portrays Hank Cahill, the brothers' formidable father. Hank is a man of few words, and appears to have made an uneasy transition to civilian life. Shepard's father was in the Air Force, and he has given much thought to the contradictions inherent in military life. "The military is considered a brotherhood, and it obviously is. These guys are extraordinarily courageous, and they have a code of ethics," Shepard comments. "At the same time, there's this other side of military service, in which the humanity is sucked out of you in order for you to become a weapon and number. There's an incredible dichotomy."
Mare Winningham portrays Elsie Cahill, Hank's second wife and the brothers' stepmother. Kind and deeply maternal, Elsie is the family peacemaker and also the one person whose authority Hank will accept. Says Winningham, "Elsie probably came into Hank's life when the boys were in their teens, so she probably got the bulk of it when Tommy started to become the bad kid, and Sam started to become the chip off the old block and the apple of his father's eye. I think she has great sympathy for Tommy, and I think she believes in him."
BROTHERS was filmed primarily in New Mexico, which provided a range of choices to depict the disparate landscapes of suburban America and rugged Afghanistan. The suburban scenes were shot in various parts of Santa Fe, Las Vegas, and Los Alamos. The Baptist Conference Center in Glorieta, east of Santa Fe, became the fictional American Marine base of Fort Mahlus. And the mountainous terrain of both Abiquiu and Zia Pueblo was transformed into remote Afghanistan.
The film marks the first pairing of Sheridan and the gifted cinematographer Fred Elmes, who has collaborated with filmmakers including David Lynch (ERASERHEAD, BLUE VELVET), Ang Lee (THE ICE STORM, RIDE WITH THE DEVIL), Jim Jarmusch (BROKEN FLOWERS, NIGHT ON EARTH) and Bill Condon (KINSEY). Camera movement and color reflect the trajectory of the brothers' journey from order to uncertainty. "The whole film is driven by the characters," Elmes affirms. "What we have is an arc that includes fairly sedate photography in the beginning; to a very rough and chaotic Afghanistan portion; and then back to the suburbs, but in a different light - the space is tighter, it's a little darker and moodier."
BROTHERS was shot in chronological sequence as much as possible, the better to enable the actors to tap into the characters' trajectories. Sheridan, who began his career as a theater actor, playwright and director, worked closely with his cast. Recalls Portman, "Jim was very emotionally involved - he sort of played every character. I think that kind of engagement was crucial not only to our performances, but to the point of view of the film."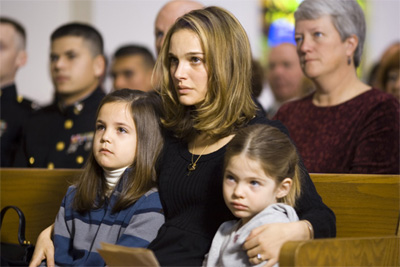 Sheridan found that the primary stars brought different techniques to their roles, which helped them mesh as an ensemble. "Jake is kind of free-form and tries to feel the truth of each scene. Natalie is very clear about what she wants to do. Tobey likes control, but he can lose it as well - which he really had to do in this role, I suppose."
Shepard, who has explored family dynamics in classic plays like "True West," applauds Sheridan's vision and approach. "The storyline of BROTHERS seems Greek to me, in the classic sense. But the interesting thing is that Jim approached it in such a deeply personal way," he remarks. "He was always looking for the essence of the story, the human factor."
The human factor, in Gyllenhaal's estimation, is encapsulated in the film's title. "This movie is really about a family. Sometimes the only person you can turn to is the person you grew up with, in the beauty and pain that is your family. Sam and Tommy are so different, yet so much the same. And in the end, the only person who can go out there to save Sam's life is Tommy."
Bothers Review
www.femail.com.au/brothers-movie-review.htm