SING-ALONG TO SIX DVD MUSICALS THIS MOTHER'S DAY!


Join the 50th Anniversary celebrations as brand new editions of Rodgers & Hammerstein's timeless musicals are released on DVD!
Find the perfect gift this Mother's Day as Twentieth Century Fox Home Entert ainment proudly present the all new Sing-Along two-disc Collector's Edi tion DVD versions of five classic Rodgers & Hammerstein™ musicals including The King and I and Carousel, which both celebrate their 50th Anniversary this year! The other titles available are South Pacific, Oklahoma! and State Fair - all available to buy on 26 th April 2006. Also available is the 40th Anniversary 2 disc sing a-long edition of The Sound Of Music at a great new price ! These new versions offer the fully restored original feature film with a brand new interactive 'sing -along' function allowing families to watch, listen and sing-along to some of the world's best -loved songs, including 'I'm Gonna Wash That Man Right Outa My Hair','Oh What A Beautiful Morning', 'Do -Re-Me', 'Shall We Dance', 'Surrey With a Fringe on Top' & 'Happy Talk', all with glowing subtitles and a specially created lyric booklet . These Collector's Edition s also features a host of brand new special features, including commentaries, featurettes, documentaries, vintage stage excerp ts and Movietone News segments to name just a few!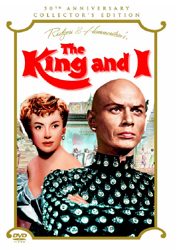 The King and I
It is 1862 in Siam when an English widow, Anna Leonowens (Deborah Kerr) arrives at the Royal Palace in Bangkok with her young son, having been summoned by King Mongkut (Yul Brynner) to serve as tutor to his many wives and children. The King is largely considered to be a barbarian by those in the West and he seeks Anna's assistance in changing his image, if not his ways. Anna and the King grow to understand and, eventually, respect one another in a truly unique love story. Winner of six Academy Awards®, including Best Actor and Best Music, The King and I celebrates its 50 th Anniversary this year. This edition includes brand-new special features including the TV pilot, six featurettes, vintage stage excerpts and an extra song!





Songs to sing-along to include:
'Shall We Dance'
'Getting To Know You'
'I Whistle A Happy Tune'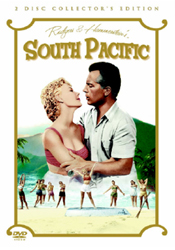 South Pacific
Set in an island paradise during World War II, two parallel love stories are threatened by the dangers of prejudice and war. Nellie (Mitzi Gaynor), a nurse from Arkansas, falls in love with a French planter, Emile (Rossano Brazzi). Nellie learns that the mother of his children was an island native and, unable to turn her back on the prejudices with which she was raised, refuses Emile's proposal of marriage. Meanwhile, the strapping Lt. Joe Cable (John Kerr) denies himself the fulfilment of a future with a Tonkinese girl out of the same fears that haunt Nellie. When Emile is recruited to accompany Joe on a dangerous mission that claims Joe's life, Nellie realises that life is too short not to seize h er own chance for happiness, thus confronting and conquering her prejudices. Seen by an estimated 16.5 million people at the cinema, South Pacific was nominated for five Academy Awards®. The two -disc Collector's Edition includes audio commentaries, featu rettes, vintage stage excerpts and two Movietone News segments.

Songs to sing-along to include:
'I'm Gonna Wash That Man Right Outa My Hair'
'Happy Talk''Younger Than Springtime'
'There's Nothing Like A Dame'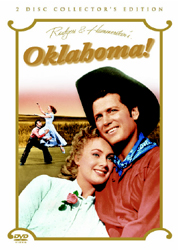 Oklahoma!
Rodgers & Hamm erstein's first collaboration is set in a Western Indian territory just after the turn of the century. The high -spirited rivalry between the local farmers and cowboys provides the colourful background against which Curly (Gordon MacRae), a handsome cowboy , and Laurey (Shirley Jones), a winsome farm girl, play out their love story. Although the road to true love never runs smooth, with these two headstrong romantics holding the reins, there is no doubt they will succeed in making a new life together! The two-disc Collector's Edition includes commentary from Ted Chapin and Hugh Fordin, commentary from Shirley Jones and Nick Redman, three featurettes, vintage stage excerpts and a stills gallery. The whole film is also available to view in the revolutionary Todd-AO format - this special format was created especially for Oklahoma! at the Rivoli Theatre in New York, before finally being adapted for South Pacific.

Songs to sing-along to include:
'Oh What A Beautiful Morning'
'Surrey With a Fringe on Top'
'Oklahoma'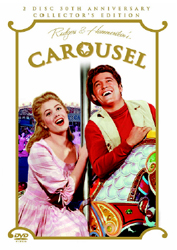 Carousel
In a Maine coastal village towards the end of the 19th century, the swaggering and carefree carnival barker, Billy Bigelow (Gordon MacRae), captivates and marries naive millworker, Julie Jordan (Shirley Jones). Billy loses his job ju st as he learns that Julie is pregnant, and is coerced into becoming an accomplice to a robbery. Caught in the act and facing the certainty of prison, he takes his own life and is sent "up there." Billy is allowed to return to earth for one day, and the way in which he instils in both the child and her mother a sense of hope and dignity is a dramatic testimony to the power of love. Also celebrating its 50 th Anniversary this year, the DVD Collector's Edition of Carousel includes a featurette about the history of Carousel, vintage stage excerpts, a Movietone News piece and extra songs!



Songs to sing-along to include:
'You'll Never Walk Alone'
'June Is Busting Out All Over'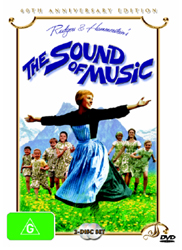 The Sound Of Music
A magical film to be treasured, The Sound Of Music is an enchanting experience that continues to captivate with each viewing. Winner of five Academy Awards®, including Best Picture, The Sound Of Music celebrated its 40 th Anniversary in 2005 and is based on the true story of the Von Trapp Family Singers. Julie An drews (Mary Poppins ) lights up the screen as Maria, the spirited young woman who leaves an Austrian convent to become a governess to the seven children of Captain Von Trapp (Christopher Plummer). Julie Andrews hosts a look back at the phenomenon of the mu sical, including hours of brand -new special features on the Collector's Edition. Drop in on a warm hearted chat between Andrews and Plummer; find out the story of the real Von -Trapp family in a 50 minute documentary and join all seven of the children in a boisterous family reunion.


Songs to sing-along to include:
'Do Re Me'
'My Favourite Things'
'Climb Every Mountain'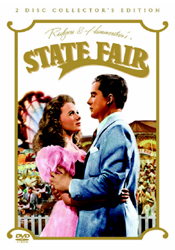 State Fair
Rodgers & Hammerstein's only musical written directly for the screen is set against the colourful backdrop of American heartland tradition. State Fair follows the Frake family as they leave behind the routine of the farm for three days of adventure at the annual 'Iowa State Fair'. Mom and Pop have their hearts set on blue ribbons while their daughter and son find romance and heartbreak on the midway. Starring Jeanne Crain and Dana Andrews, State Fair is set to the magical strains of an Academy Award® -winning score! Special features include a 'From Page To Screen' featurette, commentary from Pat Boone and vintage stage e xcerpts. Plus, don't miss the opportunity to see the original feature -length TV pilot, available for the first time on DVD format!




Songs to sing-along to include:
'It Might As Well Be Spring'
'It's A Grand Night for Singing'
'Isn't It Kinda Fun?'


Also available from 26th April is the Rodgers & Hammerstein Collection Box-set which includes all six sing-along titles. This 12 disc musical celebration is the perfect treat for your Mum this Mother's Day. In addition, Anna and the King of Siam is released on DVD for the very first time on 26th April 2006. Pre -dating The King and I by 10 years, Anna and the King of Siam stars Rex Harrison as the King and Irene Dunne as Anna, and was nominated for five Academy Awards®.

Web site: www.foxmovies.com.au