Cast
: Jennifer Lopez, Alex O'Loughlin
Director
: Alan Poul
Genre
: Romantic Comedy
Synopsis
:
The Back-Up Plan is a new comedy about a single woman Zoe (Jennifer Lopez) who turns to artificial insemination in response to her ticking biological clock, only to see her backup plan turned on its side when the man of her dreams Stan (played by Australian Alex O'Loughlin) shows up at the same time as her positive pregnancy-test results.
Release Date: 20 May, 2010
www.TheBackUpPlan.com.au
The Back-up Plan is a comedy that explores dating, love, marriage and family "inreverse."
After years of dating, Zoe (Jennifer Lopez) has decided waiting for the right one is takingtoo long. Determined to become a mother, she commits to a plan, makes a doctor's appointmentand decides to go it alone. That same day, Zoe meets Stan (Alex O'Loughlin) - a man with realpossibilities.
Trying to nurture a budding relationship and hide the early signs of pregnancy becomes acomedy of errors for Zoe and creates confusing signals for Stan. When Zoe nervously revealsthe reason for her unpredictable behavior, Stan considers his unusual future but eventually sayshe's in. Never before has love seen a courtship where a wild night of sex involves three in a bed- Stan, Zoe and the ever-present massive pregnancy pillow. The real pregnancy test comeswhen both of them realize they really don't know each other outside of hormonal chaos and birthpreparations. With the nine month clock ticking, both begin to experience cold feet. Anyone canfall in love, get married and have a baby but doing it backwards in hyper-drive could be proofpositive that they were made for each other.
Jennifer Lopez (Monster-In-Law, Maid In Manhattan) and Alex O'Loughlin ("Three Rivers," AugustRush) star in The Back-up Plan for CBS Films, the film division within CBS Corporation (NYSE:CBS.A and CBS). The project, which commenced principal photography in Los Angeles on May11, is set to debut in U.S. theaters on April 23, 2010. Sony Pictures Releasing International willdistribute the film in most international territories (excluding Germany and Austria) beginning inApril 2010.
The film is directed by Alan Poul ("Swingtown," "Six Feet Under") from a screenplay byKate Angelo ("Will & Grace," "What About Brian"). Todd Black, Jason Blumenthal and SteveTisch (The Pursuit of Happyness, The Taking of Pelham 123) produced through their EscapeArtists banner. Rodney Liber and David Bloomfield are executive producers. Chris Coggins andLance Johnson are co-producers. The director of photography is Xavier Pérez Grobet, A.S.C.The production designer is Alec Hammond. The film is edited by Priscilla Nedd-Friendly, A.C.E.and the music is by Stephen Trask.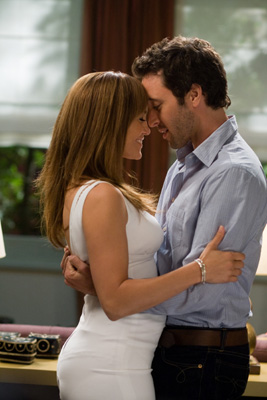 ABOUT THE PRODUCTION


Sometimes Destiny Has A Plan Of Its Own
Zoe has a very full life - great friends, a good job, and a fantastic relationship with thegrandmother who raised her. But while staring down her late 30s, she comes to the realizationthat the one thing that has evaded her, Mr. Right, may never come along. She decides to fulfillher dream to have a family on her own and makes an appointment with a fertility doctor. As luckwould have it, mere moments after the procedure she meets Mr. Right.
The arrival of Stan, aka Mr. Right, in Zoe's life begins her romantic journey in love, in life,and in labor. He throws her plan off course in a way that has wildly comedic repercussions bothdue to circumstance as well as their contrasting personalities.
"Zoe is a planner," explains Jennifer Lopez who stars as Zoe. "She decides it's time tohave a baby and she sets out to make that happen. Stan, on the other hand, is much more of afree spirit. He's not living out his dreams (he owns a cheese stand at a NY farmer's market) buthe's relaxed into his situation. He's not really thinking about the future, and certainly not lookingto be tied down."
Writer Kate Angelo derived the idea for her first feature from witnessing her close friendsdealing with thirtysomething female issues. "There is an undeniable biological ticking clock. And,at some point, if you haven't met that right guy by a certain age, you have to consider otheroptions in order to have a family."
Producer Todd Black (who produces alongside his Escape Artists partners Steve Tischand Jason Blumenthal) brought the script to Amy Baer, President and Chief Executive Officer ofCBS Films. He credits the material's strength on Angelo's ability to understand where the joke isin a scene but also on her insistence that the script be about something. "It's 2010 and the waya person's life unfolds has no rules - you don't have to get married and then have children," notesBlack. "This project sends that message in a funny and beautiful way."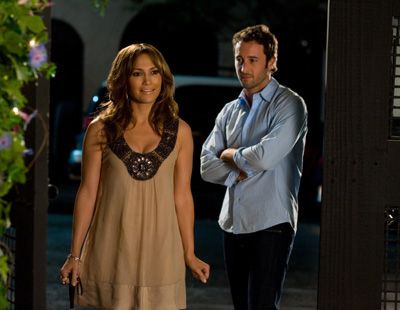 Castings: Finding the Right Talent to Put this Plan in Motion


"The script definitely rang true to me, having just gone through my own experience ofhaving babies for the first time," reveals Jennifer Lopez. "All the little jokes about what it is to be pregnant- being tired, insatiably hungry and the hormonal changes. I could really relate."
Black recalls his realization after the filmmakers' first meeting with Lopez that she wasthe perfect match for Zoe. "She literally embodied Zoe and she completely got the script. Sheunderstood the humor involved in this character becoming a new mom, and the humorous andscary nature of her having a new lover in her life at the same time."
Lopez's grasp of the material was important but she also had the right chops for a rolethat requires the ability to play comedy, as well as more tender moments. "Jennifer can conveythe perfect amount of emotion and comedy all at the same time," says Black. "She's an allaround solid actress. Most times you find an actor who can just do the comedy or just the drama.It's rare to find someone who is strong with both."
Director Alan Poul, who most recently produced and directed such television hits as"Swingtown" and "Six Feet Under," was particularly impressed by Lopez's fearless approach tothe physical comedy. "Jennifer has an extraordinary gift; she can go very far with physicality -with slapstick - while still keeping it grounded in the reality of the character." It's a talent aptlydemonstrated in a scene in which Zoe can't resist an urge to down beef bourguignon using slicesof bread as utensils.
When it came time to cast Stan, the filmmakers set out to find a fresh face - someonesexy, funny, strong, yet also vulnerable. It was going to be a challenge to find someone who hadthe whole package but when they met Aussie actor Alex O'Loughlin, they knew they had foundtheir Stan.
"The minute we had him read with Jennifer, you could just feel it in the room - theirchemistry was undeniable," says Black. "Alex also came in very prepared. He understood wherethe comedy was and he wasn't afraid to take it as far as it could go. It's so thrilling as a producerto discover someone new. I'm proud and excited. I can't wait to watch where his career goes; Ithink he's going to be a major movie star."
O'Loughlin cherished his first turn as a feature leading man. "The cast and crew wereamazing and the material is really good. Plus, starring opposite Jennifer was awesome. I had aball."
With the two leads in place, it was time to cast the many colorful supporting characters."When you're making a romantic comedy a lot of screen time is focused on the two leadsbut it's important for the audience's enjoyment to surround them with a company of funnysupporting players," notes Poul. "When you see these characters appear on screen, they shouldbe a welcome diversion."
One of the most memorable supporting characters in the script is Mona, Zoe's bestfriend. As comedian Michaela Watkins, who plays Mona, explains, Mona is a "sassy, straightforward,tell-it-like-it-is friend." She's also a mother and very forthcoming with Zoe about whatshe should expect when she's expecting.
Watkins, a recent "SNL" alum, admits there was a specific moment in the script thatsealed her desire to play the part. "In their first scene together, Mona says to Zoe 'You don't wantto have kids and I'm going to show you my vagina to prove it' - well, right there, I knew I wantedin!"
Despite Mona's testimonials, Zoe still proceeds with her plan to conceive and even triesto recruit as a potential sperm donor her friend and pet store employee Clive, played by EricChristian Olsen. "Clive passes because he's young and still has many women to bed," saysOlsen.
Zoe's other pet store employee, and friend, is Daphne, played by actress NoureenDeWulf (most recently seen in The Ghosts of Girlfriends Past). DeWulf describes her characteras "somewhat sassafras."
Zoe's friends are like family but the person she's closest to is her grandmother, Nana,who raised her from an early age after her parents died. The death of Zoe's mom has held bothZoe and Nana back in many ways but significantly in their love lives. They both have clung to thepast for too long. Accomplished theater actress and TV legend (she starred as Alice for 9 yearsin the hit sitcom of the same name) Linda Lavin plays Nana.
"It is rare to find a script where a woman of age is not a joke, demeaned by other people,or self-demeaning," says Lavin. "I really love this part. I get to play a straight shooter who isfunny and no-nonsense."
Another TV icon, Tom Bosley (Mr. Cunningham from "Happy Days" fame), also appearsin the film. He plays Arthur, Nana's love interest. Their wedding, after a 22-year engagement,punctuates Nana's turn and provides one of the film's biggest comedic set pieces.
Rounding out the main supporting cast are Anthony Anderson ("Law & Order") as a dadStan meets in Central Park who offers him an honest recount on what it's really like to have kids;Melissa McCarthy ("Samantha Who?") as Carol, the leader of the Single Mothers and Proudsupport group who conducts each session with a dramatic worship for the beauty of the birthingprocess; Second City alum Maribeth Monroe as Lori, a member of the support group whoseprimal water birth is witnessed by a horrified Zoe and Stan; Danneel Harris as Olivia, Stan's ex;and comedian Robert Klein as Dr. Harris, Zoe's fertility doctor.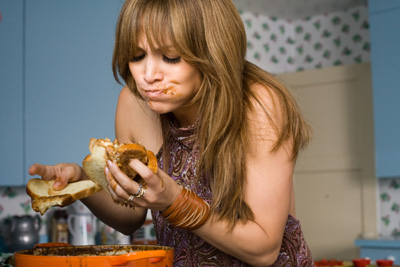 JENNIFER LOPEZ (Zoe)

Actress, singer, producer, entrepreneur, Jennifer Lopez, has sold over 35 million albumsworldwide and starred in multiple box office number ones' including Monster-In-Law and TheWedding Planner. In 2001, The Wedding Planner was the nation's top grossing film while heralbum, "J.Lo," was number one on the Billboard Top 200 Chart. The two simultaneous numberone honors made Lopez the first woman in history to have a number one movie and album in thesame week. Prior to taking time off to have children, she was last seen in the feature films ElCantante, a drama about the life of salsa legend Hector Lavoe, and Bordertown, opposite AntonioBanderas, both of which she produced.
Currently, Jennifer's production company, Nuyorican, has a First Look Deal with NBCTelevision, and is in development on several film and TV projects, including the romantic comedy"Taming Ben Taylor" for Paramount, where she will star as a top notch real estate agent who winsover a rugged vintner, "Sweet Little 15" for Fox Searchlight which tells of a young Mexican girl'scoming of age story as she plans her Quincenera, and "Cheech at the Beach" for NBC, a sitcombased on the life of comedian Cheech Marin. In 2010, she and Nuyorican will be producing theLasse Hallstrom directed "Death in Cheyenne" starring Richard Gere and Emile Hirsch.
Nuyorican is also developing the teen television comedy and book series, "Amigas Sweet 15Club," that will follow five teens in Miami who run a Quinceanera (sweet 15) business. In 2007,the production company produced "Como Ama Una Mujer," a five-part miniseries for Univisionbased on Jennifer's album of the same title.
Lopez made her feature debut in the highly acclaimed feature Mi Familia, which garneredher an Independent Spirit Award nomination for her role as the young mother 'Maria Sanchez.'Lopez has earned widespread acclaim for her work in the title role of Selena, which brought her aGolden Globe nomination. In 2002, Lopez was awarded 'ShoWest Female Star of the Year' andin 2006, Lopez received the 'Women in Film: Crystal Award.' Additionally, the National Council ofLa Raza, the largest Latino advocacy group in the nation, named her 'Entertainer of the Year' atthe American Latino Media Arts Awards (ALMA) for TV and film.
Her other film credits include Lasse Hallstrom's An Unfinished Life, with Robert Redfordand Morgan Freeman, Oliver Stone's U-Turn, Maid In Manhattan, co-starring Ralph Fiennes,Stanley Tucci, Bob Hoskins and Natasha Richardson, Money Train with Woody Harrelson andWesley Snipes, Francis Ford Coppola's Jack with Robin Williams, Blood And Wine opposite JackNicholson, Luis Mandoki's Angel Eyes, The Cell, Steven Soderbergh's Out Of Sight, with GeorgeClooney, Michael Apted's thriller Enough, and Anaconda with Jon Voight, Eric Stoltz and IceCube. Via Nuyorican Lopez made her foray into the role as television producer with her dancerealityshow for MTV entitled "Dance Life" as well as the UPN drama, "South Beach."
Lopez also heads a best-selling line of fragrances and her own clothing line - includingthe overseas-distributed JLO by Jennifer Lopez - and was awarded with the ACE icon award in2006 for contribution to accessories and the fashion industry.
Lopez continues to demonstrate a commitment to making a difference through hervarious philanthropic endeavors. Her passion for making this world better is highlighted throughher work with children. Lopez is most actively involved with the following organizations: Soundsof Pertussis Program, March of Dimes, Children's Hospital Los Angeles, Make a WishFoundation, Children's Health Fund (Hurricane Katrina), and Amnesty USA.ORG - Women ofJuarez. She was a recipient of Love Our Children USA's "Mothers Who Make a Difference"Award in 2009.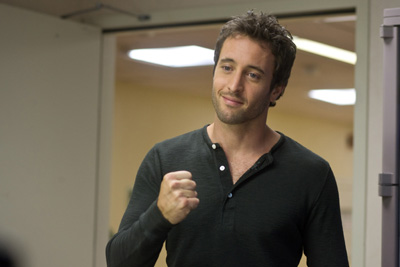 ALEX O'LOUGHLIN (Stan)


Alex O'Loughlin started his career as a teenager in the Short Film and Fringe Theatre inSydney. He attended numerous classes and courses in acting until finally, at the age of 22, hewas accepted into the premier Australian theatre school The National Institute of Dramatic Artwhose alumni includes such famed actors as Mel Gibson and Cate Blanchett. He subsequentlydeveloped his craft by appearing in a wide variety of live theatrical productions from the works ofsuch masters as Shakespeare, Chekhov and Tolstoy to the great English modern playwrightEdward Bond, and graduated after 3 years with a Bachelors Degree in Dramatic Art.
O'Loughlin had played in a number of guest-starring roles when he made his feature filmdebut in the sci-fi horror thriller Manthing, based on the Marvel Comic. He also starred in thecritically acclaimed Australian comedy Oyster Farmer, directed by Anna Reeves, and the highlycontroversial indie feature Feed. O'Loughlin co-created the original concept of Feed, a uniquethriller which delves into the bizarre world of fat erotica.
O'Loughlin then impressed audiences with his portrayal of the character 'William Bryant'in The Incredible Journey Of Mary Bryant, (a UK-Australia co-production for Screentime/Granada)working alongside Sam Neil, Jack Davenport and Romola Garai. It was in this highly acclaimedproduction that O'Loughlin was nominated for two of Australia's most prestigious acting awards -an AFI for Best Actor, and a LOGIE for the same.
O'Loughlin then joined the team of the FX hit drama "The Shield" for most of Season 6,where he played the new potential leader of Vic Mackey's strike team, 'Kevin Hyatt.'Following this, he starred in the feature films The Invisible with Marcia Gay Harden andJustin Chatwin, directed by David Goyer, and August Rush, alongside Robin Williams, JonathanRhys Meyers, Terrence Howard, Keri Russell and Freddie Highmore, directed by KirstenSheridan.
O'Loughlin then took the lead in the CBS/Warner Bros. television show "Moonlight" inwhich he played the role of 'Mick St. John.' Not only did he instantly attract a dedicated anddeeply passionate fan base, he proudly accepted The People's Choice Award for Best NewDrama.
O'Loughlin recently starred opposite Kate Beckinsale in Joel Silver's Whiteout and inCBS' weekly medical series "Three Rivers."
The actor is actively involved in the charity Donate Life. Donate Life's mission is toeducate the public on the importance of organ donation.