Brothers Movie Review
Cast
: Jake Gyllenhaal, Natalie Portman, Tobey Maguire
Director
: Jim Sheridan
Genre
: Drama, Thriller, War
Rated
: M
Running Time
: 104 minutes
Synopsis
: When a decorated Marine goes missing overseas, his black-sheep younger brother cares for his wife and children at home-with consequences that will shake the foundation of the entire family.
BROTHERS tells the powerful story of two siblings, thirty-something Captain Sam Cahill (Tobey Maguire) and younger brother Tommy Cahill (Jake Gyllenhaal), who are polar opposites. A Marine about to embark on his fourth tour of duty, Sam is a steadfast family man married to his high school sweetheart, the aptly named Grace (Natalie Portman), with whom he has two young daughters (Bailee Madison, Taylor Geare). Tommy, his charismatic younger brother, is a drifter just out of jail who's always gotten by on wit and charm. He slides easily into his role as family provocateur on his first night out of prison, at Sam's farewell dinner with their parents, Elsie (Mare Winningham) and Hank Cahill (Sam Shepard), a retired Marine.
Shipped out to Afghanistan, Sam is presumed dead when his Black Hawk helicopter is shot down in the mountains. At home in suburbia, the Cahill family suddenly faces a shocking void, and Tommy tries to fill in for his brother by assuming newfound responsibility for himself, Grace, and the children.
But Sam is not dead; he and a fellow soldier have been captured by Taliban fighters. In Afghanistan's harsh, remote Pamir Mountains, Sam is subjected to traumas that threaten to rob him of his very humanity. At the same time that Sam's sense of self is being destroyed overseas, Tommy's self-image is strengthening at home. And in the grief and strangeness of their new lives, Grace and Tommy are naturally drawn together. Their longstanding frostiness dissolves, but both are frightened and ashamed of the mutual attraction that has replaced it.
When Sam unexpectedly returns to the States, a nervous mood settles over the family. Sam, uncharacteristically withdrawn and volatile, grows suspicious of his brother and his wife. Their familiar roles now nearly reversed, Sam and Tommy end up facing the ultimate physical and mental challenge when they confront each other. In the shifting family dynamics, who will dominate? And how will the brothers come to terms with issues of love, loyalty, and manhood-and with the woman caught between them?
Lionsgate and Relativity Media proudly present the riveting family drama BROTHERS, directed by six-time Oscar® nominee Jim Sheridan (IN AMERICA, Writing - Original Screenplay, 2003; IN THE NAME OF THE FATHER, Directing, Best Picture, Writing - Adapted Screenplay, 1993; MY LEFT FOOT, Directing, Writing - Original Screenplay, 1989), from a screenplay by David Benioff (THE KITE RUNNER, STAY, TROY), and starring Tobey Maguire, Jake Gyllenhaal, Natalie Portman, Sam Shepard, Bailee Madison, Taylor Geare, and Mare Winningham. The producers are Ryan Kavanaugh, Sigurjon Sighvatsson, and Michael De Luca. Executive producers are Tucker Tooley, Jon Feltheimer, Scott Fischer, and Zach Schiff-Abrams, with co-executive producer Jeremiah Samuels and co-producers Kenneth Halsband, Mark Fischer and Matt Battaglia. BROTHERS is based on the Danish motion picture BRĂ˜DRE by Susanne Bier and Anders Thomas Jensen.
The talented behind-the-scenes team on BROTHERS includes cinematographer Frederick Elmes, ASC (BLUE VELVET, DAVID LYNCH'S WILD AT HEART, THE ICE STORM), production designer Tony Fanning (MUNICH, SPIDER-MAN, OCEAN'S ELEVEN), editor Jay Cassidy, A.C.E. (INTO THE WILD, THE INDIAN RUNNER, THE CROSSING GUARD), costume designer Durinda Wood (A MIGHTY WIND, BEST IN SHOW, MULHOLLAND DRIVE), and casting director Avy Kaufman, CSA (THE BOURNE ULTIMATUM, BROKEBACK MOUNTAIN, SYRIANA).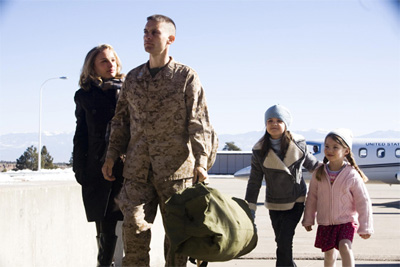 Verdict
: Brothers with its stellar cast is one fierce movie. Set in a small military town in the USA it sees the perfect high school couple. Gorgeous Natalie Portman (Grace Cahill) the wife of a Military Captain, mother of two and school teacher; her two young daughters are beautiful and her husband an attentive dad with military loyalty passed down from his father.
In the beginning of the film Captain Sam Cahill (Tobey Maguire) picks up his delinquent younger brother Tommy Cahill; (Jake Gyllenhaal-hot hot hot) the prodigal son with a chip on his shoulder and a bank burglary wrap.
When Sam goes back to Afghanistan Tommy begins to step in to look after the family. Then when Sam is incorrectly reported dead after the helicopter he is in goes down in the desert, Tommy's place within the family is secured. He becomes a kind of surrogate dad for Sam's daughters and a dedicated support for Grace.
In the meantime Sam is holding out in an underground prison somewhere in Afghanistan captured by the Taliban along with Private Joe Willis. A soldier from his platoon that he has saved from drowning when their helicopter is shot down.
The film pitches between Tommy's journey of redemption within the family and 'the good son' Sam unraveling, culminating in the ultimate betrayal of himself, his ethics as both a man and a soldier. What he does is understandable, it is for his family, but he will have to pay his pound of flesh.
Finally after many months Sam is rescued, and he returns home, but with blood on his hands. Once home he battles with the skin of guilt, he no longer trusts himself, he lives darkly with what he has done. He is obsessed that his brother has slept with his wife and taken away his position in his family. Sam pushes everyone away including his daughters, and in the end looses it, he is arrested and placed in a military mental hospital.
In the end redemption is his when he tells his wife what he has done, and asks "once you have survived a war, how can you start living again...?"
The acting in Brothers is as astonishing as you would expect from the big three, but in this movie, there is no weak link in the cast. Including the sublime acting of Bailee Madison who plays Grace and Sam's oldest daughter Isabelle; a beautiful performance for someone so young, she builds nuances into the character of the daughter who feels like the odd one out in the family, and you can grasp her affection for Uncle Tommy 'the black sheep' of the family.
Although Brothers is about a military family with some violent scenes in Afghanistan, this story is really about a family and the relationship of two brothers' within that family framework. It has shadows of the Hollywood love conquers all story line, but it has plenty of meat on its bones.
Rating
: 4 and ½ stars
Diana Kerr
Release Date
: March 18, 2010