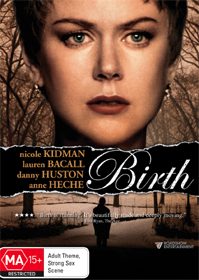 Starring: Nicole Kidman, Lauren Bacall, Danny Huston, Anne Heche, Cameron Bright, Arliss Howard, Peter Stormare, Ted Levine, Cara Seymour, Alison Elliot, and Zoe Caldwell.
Director: Jonathan Glazer
Genre: Drama
Rated: MA15+
Running Time: 96 MINUTES

Ten years after the sudden death of her beloved husband Sean, Anna (Nicole Kidman) is finally ready to emerge from the shadow of grief and begin a new chapter in her life. She has agreed to marry Joseph (Danny Huston), who has patiently courted the lovely young widow for three years. Annas decision pleases her mother Eleanor (Lauren Bacall), who has welcomed Joseph into the family. As friends and relatives gather for Anna and Josephs engagement party.

Out of nowhere a young boy appears and he wants to speak privately with Anna. Indulging what seems to be a whim, Anna accompanies the child to the kitchen. There, he declares that he is her dead husband Sean and warns her not to marry Joseph and Sean will not be dissuaded, and begins to write to and regularly visit Anna. Seans surreal intrusion on Annas life is met with varying reactions in Annas family. At the boys own suggestion, he is quizzed about details of the dead Seans life, and the childs knowledge is uncanny. More unnerving still is the intensity and certainty of his love for Anna. Could this child truly be Annas husband, returned to her? How can she refuse the chance to experience again the love she felt for him?

DVD Features:
Theatrical Trailer, Dolby 5.1, Dolby 2.0, and Subtitles for the hearing Impaired.