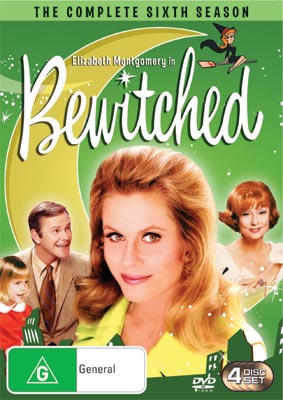 CAST
Samantha Stephens - Elizabeth Montgomery
Darrin Stephens - Dick York (1964-1969) & Dick Sargent (1969-1972)
Tabitha Stephens - Diane & Erin Murphy
Endora - Agnes Moorehead
Larry Tate - David White
Aunt Clara - Marion Lorne
Uncle Arthur - Paul Lynde
Louise Tate - Kasey Rogers
Rated: G

One of the most popular TV comedies series of the 60s. Trouble and fun is just a nose twitch away when a young advertising executive finds he has married a good hearted witch.

Samantha Stephens, a pretty young witch tries to abandon her craft to please her mortal husband Darrin. Off course mother-in-law Endora (an extraverted witch) uses all her power to try to separate them.

The role of Samantha Stephens's (Elizabeth Montgomery) husband, Darrin, was played by Dick Sargent in this season, replacing Dick York who had to leave the show due to an ongoing illness.

The show is based around the mismatched couple, who attempt to overcome the fact that Samantha is a witch and Darrin in a mere mortal. Samantha's family, led by her mother, Endora (Agnes Moorehead), never approved of the marriage, and the overbearing mom regularly casts wicked spells on Darrin.

But despite all these obstacles, Samantha and Darrin somehow manage to stay together, and this wickedly funny season continues in much the same vein as the preceding five. Among the highlights and notable plot points in these 29 episodes are the birth of Samantha's second child with Darrin, who is immediately placed under a spell by Endora's estranged husband, Maurice (Maurice Evans); a subtle turning-of-the-tables as Darrin is given a watch with magical powers to match Samantha's own; and a quirky turn of events as Endora is finally forced to be nice to Samantha's husband.

The show is thoroughly ingrained in the pop culture landscape and its continuing appeal has led to remakes, spin-offs, and a contemporary updating of the characters in the 2005 BEWITCHED feature film. This nostalgic collection brings viewers a step closer to the end of the show's eight-season run, but is full of all the magical ingredients that made the show such an endearing favorite across the globe.

Review: Some classics are timeless, Bewitched is definitely one of those, where the remake didn't impact on the real thing. Great family entertainment, for anyone you loves a touch of magic & romance.