Biba Bright Futures

On Sunday, almost one hundred of our most vulnerable young people in out of home care and at risk were treated to a special day of Hair & Beauty at BIBA Academy in Fitzroy.

Biba Bright Futures was a day to inspire and encourage young Australian's, giving them a special day to feel beautiful and learn some valuable tips for their personal presentation and success in the future.

X-Factor Judge Natalie Bassingthwaighte volunteered her time to be there and gave every girl a copy of her book Sistahood to keep. Tottie Goldsmith and Alex Fevola also caught up with the girls and BIBA's Pavlos Divitaris put on a Macedonian BBQ for all.

'There is such a need to for these young people to gain confidence and key skills," says BIBA's Pavlos Divitaris. 'All businesses can make a difference and do something to support kids in their local communities. We will be following up with any of the children who are keen to become hairdressers and raising funds to provide them with kits and skills they need to start a career. It's only a small step but we hope we can help make a difference in these kid's lives."

The statistics are really quite sad with around 75% of these children becoming unemployed and 46% of boys leaving care ending up in the juvenile justice system. Children in out of home care are: 35% more likely to have alcohol problems; 61 times more likely to be imprisoned or on correction orders and this is only the beginning.

'There are so many incredible people who would volunteer their time and skill set to help if only they knew how. Even one hour a week can change a young person's life," says Divitaris. 'The children who are supported and connected to their local communities are the ones who are thriving. We've just got to get the others involved and supported."

BIBA's Artistic Director Lyndal Salmon was also major driver of this event, organising Biba stylists to volunteer for the girls, make up artists, door prizes, career and presentation tips – you name it! 'BIBA Academy has such a strong community spirit. The BIBA family and I were just so thrilled to open our Fitzroy doors and share with the community our love for the hair industry and also boost morale, self esteem and generate some massive smiles on the faces of Victoria's vulnerable and underprivileged youth," said Lyndal. 'All the sponsors, celebrities, staff, students, friends and family that contributed their time and spirit, made this day possible. Sharing, being positive and giving back to others who need support and warmth will never leave you disappointed or second best; guaranteed!"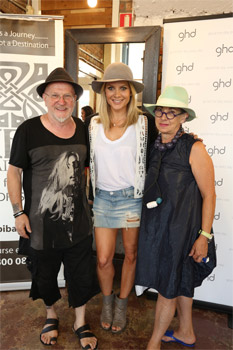 How Can We Help?
The community can play a large role in being a part of a young person's positive strategies that can help them survive years of neglect, poverty or hardship.

There are 7,000 children in out of home care in Victoria alonw and only 1,000 registered foster carers.
Become a Foster Carer - The Process Is Not As Hard As you Think
Mentor a Child For An Hour A Week
A huge factor in how children cope with severe trauma in later life is how resilient they are. Resilience can be built with the existence of a positive and consistent person in that child's life – even for one hour a week. Many children who have gone on to live normal lives will say that it was that one person who turned their life around.

Keeping Families Together

Many families break down because they don't have time out and can't afford to provide their children with different experiences and appropriate care. People can volunteer to be respite carers and once a month take some children out to experience new things while their parents get a rest.

Encouraging Education
Of course there is the factor of education and how to encourage children to go to school when education is not valued in their families and they already feel different. Many cannot read and schools just don't have the resources to sit with them and help.
Reading Skills
Tutoring For Maths and Education
Breakfast Programs: many children don't get breakfast and can't concentrate
Life Skills: Paying bills, accessing education options, training and support employment support, work experience, writing a resume or job application, preparing for a job interview.
Sporting Support: Local sports clubs mentoring and encouraging children's involvement
Driving the kids to sporting events and training
Donating or sponsoring a child to cover sporting equipment, fees and uniforms

Taking Care Of Our Foster Carers

These people do an amazing job and are under resourced and can often not afford to maintain their homes adequately (young people leave holes in their walls) etc.
Spoiling them with facials, make up, hair cuts and massages would be lovely.
Tradesmen support with building, plumbing, handy man help etc.

Kids Need:

Self Care Skills - diet, maintaining personal hygiene, health checks, sexual health support,
harm minimisation practices
Driving skills & kilometres (there is a volunteer program)
'It is up to local business and communities to support our children at risk and in state care especially as it is our communities who ultimately pay the price if our children are not cared for properly. After all, it takes a village to raise a child," says Elise.