Do you have trouble finding fashion boots that Fit?
Independent research shows that 75%+ of Australian women between the ages of 15-to 55 have trouble or know a friend who has trouble fitting boots around their calves. So far we as a nation have had to squeeze, push and shove our sexy, curvy calves into the commonly available narrow boots on the market or get them specially made.

Not any more! Bennetts Boots, Australia's No. 1 Specialists in Wide Calf Boots has just received its latest leather shipment. Each boot is between 5-15cm wider than the average boot. All the measurements for each size and style are easily found at: www.widecalfboots.com.au

"It was so embarrassing going into stores and not being able to fit into the boots I wanted and lets face it, walking around in gumboots was not an option!" says Michelle Karra Kensington VIC "I have to look good and be comfortable as I spend a lot of time on my feet".

What inspires the designs?
All the Bennetts Boots' Collections are very simple in design. They are styled in a way that they will never go out of season and will suit almost your entire wardrobe. Simple long lines make the wearer look taller and slimmer. Always interested in us, "the wearers of the boots", Amanda often asks customers what they want to see in a pair of boots so if you have an ideas feel free to send them in, you may just see your ideas incorporated into the next collection.

"I love really fancy designer boots but in reality I don't wear them more then once or twice as they quickly become old news. When designing, we always think of the women wearing them every day, looking good, being comfortable and getting good value for money. No-body wants hundreds and thousands of dollars sitting in their wardrobe." Amanda remarks when asked about the design process.

Limited Quantities Produced
Bennetts Boots' collections are made in limited numbers so you won't end up having the same look as every other woman at the party.

"Fashion is about expressing yourself and being you. Every woman deserves exclusive designs, so we limit the number of boots of each style and never re-produce that style again." Says Matthew Tallent, the co-founder of Bennetts Boots.

Each leather boot comes with a "Certificate of Authenticity" which has a batch number, the individual number assigned to your boot and signed by the founder Amanda Bennetts. This insures you have an original pair of Bennetts Wide Calf Boots.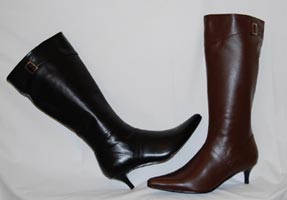 The Stallions
Available in black and brown these soft leather mid calf boots are versatile enough to wear in the office or out on the town. The pointed toe gives you a slash of sophistication while the short stiletto heel gives you extra height without being too far off the ground. Fully cushioned from heel to toe you will be comfortable all day long.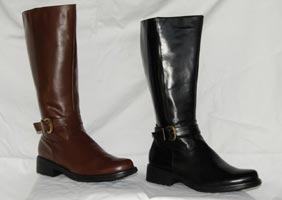 The Flats
Also come in black and brown and made of soft durable leather. Simple lines to elongate your legs and the calf measures up to 50cm. Detailed measurements available at WideCalfBoots.

The best part about Bennetts Boots is they are made specifically with the curvy calf in mind."We don't take a common boot, put a strip of elastic in it and call it wide calf" says co-founder of Bennetts Boots Amanda Bennetts. "After a day on your feet the elastic hurts, leaves a red mark and worst of all you look like you have big calves. Our range is designed for comfort and support making 'these boots made for walking'! "

Australian Business
Bennetts Boots are the only Wide Calf Boot specialists in Australia. Up until now you had to either buy from the US or UK via the internet and who knows if they will arrive; get them made or pay a fortune for imported brands. Now every woman in Australia can access fashion that fits and at a reasonable price.

"I used to have to purchase my wider calved boots from a US site now with Bennetts Boots I don't have to worry about the international purchasing. And they have a money back guarantee if I don't like what I receive, which I've never had to use but its good to know its there." Deb Ferguson NSW, Bennetts Boots customer.

Women all around Australia are praising the ability to finally find boots that fit.

Kelly Hughes of Hallett Cove SA
"Dear Amanda, I just wanted to let you know I received my boots today and I ADORE them! They are so gorgeous and comfortable (not to mention sexy!). I can't wait to order from you again, I just have to decide what to buy next!"

Christie McDonald from Forster NSW
"Hi, I recently bought boots from you, WOW - i love them!! Thank you so much, and you sent them so quickly! Please can you tell me when the "hot knights" will be available? I love the purple and the white....Thank you so much"

And Melissa Sayer from Melbourne says
"I'm just wanting to say - hooray and thankyou for introducing such nice, reasonably priced boots into the market. Thanks

What if they don't fit?
Buying online can be difficult as you're not able to try them on for fit. Most online shoe stores ask you to choose carefully as they do not exchange or refund for ill fittings. At Bennetts Boots they put their money where their mouth is and give us a 100% money back if they arrive and don't fit or even if they are not what you wanted. Of course if it's just the fit they can swap them too. Full terms and conditions are on their website www.WideCalfBoots.com.au plus the measurements for each style.

How did Bennetts Wide Calf Boots Come to Be?
I asked Amanda how she came up with such a needed product."I didn't mean to I just couldn't find white boots that fit. Originally I thought I was the only one with chunky calves but when I mentioned it to a few of my friends they too had the same problem. I felt a lot better knowing I wasn't the only one and decided to get a few made and sell them at markets.

As I did the research I found hundreds of women all over Australia needed boots that fit so with my partner Matt we set up a website and to our surprise even throughout summer we had women buying. Our main problem now is keeping up with supply and getting out to the women who need us."

Agents Needed!
Bennetts Boots is looking for women in all areas of Australia, who have curvy calves and want to be part of the fashion industry. If you're passionate about looking and feeling good and have a few hours a week to focus on boots then this is a fantastic opportunity for you. Take a look at out website for more details Careers

"I loved the boots so much, and so many of my family and friends need and want them I just had to become apart of the Bennetts Boots team." Michelle Mirilov, Hoppers Crossing, Bennetts Boots Agent.

Soon to be on The Kerri Anne Morning show on channel nine Amanda expects to sell out of her current collections. Bennetts Wide Calf Boots are available online and in selected shoe stores. Avoid missing out and visit: www.WideCalfBoots.com.au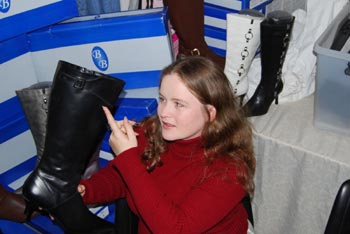 Special Event
For two days only Bennetts Boots will be available at The Melbourne Town Hall Swanston Street Melbourne:
Friday 15th August 11am-8pm
Saturday 16th August 10am-5pm


* Bennetts Boots are giving $5 from every pair of boots sold to Parkinson's Australia in honour of Co-founder Matthew Tallents mother, Dr Kathy Tallent who has Parkinson's.