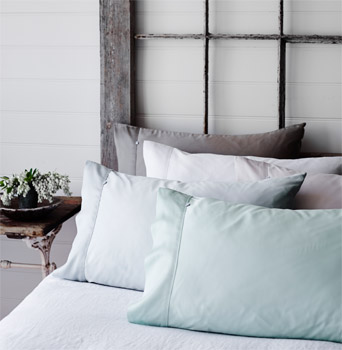 Beauty Sleep Pillowcases by SleepLab

Think Beauty Sleep is the stuff of Fairy Tales?

If you think beauty sleep is a thing of fairy tales, think again. Adairs' exclusive and revolutionary new Beauty Sleep by SleepLab bedlinen makes the ability to get supple, smoother skin whilst you snooze, a reality.

Australia's leading retailer of manchester and homewares has successfully combined luxurious comfort and cosmetic technology that delivers a truly dreamy sleep experience and a beauty routine so simple, you can do it with your eyes closed.

Created by Lenzing, the leaders in fiber innovation, the silk-like 100% Tencel® natural fibre is enriched with Chitosan particles extracted from the shells of deep-sea crustaceans and embedded permanently in the fibre to create TencelC®. When in direct contact with your bare complexion, this revolutionary fabric maintains much-needed moisture content in your skin at a time when cell renewal is at its most effective.

Alana Spence, Senior Buyer at Adairs says: 'SleepLab is a brand that brings together quality and innovative products with a focus on health and wellness. SleepLab has made the romantic notion of -beauty sleep' a reality with the launch of the Beauty Sleep bedlinen."

According to Dr Susanne Jary, Head of Global Home Textiles Marketing at Lenzing, beauty routines do not get any easier than this.

'Our scientists have developed innovative manufacturing techniques that allow the TencelC® fibre to withstand regular washing without losing its cosmetic properties. This bedlinen is so cosmetically advanced that it can actually aid skin respite, regeneration and restoration whilst you sleep," says Dr Susanne Jary.

The result is serious opulence and skincare revitalisation with very little effort thanks to TencelC®, a state-of-the-art fabric designed to bring you beautiful, radiant skin while feeling fresh and comfortable under the covers.

Presented in soft shades of white, blue, moss, silver and string, Beauty Sleep by SleepLab is available in the following variations:
370 Thread Count King Bed Sheet Set: $299.95
370 Thread Count Queen Bed Sheet Set: $269.95
Pillowcases Pair: $99.95

We all talk about getting our beauty sleep – now we really can. Lay back and let Beauty Sleep by SleepLab bedlinen make your dreams of youth become a reality.

Beauty Sleep by SleepLab is available exclusively at Adairs stores nationally.