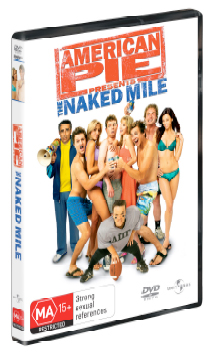 Starring: John White, Steve Tally, Candace Crosiak,
Director: Joe Nussbaum
Genre: Comedy
Rated: MA15+
Running Time: 98 mins

Fed up with Christmas Pudding? Well prepare yourself for some American Pie, the year's funniest film American Pie The Naked Mile is out now on DVD.

Eric Stiffler (John White) is feeling the familiar burden of any teenager, all his mates have lost their virginity and he still has not done the deed. Despite practising on his own regularly, he has not yet tempted his high school sweetheart Tracy (Jessy Schram) to let the Stiffmeister do his thing!

Taking matters in to his own hands and having been granted a 'Guilt Free Pass' for the weekend, it's time for action, so Eric heads to his cousin's college with his school mates to hook-up with an established sexual Stiffler, Adam (Steve Talley) to take part in the Naked Mile.

Steeped in college history, the Naked Mile sees students celebrate the end of exams by running through the college campus in nothing but their birthday suit. It's a haven of hot girls naked and primed for action. Eric meets Brandy (Candace Kroslak), a stunning soroity girl who falls for his naive charms. But will Eric live up to the family name and do the deed?