DVDs & Video Releases by Buena Vista Home Entertainment
X-perience Wolverine's Story in the latest X-Men power packed action adventure!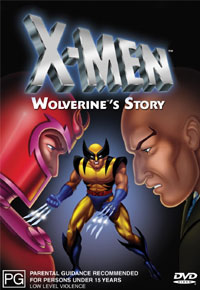 Mystery and non-stop action combine in the latest thrilling adventure of the classic X-Men series; X-MEN: WOLVERINE'S STORY. Buena Vista Home Entertainment presents action hero favourite, Wolverine, in his journey packed with fun and excitement.
The story unfolds when a powerful band of villains set out to destroy the X-Men. To combat their common enemy, long time rivals Professor Xavier and Magneto must join forces to keep the mutants from being annihilated. The action-packed adventure will keep you on the edge of your seat and the plot will keep you glued to the small screen as this movie unfurls one the greatest mysteries - the origin of one of the most powerful and popular X-Men; Wolverine! As Wolverine tracks down the man who made him what he is, Rogue, Cyclops and all your favourite mutants wage an all-out war for their own survival.
To unravel the Wolverine's past and find out the destiny of the X-Men, don't miss this original story in this series of classic X-Men adventures.
X-MEN: WOLVERINE'S STORY (PG) is available now on DVD & Video.
Extra DVD features include a Bonus Episode: Enter Magneto and special commentaries on select episodes by X-Men creator Stan Lee and Stan Lee's Soap Box.
Order Now from Dstore
Order Now from Top Shop
Order Now from Sanity
SLEEPING BEAUTY!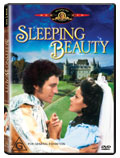 A beautiful princess, a heroic prince, a fire-breathing dragon and magic - Walt Disney's timeless fairy tale, SLEEPING BEAUTY will be released on Disney 2-disc DVD Collector's Edition & video.
Meticulously restored to its original glory, Walt Disney's captivating masterpiece has awakened for new generations of little princesses (and heroic little princes!) to enjoy.
An all time breathtaking Disney classic, SLEEPING BEAUTY unfolds a tapestry of romance, suspenseful adventure, heroism and faith in finding one's-true-love. Teamed with Disney's trademark humour and enthralling music, SLEEPING BEAUTY is packed with entertainment for the whole family.
Once upon a time, in a kingdom far away, a beautiful princess was born. Princess Aurora, fated by a terrible curse to prick her finger on the spindle of a spinning wheel and die at the age of 16, falls into an enchanted slumber to become SLEEPING BEAUTY.
Princess Aurora's magical friends, the Good fairies Flora, Fauna and Merryweather do their best to protect the Princess by raising her in a forest cottage disguised as Briar Rose. Despite their loving attempts, the evil fairy Maleficent finds Aurora and the spell is cast.
The good fairies put everyone in the castle into a deep sleep until the curse can be broken. It is only with the aid of the gallant Prince Phillip, who vows to save his adored princess that the wicked Maleficent, transformed into a menacing, fire-breathing dragon, is destroyed, and the SLEEPING BEAUTY is awakened by his kiss.
SLEEPING BEAUTY is Disney's most luxuriant feature, with unparalleled attention to detail and bold stylisation in the use of colour, character, and background design.
Order Now from CD Wow
DVDs & Video's available from all good stockists.