Take a New Walt Disney Collection Title Home!
Walt Disney Home Entertainment has released four magical animated classics in the Walt Disney Collection for you to take home on video or DVD.
Pinocchio, Hercules, James and the Giant Peach and Basil the Great Mouse Detective will provide hours of fun and entertainment.
Full of loveable characters, memorable songs and action packed adventure, these videos will bring a smile to your face, a tear to the eye and a laugh to your belly!
The Walt Disney Collection consists of Disney's best-loved titles available on Video and DVD.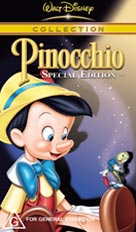 Pinocchio (G)
Pinocchio is the story of a small wooden puppet who comes to life after his kindly creator Gepetto wishes upon a star.
To become a real boy, Pinocchio must show bravery, loyalty and honesty. Together, Pinocchio and his friend Jiminy Cricket embark upon a fantastic odyssey as the little puppet's resolve to remain good and truthful is tested.
Pinocchio is regarded as the most perfect of all Walt Disney's animated features and has won two Academy Awards®, one for Best Score and the other for Best Song (When You Wish Upon A Star).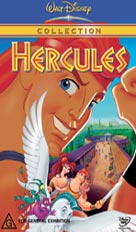 Hercules (G)
Hercules, the golden haired son of Zeus and blessed with incredible strength, is the dashing hero of Walt Disney's 35th Animated Classic.
Born a god on Mount Olympus, Hercules is kidnapped as a baby and turned into a mortal by Hades, villainous king of the underworld.
With the help of Pegasus, a flying horse, and Phil, a personal trainer, Hercules sets out to become a hero and to impress the strong willed Grecian beauty, Meg.
This Disney masterpiece is narrated by five Grecian 'soul sisters' who sing and dance their way through the storyline.
Bonus DVD features include: Hercules Video Art Gallery, Disney Pedia: Greek Mythology, The Making of Hercules, "Zero To Hero" Sing-Along Song and Art Attack: How To Make A Greek Urn.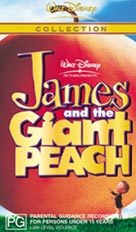 James and the Giant Peach (PG)
James and the Giant Peach, based on the much-loved novel by Roald Dahl, is a delightful animated adventure the whole family will enjoy.
The wildly imaginative adventure revolves around James, a small boy who lives with his two wicked old aunts.
When James accidentally drops a pouch full of "magic crocodile tongues" in the garden, something strange happens and a gigantic peach grows overnight.
Curiosity gets the better of James and after climbing inside the enormous peach, he is transported to a magical world where human-like insects reside.
Bonus DVD features include: Production Featurette - Look At The Making Of The Film, "Good News" Music Video Performed by Randy Newman and Original Theatrical Trailer.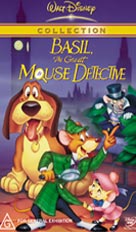 BASIL THE GREAT MOUSE DETECTIVE (G)
Brilliant animation, loveable characters and a thrilling plot ensure that Basil the Great Mouse Detective will be a firm family favorite for years to come.
Basil of Baker Street, the dashing Sherlock Holmes of the mouse world, finds himself pitted against his arch-enemy, the cunning Professor Ratigan.
With the help of his bumbling sidekick Dr Dawson and a loveable bloodhound called Toby, Basil embarks on a hair-raising rescue mission through turn-of-the-century London.
Bonus DVD features include: The Making Of THE GREAT MOUSE DETECTIVE Featurette, "Clock Cleaners" - Animated Short, "The World's Greatest Criminal Mind" Sing-Along Song, "Donald's Crime" - Animated Short and THE GREAT MOUSE DETECTIVE Scrapbook.
Order Now from CD Wow