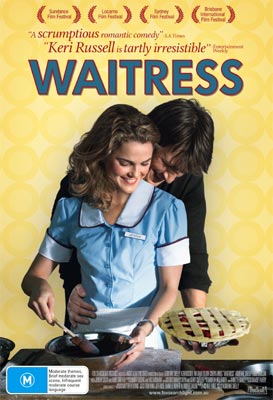 Starring
: Keri Russell, Nathan Fillion, Cheryl Hines, Adrienne Shelly, Eddie Jemison, Lew Temple
Director
: Adrienne Shelly
Screenplay
: Adienne Shelly
Genre
: Romantic Comedy
An audience hit at the Sundance Film Festival, WAITRESS serves up a sweet, sassy and delicious slice of life tale -- as it reveals the power of friendship, motherhood and the willingness to take a chance. Its the story of a small town woman who transforms her hopeless life into a hilarious and unexpected love story. This vibrantly different romantic comedy is the final film from writer-director Adrienne Shelly.
Starring in the title role, Keri Russell (MISSION: IMPOSSIBLE 3, THE UPSIDE OF ANGER) leads a dynamic cast as a diner waitress stuck in a lousy marriage whose only solace is baking out-of-this-world pies. When the awkwardly charming new OB-GYN, Dr. Pomatter (Nathan Fillion, SERENITY), comes to town, shes inspired to mix-master her life into something far more satisfying. WAITRESS will surely do for pie making what SIDEWAYS did for Pinot Noir.
In Cinemas 25th October
Review: Enchanting, subtle, honest beauty, it's a shame that this will be Adrienne Shelly last film.Waitress is a dark comedy which explores its confused characters entertaining with uncommon humor. It's about people finding their slice of happiness when things don't turn out as they planned and learning to live with lifes little mishaps.
"Behind the scene" clips:

Adrienne Shelly discusses her inspiration for WAITRESS.
Director Adrienne Shelly and actress Keri Russell discuss working together on the set of WAITRESS.
www.femail.com.au/comp-waitress-dvd-packs.htm