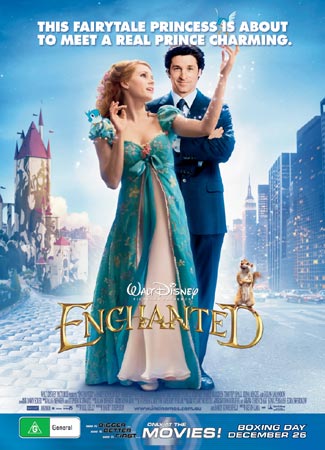 Starring: Amy Adams, Patrick Dempsey, James Marsden, Susan Sarandon
Director: Kevin Lima
Genre: Animated/Live Action Fairytale Fantasy
Classification: G
Running Time: 107 Minutes

A classic Disney fairytale collides with modern-day New York City in a story about a fairytale princess (AMY ADAMS) from the past who is thrust into present-day by an evil queen (SUSAN SARANDON). Soon after her arrival, Princess Giselle begins to change her views on life and love after meeting a handsome lawyer (PATRICK DEMPSEY). Can a storybook view of romance survive in the real world?

ENCHANTED is directed by Kevin Lima ('Tarzan', 'Eloise At Christmastime') from a screenplay written by Bill Kelly ('Blast From the Past') and will feature original songs from the reunited team of acclaimed composer Alan Menken and lyricist Stephen Schwartz ('Pocahontas,' 'Hunchback of Notre Dame').

Release: 26th December

Review: Enchanted takes a new spin on a classic fairytale story and throws into the real world for a real awakening. The evil queen has occupied her step-sons (the Prince) time in an attempt to keep him away from his one true love so she can keep the throne. Unfortunately the prince has grown tied of chasing and capturing Ogres and fate steps in. Brought together in song, the prince and Giselle are about to get married when the queen helps Giselle get a glimpse into the real world.After stumbling around New York City and feeling, Giselle is looking for a touch of kindness to give you inspiration when she stumbles across a handsome lawyer (Patrick Dempsey) who reluctantly helps her out.With Cartoon and actors combining makes for interesting and entertaining cinema photography.As our damsel in distress awaits her Prince to rescue her she discovers a life that is just as enchanting and becomes torn between the two worlds. A gorgeous adventure for the young and young at hear, Enchanted will be enjoyed by all.