Waitress
If only life were as easy as pie.....
Available to rent February 27th, 2008
Waitress is a sweet comedy about the power of friendship, motherhood and second chances, Directed by Adrienne Shelly and starring the radiant Keri Russell.
Jenna (Russell), a small town waitress with the extraordinary gift of baking out-of-this-world pies, has big dreams of winning $25,000 in a pie contest and leaving her obnoxious husband. However, when Jenna realizes she is pregnant with his baby, she finds herself in a hilariously desperate situation.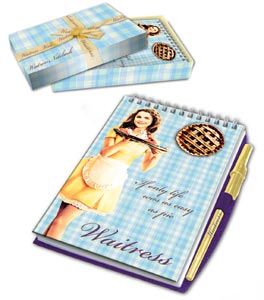 A chance meeting with a handsome doctor, new to town, just might give Jenna all the right ingredients to help her find true happiness.
More on Waitress the movie
www.femail.com.au/waitress-review.htm
Buy Now from Fishpond

Thanks to 20th Century Fox Home Entertainment here is your chance to win one of 10 Waitress Packs including Waitress DVD, Notebook & Pen.
This competition is now closed