Vera Farmiga Higher Ground Interview
Cast
: Vera Farmiga, Joshua Leonard, Norbert Leo Butz, Dagmara Dominczyk, John Hawkes, Bill Irwin, Ebon Moss-Bachrach, Donna Murphy
Director
: Vera Farmiga
Genre
: Drama
Rated
: M
Running Time
: 112 minutes
Synopsis
: Vera Farmiga's directorial debut, Higher Ground, is set against the backdrop of the Sixties and expertly depicts the landscape of a tight-knit spiritual community. Inspired by the resonant memoir from Carolyn Briggs (who also wrote the screenplay), the film is an exquisite study of one woman's internal struggle with the primary love relationships in her life.
Release Date
: 6th of October, 2011
Interview with Vera Farmiga
Question:
What made you want to direct this script?
Vera Farmiga
: The thing that hitched me to directing it was its tricky tone. As the script evolved, it became a genre-defying film-a story of self-discovery, a romance, a dark comedy, a tender account of female friendship, and even a musical exploring the complex themes of faith and doubt. I was attached to the project as an actress with honestly no intention of directing. After three years of script development with Tim Metcalf and an intense year of reshaping and rewrites with Carolyn S. Briggs and my husband Renn Hawkey, my heart was invested in a new and profound way. I'd never been a part of script evolution before. In the process, my own psyche, perceptions, and in particular, sense of humor entered the equation. Carolyn and I aimed to insert as much comedy and lightness into Corinne's journey as we could, with tact and diplomacy-not poking fun of the characters, but allowing them to have fun. Mixing spirituality and humor was going to be a tall, delicate order.
Carolyn was the real life model for Corinne. She believed I understood the spirit of the film, the complexities of the character's struggles and search. With her validation and plea, I knew I should direct.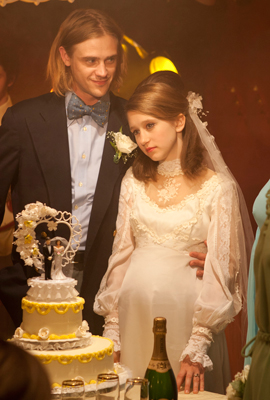 Question:
How did the subject matter allow you to explore or challenge some of your own thoughts on religion and faith?
Vera Farmiga
: This film explores a notion I've experienced my whole life-that the spiritual life is hard to master. Great faith requires great striving. Whether we call it religion or faith, we all battle for a balanced, integrated soul. The protagonist in my film is searching for an authentic faith. The film examines her struggles within all the love relationships in her life-with her parents, her children, her friends, her community, and in her marriage, her relationship to God, and her relationship to self. The examination proves just how porous and murky a spiritual path can be at times. It embraces the gray of black-and-white religion.
Question:
It can't be that easy to just jump in and start directing without experience-have you been learning on the job as an actor?
Vera Farmiga
: I've had the great fortune of working with the finest directors, both heavyweight champions of cinema and rookies. They've all rubbed off on me in one positive way or another; in particular, Debra Granik [Down to the Bone, 2004] and Anthony Minghella [Breaking and Entering, 2006]. From them I learned the importance of kind and affectionate leadership. Even the not-so-great experiences, being directed (and limited) by the occasional egotistical know-it-all, have been helpful.
Honestly, it was pretty easy to jump in and take control. I think most anybody with vision, ideas, taste, awareness, instinct, and the will, can direct. I don't think an extensive film education or film history is compulsory. I had rock stars for department heads to bolster my vision; Michael McDonough, director of photography; Sharon Lomofsky, production designer; and Amela Baksic, costumes. With their creative contributions came certitude that I could direct without experience.
Question:
What was the most challenging part of the process as a director?
Vera Farmiga
: Most challenging was self-editing. Editing is not a part of the filmmaking process I've ever been privy to as an actress. Editing yourself is like an irksome coin toss. You've got to strip yourself of super ego and operate from the id. (Maybe I've got my Freud mixed up.) It's just hard to trade a beauty shot for the performance with truth and a brightly lit zit.
Question:
Did also being the director affect the way you performed on camera in any way?
Vera Farmiga
: I sincerely don't think so. Normally I rely heavily on my director to massage me out of my actor comfort zones. I relied instead on my scene partners, my script supervisor, my focus puller, and my husband/producer for feedback. We didn't always have time for playback and review, so I went by the affirmation or sheepishness of their gaze. I never moved on without their thumbs up. But I'd like to think that most often my instinct and bullshit meter told me when to cut and print.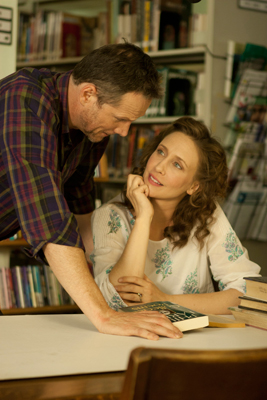 Question:
It sounds like a tight crew in every sense of the word.
Vera Farmiga
: It required herculean effort on the part of my producers to meet the budget. We started off with 58 shooting locations that, by production, were reduced to 38. There were 21 live music performances. Lots of principle actors, lots of extras, many non-actors. Different eras which required frequent costume and hair changes. Animals. Children. Bus crashes. Epic stuff, for minimal funds.
I sacrificed things like actor creature comforts in exchange for sufficient and capable crew. My crew was nonpareil. I worked them like mules. My own 5-month pregnancy was a good damper for complaints. No matter how bad the crew ever had it, they knew I had it worse. My husband, as creative producer and music director, was the jewel in my crown. I feel supremely and equally yoked to the guy. I value his opinion and perspective above any; he was my resounding sounding board. He has extraordinary diplomacy, savoir faire, and charm that make him an excellent producer and communicator with actors. If anybody had a problem with anything, I'd sic Renn on them and he'd cajole them out of their misery.
Question:
This film goes to unusual places in American culture and psyche-it's not mainstreamstorytelling. Have any other filmmakers or artists especially influenced you?
Vera Farmiga
: I would say key influences in general would be Jon Cassavetes for his realism, Luis Buñuel for his surrealism, Debra Granik for her honesty, precision and non-bias, Ingmar Bergman for heartache, and Pedro Almodóvar for his themes of passion, desire, family and identity. The Apostle (1997) is my number one reference film for this project. Robert Duvall's performance and direction was a case study for me.