The Whistleblower
thewhistlerblower_s.jpg
Cast
: Rachel Weisz, David Strathairn, Vanessa Redgrave, Monica Bellucci
Director
: Larysa Kondracki
Genre
: Thriller, Drama, Action
Running Time
: 112 minutes
Synopsis
: 1999. Kathryn Bolkovac (Academy Award-winner Rachel Weisz), a single mother, struggles in Lincoln, Nebraska. She loves being a cop, but having spent 10 years raising her daughter, she had to start her career late and in this small town, promotions are few and far between. Kathy is divorced, and her ex who has primary custody of their child, is moving out of town. Her desire to get closer to her daughter, combined with a long-harbored ambition to do something meaningful, mean Kathy cannot resist a one-year, $100,000 tax-free contract with Democra Security, a private contractor that hires American police officers on behalf of the U.S. government to serve in United Nations missions around the world. Of all the countries participating in international peacekeeping missions, only the U.S. outsources contracts to private companies. All other countries send contingents from their military. Kathy is entering a billion-dollar mission. The fact that it is in post-war Bosnia, leaves her scared, excited, and determined. Kathy can get the money she needs to get closer to her daughter. And if this mission goes well, she could be looking at a career in the International arena. For Kathy, it's the chance of a lifetime.
Once there, Kathy quickly works her way up the ranks, working with local cops to bring about the first domestic violence conviction in Bosnia since the war. Kathy's quick wit, and policing experience soon brings her a new position: As head of the U.N.'s Gender Office, which deals with investigations into sexual assault, domestic abuse and sex trafficking. Kathy is swamped with trafficking cases. She soon realises that peacekeepers, U.N. workers and international police are not only frequenting the brothels housing and abusing trafficking victims, but are complicit in the trade forging documents, aiding the illegal transport of women into Bosnia and tipping off bar owners about impending raids. These abuses had gone unquestioned for years, aided by a U.N. policy granting diplomatic immunity for peacekeepers. This meant no employee or serviceman could be convicted of a crime, even if that crime were rape, torture, kidnapping or murder. Now, the veil lifted from her eyes, Kathy is determined to change this.
Interwoven with Kathy's story, is the story of two Ukrainian girls who are duped by a relative into traveling West in search of work, but are subsequently kidnapped andforced into sexual slavery in a brothel in Bosnia. One girl, Raya, appears in Kathy's office, badly beaten. But as soon as Raya agrees to testify against the U.N., her whereabouts are given away to the criminal trafficking ring. She is kidnapped and pulled back into the world of sex-trafficking. Now located deeper in the mountains, it is questionable whether or not Kathy will ever be able to find her.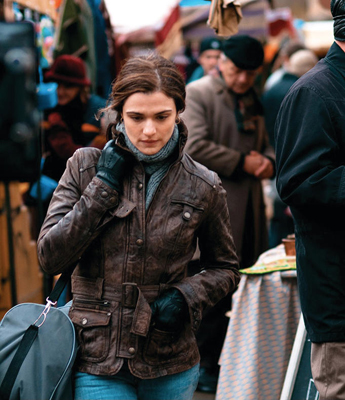 With the girls' disappearance, Halyna, Raya's mother, begins a search for her, dependant on a small agency in Sarajevo, who held Raya for 24 hours before her kidnapping. We follow Halyna's attempts to find Raya. Meanwhile Kathy follows Raya's trail, and with the help of diplomat, Madeleine Rees (Academy Award winner Vanessa Redgrave), head of the United Nations Human Rights Commission, devises a plan to expose the U.N.'s involvement in these crimes. But when Kathy's immediate superiors ignore her warnings, Kathy goes to Internal Affairs. All she receives in return are death threats and an increasing sense of alienation. Superiors try to turn the tables on Kathy, to insinuate she's burnt out, that she's lost perspective.
In October 2000 Kathy Bolkovac publicly blows the whistle on a massive U.N. and U.S. State Department cover-up of mission-wide abuse of trafficked girls. Kathy is fired unceremoniously, ushered out of the Mission Headquarters. Now her only way out is to steal her own case files, and to record conversations with Mission heads, to get the vital material she will need to sue her bosses for wrongful dismissal and to reveal the truth to the world as a whistleblower. Almost 2 years later, she wins her case.
The Whistleblower follows in the tradition of the classic political thrillers of the 1970s - with nuanced characters, and sophisticated storytelling that is grounded in reality and unafraid to explore the darkness on the underside of mainstream reality. This story deals with a truth that most would find hard to believe: the scandal and cover-up of corruption and crimes against humanity by American contractors and the United Nations, organisations specifically mandated to protect those rights.
But what sets this film apart is its point of view. It is driven by a strong female character: an ordinary woman, a cop, a twice-divorced mother who lost custody of her daughter...Kathy was a woman who had never been to Europe suddenly at the heart of international peacekeeping, at the site of one of the worst civil wars and genocides in modern history, who finds herself as the only voice of conscience in a moral vacuum. Her journey from an ambitious, idealistic company woman looking for a second chance via international work, to an isolated, risk-all voice in the wilderness is both the spine of this film, and the blood that runs through its veins.
Release Date
: 29th of September, 2011
The Whistleblower is a film that harkens back to the Golden Age of American independent cinema from the early 70's, yet at the same time is an inherently modern interpretation of the political thriller. Like any broad reaching story, its genesis was relatively modest - in the early 2000s director Larysa Kondracki was based in New York conducting research on what would soon be her feature debut. Born and raised in Toronto, she grew up with strong ties to the Ukrainian community there and used that as inspiration for the story that she wanted to tell. She explains, "As a Ukrainian, it was important to me to tell the story of trafficking, but what I had no idea was just how broad the crime was." Early on in the process, she came across the story of Kathryn Bolkovac, a Nebraska cop that ended up blowing the whistle on what was to be one of the greatest cover-ups in the history of the United Nations. "Once I read about Kathy I contacted her," states Larysa Kondracki, "and asked Eilis Kirwan, my co-writer to come on board. We knew it was a very big story at the time."
It was a very big story which had long-reaching ramifications for international social policy, law and human rights. Surprisingly enough, even though it received tremendous attention in the press and with the overall public in Europe, Kathryn Bolkovac's lawsuit was relatively unknown on the other side of the Atlantic. Similar to the modest beginnings of the film, the actual true-life story started simple enough - a single mother wanting to provide for her children. This single mother just happened to be a celebrated police officer from Nebraska, and intrigued by the opportunity, she jumped at the chance to travel to post-war Bosnia under contract by the UN to police international law.
Kathryn Bolkovac states, "I came in as a very naive Midwestern cop wanting to do the right thing, wanting to bring justice to a lawless world, and I found lawlessness within my own ranks... in the end it was a real awakening for me."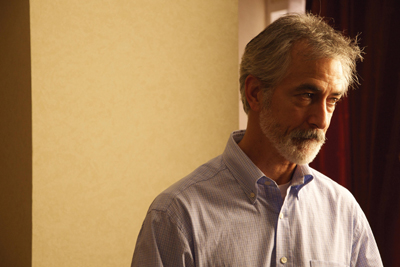 Kathy arrived in Bosnia in 1999. She quickly learned the rules that applied back home in the States were no longer, in a place that had faced years of internal strife. She had actually been aware of the situation much earlier and felt she had a calling to go: "A few years prior to me going to Bosnia, I had been sitting on my sofa in Lincoln, Nebraska watching the war in Bosnia on TV. Seeing the faces of what could have been my relatives because my family has Croatian roots. At that time I really felt like I was going to be there someday but really never knowing in what capacity it would be...it sounded like a worthy cause, something I could really learn from and wanted to do." Once hired to go, Kathy began to have misgivings about the situation she was about to enter and the people that she would be working with. When asked if she had a definitive moment where she realized something was wrong, Kathryn Bolkovac explains, "There were clues before I left Fort Worth, Texas. A gentleman, I use the term very loosely, sitting with us by the pool having a casual beer, announces to the crowd that he knew where to find really nice 12 to 15-year-olds. That stuck in my mind, I registered it, I checked it but really tried to get rid of it. But when I got to Bosnia and started seeing the brothels and running into these women and investigating these crimes it all came back to me. It was so clear to what he was talking about...and then I had to find out for myself the truth."
Kathryn Bolkovac would make an impression during her time in Bosnia, as she quickly established herself as an individual that brought a lot of real-world experience to her job. Madeleine Rees, who is played by Vanessa Redgrave in the film, was head of Women's Right and Gender Unit at the time. She says, "It was in 1999, 2000 that real issues of trafficking for purpose of sexual exploitation were being established. Kathy...was identified fairly early on as someone who had a great deal of experience in domestic violence... It seemed obvious that she would be a perfect candidate to come and work with us on the policing angle of combating trafficking." It was because of who Kathy is as a person that she discovered a far greater issue at hand - the involvement of the "peacekeepers" in trafficking young women. Madeleine Rees goes on to explain, "Because she is an investigator by training but also by instinct she couldn't let it go. She couldn't just do what she was told to do... she went to the bars, she saw the guys in the bars. She was reporting that to her superior officers and to me. Gradually it was becoming more and more evident that there was far, far greater numbers of men involved from the international police task force and from international organisations that we had any idea of."
It was this realisation and her need to confront the truth that put Kathryn Bolkovac in a precarious position. "For me it was really shocking," Kathryn Bolkovac explains, "because I felt that my motives were genuine and I was here to help. I wasn't here to hunt down police bad guys...When I began investigating the internal corruption involvement of our own police forces and our own internationals in the sick world of trafficking, I didn't expect the backlash that I got." As she dug deeper and deeper, the situation became untenable and because she was a threat to the face of the rebuilding project in Bosnia, the powers that be found an excuse to fire her. Kathryn Bolkovac, being the person she is, filed a wrongful dismissal case against her employers and finally cleared her name in 2001.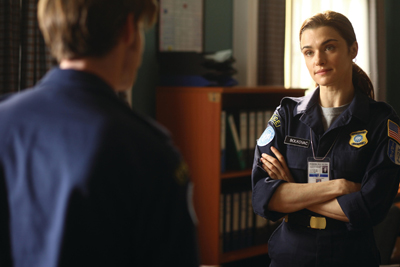 Peter Ward
Their contract in Bosnia is worth millions.
Globally, this year alone: over a billion
in US government contracts. This is one of
the top defense contractors in the world.
Then you come along, with this scandal-
It was the following year that Larysa Kondracki reached out to Kathryn Bolkovac who was now living in the Netherlands and arranged a meeting between her, Kathy and co-screenwriter Eilis Kirwan. There was almost an instantaneous mutual appreciation of what each woman brought to the table. Kathryn Bolkovac remembers, "there was something about Larysa Kondracki. She just sounded so hungry... so authentic. I thought, why not give [the story] to her... never in a million years did I think it would amount to this." Eilis Kirwan remembers her first impressions of Kathryn Bolkovac: "she's funny and she's a mom and she has weird ringtones on her phone.
She's not some po-faced, self righteous lady. She's just somebody who was in a situation who saw something was happening that she didn't think was ok…She could have been my mom, or me, or anyone I know, in a way. And that made it such an interesting story once we knew who she was."
More importantly, the filmmakers felt they had found someone whose story fully covered the story that they wanted to tell. Explains Larysa Kondracki, "you realise that Kathy's story was the strongest. What she went through encompassed every aspect of it - you had the anti-trafficking industry, you had the UN, you had the girls' story and then you had Kathy's personal story... We realised through development that Kathy experienced them all." Once the initial script was completed, it created a tremendous amount of buzz in the industry, first being set up at Focus Features and then at HBO Films. It was when the filmmakers decided to forgo the system and approach the project from an independent perspective, the pieces quickly fell into place. The greatest piece of them all was who was going to play the multi-faceted Kathy, a lead that could tackle the hard-charging public persona but balance it with the tender mother on the private side.
Kathy(V.O.)
We are peacekeepers who came to protect the
innocent but now prey upon them in the
worst ways possible.
Enter Academy Award winner Rachel Weisz. She had actually read the script several years prior while she was pregnant with her first child and felt not in the right headspace to tackle such an emotionally resonant film. However, the power of the script stayed with her and a short while later she actually reached out to the filmmakers to see where the project was and very quickly was back right in the thick of things. For Rachel Weisz, the script personifies the main theme that she is attracted to - "ordinary women who do extraordinary things." She goes further, "It's not really a moral question to her whether or not to act and to do something and blow the whistle... or to step in where she sees injustice. I don't think she thinks about it. I think it's just purely who she is, and she is one of those people who cannot be anything other than who she is. And that's pretty extraordinary."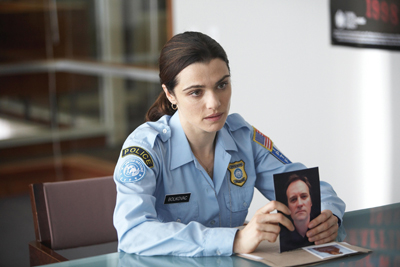 Extraordinary is also a word to describe Rachel Weisz's performance in the film. Once Rachel Weisz reached out to the filmmakers, Larysa Kondracki knew that they had finally found their Kathy. Simply in reflecting upon the variety of characters that Rachel Weisz has played throughout the years, Larysa Kondracki asserts that, "she hasn't boxed herself into a corner" and, "there's not one role that defines her... she's a real actor." It is obvious that this feeling is shared by Kathy herself who, looking back on a meeting between her and Rachel Weisz, says of Rachel Weisz, "we hit it off right away. She's very kind and she's just the kind of person I would like to play me. I see a lot of thoughtfulness in her, a lot of maturity... I just see her getting it."
With Rachel Weisz on board, the rest of the acclaimed cast came together. Academy Award winner Vanessa Redgrave plays Kathy's mentor and confidant, Madeleine Rees. Academy Award nominee David Strathairn (who played opposite Rachel Weisz in Wong-Kar Wai's My Blueberry Nights) is Peter Ward, a friend of Madeleine Rees's that helps Kathy navigate Internal Affairs. The Danish actor Nikolaj Lie Kaas (Angels & Demons) is Jan van der Velde, Kathy's contemporary in Bosnia and the man she ultimately falls in love with. Rounding out the cast is the Italian actress Monica Bellucci (Irreversible, The Passion of the Christ) who plays the head of a NGO and represents the bureaucracy that Kathy is up against.
Kathy
Young women confided in me about what they
had experienced, putting themselves at
great risk. I felt that if I could do
nothing else, the least I could do was give
them a voice and... bear witness for them.
Principle photography commenced in and around Bucharest, Romania in late October of 2009, and would continue through the mountains of Transylvania, establishing shots in Bosnia and wrapping up several days in Toronto. Filming in Eastern Europe was essential as Larysa Kondracki explains, "Locations are a character. Especially in a story such as this, where it's more about what you don't see, so you need to create that world. A lot of it is Kathy putting these clues together...That sense of discovery, that process of Kathy putting together all these worlds and how they connect, it's something you can only really get on location."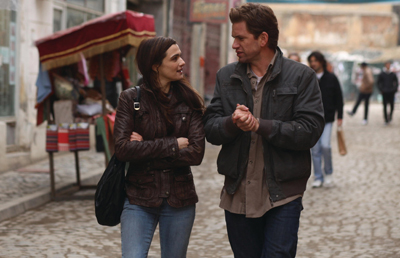 According to Larysa Kondracki, what she really wanted to do was to, "create a film that you're engaged with, and then afterwards say 'how much of this is true?'". What Larysa Kondracki wants her audience to know is that, "...this is happening... it's actually much worse and [it's] continuing to happen, and that really we need more people like Kathy." Eilis Kirwan continues by adding, "when we decided to tell this story about trafficking and about the fact that this happens to young women, happened and still happens, it was really important for us to have a character in the film that the audience got to know on some level beyond 'I am an abstract victim'." This they accomplished with the character of Raya, played superbly by the young Romanian actress Roxanna Condurache. Raya, to great effect, is the vehicle Larysa Kondracki and Eilis Kirwan use to connect the audience to the brutality of the crime of sex trafficking and to express the fear and psychological torture that the girls involved must endure. "It's very important the audience gets to know in a pretty hardhitting way what these girls go through," says Eilis Kirwan. "Even though it is sometimes difficult material to sit and watch as an audience and to write, frankly…it can't stay abstract in anyone's mind anymore." And Larysa Kondracki hopes that not only will the audience come to really understand the nature of this crime and to see the girls as not just abstract, intangible victims, but that, "it sparks a huge debate. I think it needs one."