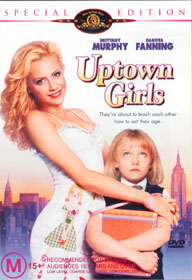 Starring: Brittany Murphy, Dakota Fanning, Marley Shelton, Donald Faison, Heather Locklear, Jess Spencer
Director: Boaz Yakin
Rated: M 15+
Running Time: 89 minutes

Brittany Murphy (Don't Say a Word) and Dakota Fanning (I am Sam) shine brighter than all the lights of Manhattan in this delightful New York fairy tale. Co-starring Marley Shelton (Never Been Kissed), Donald Faison (Scrubs) and Heather Locklear (Spin City), Uptown Girls will make you laugh, cry....and laugh again!

Molly (Murphy) is a partying rock 'n'roll princess whose money just ran out. Ray (Fanning) is a fussy nine-year-old girl whose last nanny just ran out. Only Ray's way-too-busy mum (Locklear) could think that hiring Molly would be the perfect setup for both girls. But as this unlikely pair faces everything from control issues (Ray's, of course) to temper tantrums (Molly's, of course), they discover that sometimes your best friend can come from the place you least expect!

Special Features:
Deleted Scenes
'The Lowdown on Uptown' Featurette
Rockin Style Featurette
Video Stills Gallery
'Time' Music Video with Chantal Kreviazuk
Original Theatrical Trailer

Review:
A fairy tale with a difference. Molly is spoilt and childish, Ray is super serious and anal, but when these two uptown girls are thrown together out of circumstance, they end up sharing more than they care to. With mixed up worlds, they are about to teach each other how to act their age and find that special friendship. Molly has a wardrobe to die for and an Australian hunk (Jess Spencer) to live for, how can she go wrong. A charming coming-of-age comedy that will make you laugh and cry.