Finally it's show and tell time and everyone's favourite red, furry friend is out of the box! The all-new T.M.X. Elmo, also known as Tickle Me Elmo X-Treme, has been revealed today after months and months of global secrecy.
Retailers across Australia have been ordering T.M.X Elmo with the promise that he is totally amazing and will walk off shelves, just as Tickle Me Elmo has in the past. Celebrating the 10 years since the original Tickle Me Elmo was released, T.M.X. Elmo is a welcome and exciting addition and finally everyone can learn what the craze has been about!
T.M.X. Elmo will have you bowled over in fits of laughter as he giggles hysterically, shakes and more amazingly, rolls and tumbles on the floor with laughter. And what's more, he stands up from any position all by himself!
With three 'tickle' spots, you can send T.M.X Elmo into a flurry of laughter by 'tickling' his chin, belly or left foot. Depending on the number of times you 'tickle' Elmo, you'll watch in absolute delight as he reacts in a variety of ways, which become more and more extreme as the tickles continue!
One tickle will make T.M.X. Elmo giggle, shake and wave his right arm up and down. Two tickles will make Elmo sit on the floor in laughter, giggle and shake, wave his right up and down and stand up all by himself. Finally, to see T.M.X. Elmo reach the 'extreme', tickle Elmo three times to see him giggle and shake, lie on his tummy and wave his hand up and down, slap the floor in hysteria while he chuckles uncontrollably on his belly, turn over onto his back and kick his legs up and down in laughter, and then stand up again - all to finish with an exhausted sigh saying in the voice that everyone loves, 'Give Elmo a break - please!'
Julie Kearns, the Marketing Director of Mattel Australia, is more than excited about the launch of T.M.X. Elmo and has already been amazed by the level of interest shown in the new Tickle Me Elmo toy.
"Everyone has been anxiously awaiting the launch of the brand new T.M.X. Elmo and the support we have received has been simply amazing," said Ms. Kearns.
"Given the success of the original Tickle Me Elmo plush, as well as the revolutionary capabilities of T.M.X. Elmo, we have no doubt that it will become an instant hit with Australians and will replicate the worldwide success of the original Elmo."
"We've done our best to prepare for the demand and expect to continue making deliveries right through until Christmas to our retailers. Given the sophistication of this new Elmo, we're trying to ensure we can keep up with the demand!" Kearn's commented.
We've been teased and taunted with the promise of a toy that has never been seen to perform like this before and now T.M.X Elmo is revealed living up to every, wonderful expectation! Noted as being a ''remarkable feat of technology and precision'' by The Toy Guy ® Chris Byrnes in the USA, T.M.X. Elmo is on retail shelves now!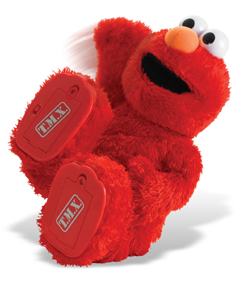 Celebrating the tenth anniversary of Tickle Me Elmo, T.M.X. Elmo will amaze you. Tipped to be the most-wanted toy of 2006, and at the top of every kid's Christmas list, if you're not laughing after seeing T.M.X. Elmo, it's likely your funny bone isn't working!
Review:
Get in early for Christmas, cause TMX Elmo is sure to sell out. The cutest monster around now is able to stand up by himself and if just full of laughs. What's for Christmas...... TMX Elmo.......!!!