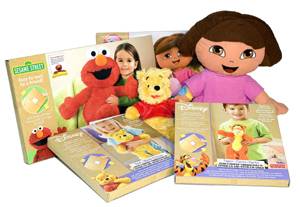 Placing a smile on a friend's face has never been so easy! As of 1 November 2006 the latest innovation in toys, Send-A-Friend by Fisher-Price, will be available and perfectly timed for Christmas. The uniquely vacuum sealed plush products take the difficulty out of sending fluffy and soft toys as gifts, in the post!

Adored favourites including Dora the Explorer, Winnie the Pooh, Tigger, Elmo, Ernie, Eeyore and Sponge Bob Square Pants will be available to buy; already vacuum packed, flattened and sealed in clear plastic envelopes, the characters are ready to send. The outer cardboard box packaging is designed especially for easy posting. All that's needed next is the address details, a personalised message and Send-A-Friend is right to go in the mail.

What better way to make a friend or distant relative happy, than by giving them a beautiful gift the traditional way, in the post? Send-A-Friend is not only a fabulous gift for children to send to one another but it also solves the problem for parents and grandparents that have children at boarding school, distant nephews and nieces or grandchildren. Send-A-Friend is also perfect for new mums to receive in hospital or as simply to say, 'I'm thinking of you!'

Once vacuum seal is broken, and after a few snuggles and cuddles, the flat plush transforms into a full-sized cuddly toy as if it had been pulled straight from the shelf. The receiver won't believe their eyes. A truly unique gift that's loads of fun and completely adorable, Send-A-Friend will have every boy and girl wanting to use the post again!

The gorgeous range of Send-A-Friend toys are high-quality, affordable plush, which come in three different sizes: small - $11.99 RRP, medium - $16.99 RRP and large - $39.99 RRP and available exclusively through Target and K-Mart stores nationally. With a delightful array of characters, Send-A-Friend is the convenient and ideal solution for birthdays, Christmas, Easter or just an excuse to make someone smile.

The Six Simple Steps To Sending Your Send-A-Friend:

1) Select your favourite Send-A-Friend from Target and K-Mart stores nationally - pick from Winnie The Pooh, Tigger, Eeyore, Elmo, Ernie Dora or Sponge Bob Square Pants

2) Write your friend or relative a message on the box along with their postal address details

3) Go to the Post Office to send your Send-A-Friend in the post

4) A few days later, your friend will receive their special Send-A-Friend box with your message

5) Your friend or relative will open up the box and the plush cuddly toy will expand before their very eyes!

6) Smiles all-round between friends and family!