Get Kids Creating This Christmas With Nintendo Labo
Nintendo Labo the perfect gift to Make, Play and Discover

Transform into a city-stomping robot, jump into the driver's seat of a submarine or embrace your inner piano maestro with Nintendo Labo; the ultimate gift this summer. Nintendo Labo inspires creative minds and playful hearts alike by providing the tools and technology to make fun DIY creations, play games with the creations, and discover how Nintendo Switch technology shapes ideas into reality.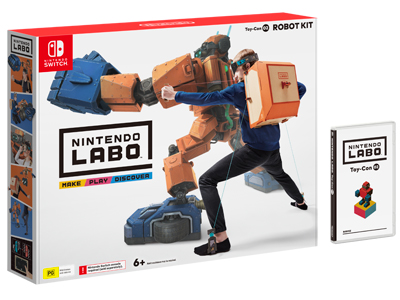 With each Nintendo Labo kit, inspired minds across all generations can transform modular sheets of cardboard and accessories – specially designed to interact with the Nintendo Switch console and Joy-Con controllers – into interactive Toy-Con creations. There are currently three Toy-Con kits in the Nintendo Labo range; the Variety Kit (SRP $99.95), Robot Kit (SRP $119.95) and Vehicle Kit (SRP $99.95), boasting real-world interactions with the Toy-Con creations instantly translating into in-game actions to create a truly immersive experience.

Toy-Con Garage, included in the software of all Nintendo Labo kits, introduces the basic principles of node-based programming in a fun way, allowing users to combine various inputs and outputs to invent new ways to play, create their own games, and even design their own Toy-Con projects.

Each Toy-Con project comes ready to create - no glue, tape or scissors required. With step by step, interactive instructions on the Nintendo Switch console, kids will love putting together the Toy-Con creations at their own pace and parents can feel comfortable spending quality time together without the stress.

An addition to the Toy-Con kits is the Customisation Set (SRP $14.95) which allows kids to show off their creativity by adding fun designs to their Toy-Con projects with stencils, stickers, and tape.

The perfect gift this Christmas, Nintendo Labo allows curious minds to Make, Play and Discover together.