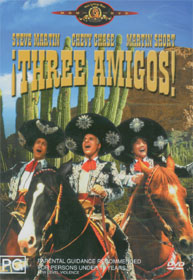 Starring: Chevy Chase, Steve Martin, Martin Short
Director: John Landis
Genre: Comedy
Rated: PG
Running Time: 89 mins

Steve Martin, Chevy Chase and Martin Short are three wild and crazy caballeros in this comedy adventure that's a fiesta of fun. Co-starring Phil Hartman, Jon Lovitz and Joe Mantegna, the Three Amigos blaze a side-splitting trail across the comedy frontier.

When a small Mexican village is terrorized by a notorious outlaw, a desperate senorita calls upon the only heroes she knows: the legendary 'Three Amigos'. Known by all as fearless freedom fighters, these courageous cowboys are really just film stars, and the only fighting they've done is on a movie set. But when the outlaws attack, the Amigos discover that the banditos - and their bullets - are all too real. Now, the trio must save the village and become true heroes.....or hang up their spurs in shame forever.

Special Features:
Production notes
Widescreen letterbox format

Review:
Singularly they are accomplished comedians, but together everything goes, My Little Buttercup, need I say more. This 1986 comedy is still funny today.