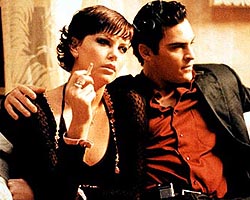 On January 23 2002, THE YARDS starring Mark Wahlberg, Charlize Theron, Joaquin Phoenix, James Caan, Faye Dunaway and Ellen Burstyn makes its way onto DVD.

An intense and calculating thriller, THE YARDS on DVD features audio commentary with Director James Gray, a behind the scenes featurette which features interviews with the cast and crew including Phoenix, Theron, Burstyn, Dunaway, Caan along with the Director James Gray and Producer Paul Webster plus behind the scenes footage.

Also featured on the DVD are cast biographies, theatrical trailer and previews for Boiler Room and The Hurricane.

The DVD features widescreen presentation, Dolby Digital 5.1 audio with English subtitles for the hearing impaired.

After taking the rap for friends and serving time in prison, Leo Handler (Wahlberg) returns to the one place he thinks will be safe, his home.

He takes a job with his uncle, Frank Olchin (Caan), a highly influential businessman in charge of the yards of the New York subway. But in the yards, safe is not how they do business and Leo soon finds himself trapped in a world of pay-offs, sabotage and murder. When he uncovers secrets best left unearthed he becomes the target of the most ruthless family in the city - his own.

THE YARDS runs for 110 minutes, is rated M15+ and will be available to rent on video from January 23rd.