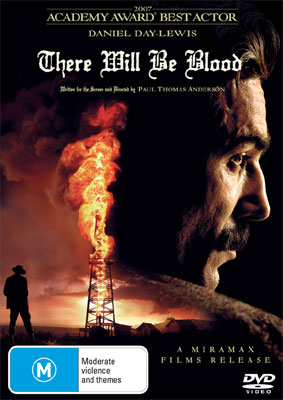 Starring: Daniel Day-Lewis, Martin Stringer, Kevin J. O'Connor, Jacob Stringer, Matthew Braden Stringer, Ciarán Hinds, Dillon Freasier, Joseph Mussey
Directors: Paul Thomas Anderson
Producers: Paul Thomas Anderson, Daniel Lupi
Genre: Drama
Rated: M15+
Running Time: 152 mins.


Bloody to the Core
The acclaimed tale of oil, greed, death, religion and corruption - There Will Be Blood now available on dvd.

Starring the extraordinary Daniel Day-Lewis as oil tycoon Daniel Plainview in his second Academy Award© winning performance, There Will Be Blood is undoubtedly one of the most anticipated DVD releases of 2008.

Directed by Academy Award© nominee Paul Thomas Anderson, There Will Be Blood is a mesmerising and unforgettable tale of Daniel Plainview, a ruthless turn-of-the-century silver miner, turned wealthy oil prospector, who burns family, faith and loyalty in his desperate pursuit of oil.

There Will Be Blood majestically explores the rise and fall of a man bent on self destruction. Having taken on an orphaned child as his own to give himself a caring, family man image, Plainview soon discovers his dream oil field in California and manipulates the local community into undertaking a huge oil operation. But his need to succeed as an oil prospector manifests into something much greater than wealth and power, as insanity and self-destruction seeps to the surface along with the oil he seeks.

Plainview will stop at nothing to take all that he believes is his, destroying anything and anyone that stands in his path - all in the name of oil.

Matching the performance of Daniel Day-Lewis in this American cinematic masterpiece is that of Paul Dano, who plays the role of twin brothers, Paul and Eli Sunday. In his most applauded performance to date as Eli, the town's preacher and Daniel's nemesis, Paul Dano displays a screen presence not to be missed.

There Will Be Blood is a must for any avid DVD collector and Daniel Day-Lewis fan.