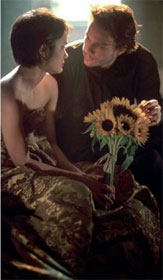 Starring: Heath Ledger, Shannyn Sossamon, Mark Addy, Benno Fürmann, Peter Weller
Director: Brian Helgeland
Genre: Thriller
Rated: R
Running Time: 102 mins

A young priest is sent to Rome to investigate the troubling death of the head of his order.

Following the murder of the head of a secret Order, renegade priest Alex Bernier (Ledger) is compelled to travel to Rome to investigate. What he finds is a maelstrom of evil, double dealing, corruption and above all the feeling that there is a fate worse than death.

The young priest's quest for knowledge lead him directly to The Sin Eater - a mysterious figure who craves death, but is doomed to 'eat' the sins of others, thereby granting them eternal peace. The two adversaries find that they have more in common than it would at first appear and Bernier is left struggling to save his own soul and that of the woman he loves.

Review:
This movie is set against a magnificant Italian backdrop. The special effects were impressive and lifelike. Some wicked twists and not for the faint hearted as it dark in color and nature plus often scary. Praying on your mind, be careful the choices you make.


r>