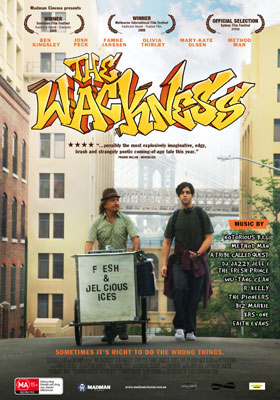 The Wackness
Cast : Josh Peck, Ben Kingsley, Olivia Thirlby , Famre Janssen, Mary Kate Olsen and Method Man.
Genre: Comedy, Drama.
Rated: MA 15+
Running Time: 95 minutes

Special Features:
Original theatrical trailer

Pot dealing kid Luke Shapiro is trying to figure out how to solve his parents' insolvency, beat depression, and get laid before pushing off to college.

Luckily he's got a deal with a psychiatrist, Dr Squires, who trades therapy sessions for grass. It happens that the doctor's marriage is crumbling, so the two - one in late adolescence, the other in late middle age - embark on a passage into new life stages. As Luke falls for a classmate who just happens to be Squires's daughter, the summer heats up and he follows the doctor's orders learning to coexist with pain and make it part of himself rather than let it become his downfall.