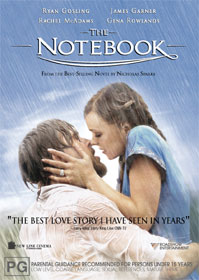 "Behind Every Great Love Is A Great Story"

Available to own on DVD February 8th, 2005

"The best love story I have seen in years" Larry King, Larry King Live CNN-TV

As teenagers, Allie (Rachel McAdams) and Noah (Ryan Gosling) begin a whirlwind courtship that soon blossoms into a tender intimacy.

The young couple are sadly torn apart by Allie's upper class, wealthy parents who insist Noah is not right for her nor reach their expectations for their young daughter. Several years pass when one day something sparks Allie's memory of her first love.

When they meet again their passion is rekindled forcing Allie to choose between the life she has been living or the life she has always dreamed of living with her one true love.

This beautiful tale has a particularly special meaning to an older gentleman (James Garner) who regularly reads the timeless love story to his aging wife (Gena Rowlands).

Based on the best-selling novel by Nicholas Sparks, The Notebook is both heartwarming and heartbreaking, capturing you in its sweeping and emotional force.

Special Features:

Deleted/Alternative scenes
Feature commentary with director Nick Cassavetes
Features commentary with novelist Nicholas Sparks
All in the family: Nick Cassavetes
Nicholas Sparks: "Simple Story, Well Told"
Southern exposure: "Locating The Notebook"
Casting Ryan and Rachel
Theatrical Trailer