The Next Three Days
Cast
: Russell Crowe, Liam Neeson, Olivia Wilde, Elizabeth Banks, Jonathan Tucker
Director
: Paul Haggis
Genre
: Drama, Mystery, Thriller
Rated
: M
Running Time
: 133 minutes
Synopsis
: Life seems perfect for John Brennan until his wife, Lara, is arrested for a gruesome murder she says she didn't commit. Three years into her sentence, John is struggling to hold his family together, raising their son and teaching at college while he pursues every means available to prove her innocence. With the rejection of their final appeal, Lara becomes suicidal and John decides there is only one possible, bearable solution: to break his wife out of prison. Refusing to be deterred by impossible odds or his own inexperience, John devises an elaborate escape plot and plunges into a dangerous and unfamiliar world, ultimately risking everything for the woman he loves.
Release Date
: February 3rd, 2011
About the Production
What would you do if the person you loved was suddenly arrested and taken from you, maybe forever? What if your only chance to pull your family's life back from the brink was for you to try to pull off a potentially deadly crime with all-but-impossible odds of success? And if you did manage to succeed - then what?
These questions become heart-poundingly real in screenwriter/director Paul Haggis's taut suspense thriller The Next Three Days. Paul Haggis and his star, Russell Crowe, give audiences a thriller with the kind of hero not often seen in modern iterations of the genre: a keenly intelligent, methodical, but otherwise unremarkable man, whose actions are driven by desperation, determination and, above all, love.
Paul Haggis is well-known and admired for his psychologically rich, morally probing dramas: as the writer/director of Crash, which won him Academy Awards® for Best Picture and Best Original Screenplay, and In The Valley of Elah; and as the screenwriter of Million Dollar Baby, Letters From Iwo Jima and Flags Of Our Fathers. But Paul Haggis is no stranger to the thriller genre, having been a screenwriter on the critical and popular James Bond film Casino Royale. Thrillers were firmly on the development agenda when Paul Haggis and producer Michael Nozik (Syriana, The Motorcycle Diaries) formed their production company, Hwy 61, in 2008. Both partners were intrigued when the company's head of development, Eugenie Grandval, showed them a copy of the French thriller Pour Elle.
The partners felt the central premise could make a really compelling American film. "I've always wanted to make a thriller, especially one where a love story played such a central role," Paul Haggis comments. "Here was Alfred Hitchcock's classic scenario, a perfectly ordinary man who, in this case, thrusts himself into extraordinary circumstances. He can't watch his wife and son suffer so much as they drift apart from each other. But when he finds out what it takes to break her out, he has to ask himself a very difficult question: would you save the woman you love if you knew that by doing so, you would turn into someone that she might no longer be able to love?" That's what always draws me to a subject -- a question I cannot answer for myself. When I find the question, I know I have a film. But the film is also about the nature and power of trust -- what it means when you trust someone no matter what, when no one else does, when all the evidence is against them -- when they can no longer even trust themselves."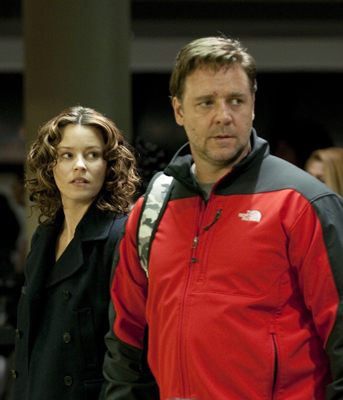 Michael Nozik felt the resulting film would be enticing to viewers like himself. "As an audience member, I've always been compelled by strong characters, great story and a suspenseful plot that makes me wonder what's going to happen next. It's rare that I find that as a moviegoer, and certainly rare as a producer," says Michael Nozik. "This was a perfect piece for Paul Haggis, who can create fully realised, dramatic characters within the structure of an exciting, commercial thriller."
Paul Haggis and Michael Nozik took the project to Lionsgate, which had partnered with Paul Haggis on Crash. Lionsgate acquired the rights to Pour Elle from production companies Wild Bunch and Fidélité Films, and Fidélité's Marc Missonnier and Olivier Delbosc also joined the project.
Paul Haggis set to work on re-imagining the film. His protagonist John Brennan is a professor of English at a Pittsburgh community college, a loving husband and devoted father. But very quickly John is thrown into a living nightmare when his wife, Lara, is accused of a murder she says she didn't commit.
The next time we meet the family, three years have passed. Lara has been convicted of murder and is incarcerated. Appeals have been pursued, and denied. Luke has grown increasingly distant from his mother and John fears Lara will take her own life. Fueled by an unfaltering conviction in his wife's innocence, John believes he is left with no other option if he wants to save his wife and family. Although he is ill-equipped to take the law into his own hands and orchestrate a prison break, he makes the complex decision to commit a crime he knows he has little chance of accomplishing. And from the moment authorities realise that Lara Brennan has escaped, the clock will be ticking.
The way John goes about this task - searching the Internet, reading books, interviewing an ex-con-turned author - is a function of who he is as a person. Says Michael Nozik, "John's never been a criminal, but he is an academic and he knows how to research. And that drives him through the process of figuring out how to break his wife out of jail, and somehow put a life together after that with his son and wife. He's doesn't have a lot of money, so he's faced with a lot of decisions throughout the film about how to manage this scheme."
Even as he was writing the screenplay, Paul Haggis had his sights set on Academy Award® winner Russell Crowe for the role of John Brennan. He points to the actor's seamless performances in films as diverse as Gladiator, A Beautiful Mind, Master and Commander and The Inside. "Russell Crowe is one of the finest actors of our time," Paul Haggis states simply. "He's right for almost any project but he was certainly right for this one because so much of the intent of the film has to be communicated without words. A turn of a head or the flick of an eye has to tell us so much, what John Brennan is thinking, what he's decided, where he is going next. Russell Crowe is the type of actor who cracks open his chest and lets you stare right into his heart -- deep, into the dark corners of his soul."
Once Russell Crowe had read the script, he met with Paul Haggis in London. "It all happened very quickly. Crash was a great movie, and of course an excellent calling card," the actor says. Having made his share of thrillers, Russell Crowe also admired the tight construction of Paul Haggis's script, the events and sequencing that built tension and created daunting yet realistic obstacles for the characters. "I loved the suspense of it. If you're going to take on a thriller like this, you have to have a mind and eye for a complex narrative. It's clear from Paul Haggi's work, that this complexity is one of his specialties. So I knew we could make a great film."
Russell Crowe was equally drawn in by the film's emotional themes and progressions. "I was really struck by the conundrum John Brennan faces. This man has an undying love for his wife and would do anything to save her. Yet to achieve what he has to achieve, he must turn into somebody she may not love. To me, that was an interesting journey to go on."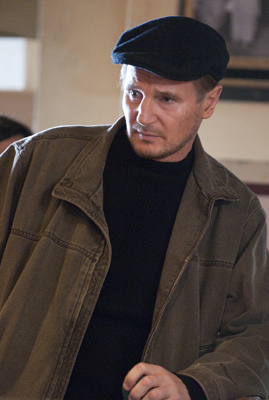 Casting the pivotal role of Lara Brennan was tricky. Lara may be a beloved wife and mother, but it's an open question as to whether this quick-tempered woman did, in fact, kill her boss. The filmmakers found the combination of qualities they were looking for in Elizabeth Banks, whose diverse credits include W., Spider-man and "30 Rock." Says Paul Haggis, "Elizabeth Banks is a terrific actress. She has a quality of being the girl next door, and yet, she has a great fire within her."
Russell Crowe and his co-star established an easy onscreen rapport, creating a portrait of a marriage that feels lived-in and relatable. Says Russell Crowe, "The beginning of the movie establishes John and Lara as leading this normal, relatively placid life with their young child. In a finite number of scenes, Elizabeth Banks made it feel absolutely real."
Elizabeth Banks notes that her character, a successful corporate professional, is not unlike many contemporary women. "Lara's ambitious, and she's balancing work and motherhood and trying to maintain this really great relationship with the love of her life. When she gets torn away from him, they're both devastated, but they deal with it in two totally different ways," she observes. "This movie isn't really about whether she's guilty or innocent; it's about what can be proven in a court of law and whether that matters to somebody who loves you and believes in you no matter what."
She savored the opportunity to work with both Paul Haggis and Russell Crowe. "They are two of the best and I couldn't wait to get on set and be challenged by them. It's not a stretch to say that Russell Crowe is one of his generation's best actors. It's a little intimidating when you first show up and then you get over it," she laughs. "He's just so generous and so charming."
Surrounding Russell Crowe and Banks in The Next Three Days is an ensemble of highly accomplished and diverse actors in crucial supporting roles. Michael Nozik attributes this to Paul Haggis' screenplay. "The script attracted a great cross-section of wonderful actors. Paul Haggis writes such beautiful, complex characters, that for even the smallest roles, there's always a rich and complex palette."
Among those making brief but memorable appearances in the film is Oscar® nominee Liam Neeson as Damon Pennington, an ex-con who has chronicled his multiple jailbreaks in print and who offers John a blunt assessment - and moment-by-moment blueprint - of exactly what such an endeavor means. Daniel Stern (Diner) plays the Brennans' defense attorney, Meyer Fisk, a litigator too seasoned to offer false hope. Musician and rap artist "RZA" Robert Diggs (Due Date, American Gangster) portrays Mouss, a street drug dealer who John naively turns to for assistance. Kevin Corrigan (The Departed) plays Alex, a mid-level meth dealer whom John fatefully targets for robbery.
"That's been a fun thing for me," observes Russell Crowe, "that every week or so somebody new comes along and I get to do a scene with somebody who I respect and whose work I enjoy. (Those) days on the set were particularly fun."
Says Paul Haggis, "It was an honor to have so many wonderful actors - Liam Neeson, RZA, Daniel Stern and many others - give their time and talent in these small, but critical roles. They made the film that much stronger."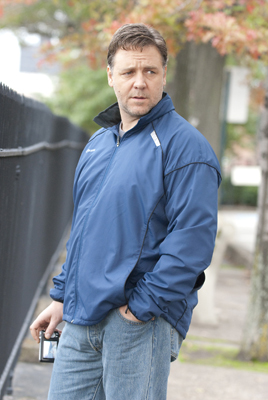 Paul Haggis approached Tony®-Award winner Brian Dennehy for the role of George Brennan, John's father. Over the years, Paul Haggis and Brian Dennehy had become friends through the New York theatre scene. As George, Brian Dennehy is a largely silent, but very powerful presence. "Brian Dennehy can portray so much with so little," Paul Haggis enthuses. "You know exactly what he's thinking and exactly what he thinks of his son. His is such a masterful actor. He thinks the thought and it is suddenly etched on his face, and he hasn't moved, hasn't even narrowed his pupils."
Brian Dennehy happily took on the role in his friend's film. "One of the reasons I liked it was it was such a non-verbal part, and normally we don't do that in this country. It's a very interesting and provocative film in terms of ethics and morality, and right and wrong. And it's beautifully written by Paul Haggis, who's a great director, too."
Olivia Wilde, best known for her role in the hit television series "House" and soon to be seen in Disney's Tron: Legacy, plays Nicole, a young mother who befriends John in the park and, unbeknownst to her, is subsequently woven into the jailbreak scheme. "She's a single mother and she assumes he's a single father and that they can connect on that level," Olivia Wilde remarks. "She's a reminder of how the rest of the world moves on, even when you're stuck in the middle of a tragedy. And this other world suddenly becomes visible to John, where people just meet and things are normal and you're not thinking of breaking your spouse out of prison. It's not that he can't talk and spend time with other people -- it's that he's unable to move beyond what he is focused on, and that's breaking Lara out of prison."
The third actor who makes up the immediate family unit in The Next Three Days is eight-year-old Ty Simpkins, who plays Luke, John and Lara's son. "He's an incredibly skilled actor for such a young boy," Paul Haggis remarks. "Ty Simpkins and Russell Crowe had such wonderful chemistry. It was obvious to everyone on set that Russell Crowe, who has two young sons of his own, is a natural when it comes to parenting and is very comfortable playing that role in a movie."
Rounding out the cast are Michael Buie (Mystery Alaska) as Mick Brennan, John's younger brother; Helen Carey (Julie and Julia) as their mother, Grace Brennan; Moran Atias ("Crash") as Erit, Mick Brennan's fiancée; Lennie James (Snatch) as Lt. Nabulsi; and Jason Beghe (One Missed Call) as Detective Quinn.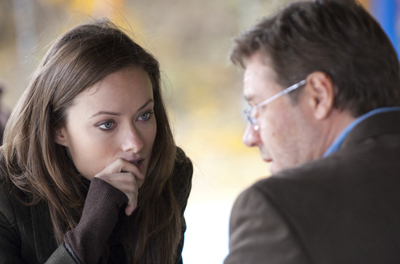 Paul Haggis took the somewhat unusual step of scouting locations for The Next Three Days before he even began writing the script. "I was looking for a working-class town which had evolved because I wanted John to come from a working-class background. That was very important to me," Paul Haggis explains. He and Michael Nozik made a trip to Pittsburgh, PA and as the filmmaker puts it, "we fell in love with it. The skyline is great, and each neighborhood is proud and distinct and has held onto its roots and its characteristics."
Having settled on the location, Paul Haggis was able to write with Pittsburgh in mind. Says Russell Crowe, "Pittsburgh is very much a character in the film, which is great. The geography and the cityscape and the bridges and tunnels and the Allegheny County Jail are all heavily featured in the actual screenplay."
Principal photography took place in Pittsburgh between September 2009 and December 2009. Production designer Laurence Bennett, who previously worked with Paul Haggis on Crash and The Valley of Elah, shared the director's enthusiasm for the locale. "Paul Haggis and I tend to embrace what we find. Pittsburgh is definitely a visually exciting city. Each of the neighborhoods is very unique and we really picked up on that and enjoyed working in them."
Those neighborhoods provided defined stops on John Brennan's trajectory, sketching in his past and his present. Scenes at John Brennan's childhood home were filmed in a small row house in Sharpsburg, a former mill town up the river from Pittsburgh. John and Lara Brennan's house was a residence in Regent Square, a neighborhood with a sizeable number of teachers. The city's aptly named Hill District provided a backdrop for John's first, dangerously naïve sorties into the criminal underworld.
The film shot at numerous institutional and municipal locations, including a former children's hospital, the airport and the T-train commuter system, which connects the southern suburbs with the city proper. Looming over it all is the Allegheny County Jail, the largest high-rise jail in the U.S., and the facility where Banks' Lara Brennan is incarcerated. Remarkably, the jail's administrators allowed The Next Three Days to shoot in the facility, a process that involved giving the film crew access to the jail for two days; shutting down visitor access; and impacting on the prison's daily routine. Says production designer Laurence Bennett, "The people who administer the jail really go out of their way to try to make it a humane, comfortable, clean and safe environment for the inmates and visitors. They were incredibly accommodating to us."
The fact the jail happens to be located in downtown Pittsburgh gave the film's chase sequences a unique extra urgency and punch, says Banks. "When you're set in the heart of a city, you have bridges and tunnels and buildings and avenues and people. We're not out in the middle of nowhere, driving on country roads. Russell Crowe and I are in the middle of downtown Pittsburgh, running for our lives!"
It's emblematic of a thriller that injects a bracing dose of realism into the genre, thanks to a writer/director and a star working from the inside out. Says Michael Nozik, "I call this a smart man's thrill ride. Because every twist and turn -- you won't see it coming, but when you get there, you'll be satisfied. There aren't chase sequences or action sequences that come from nowhere. He's never doing things that are outside the realm of what any of us could do if we were pressed into a circumstance like this."
The wrong place/wrong time scenario and tight internal logic of TH The Next Three Days make for a visceral cinematic experience, in Russell Crowe's view. "This is one of those stories where a simple set of circumstances puts a family's life together in complete peril," the actor remarks. "It's very intense, and you wouldn't want it to happen to you. But it makes it really exciting for the people watching."