Scream 4
Cast
: David Arquette, Neve Campbell, Courteney Cox, Emma Roberts, Panettiere, Rory Culkin, Hayden Panettiere, Anthony Anderson, Adam Brody, Mary McDonnell, Marley Shelton, Nico Tortorella, Marielle Jaffe, Kristen Bell, Anna Paquin, Lucy Hale, Shenae Grimes, Aimee Teegarden, Brittany Robertson
Director
: Wes Craven
Genre
: Thriller, Horror
Synopsis
: In Scream 4, Sidney Prescott (Neve Campbell), now the author of a self-help book, returns home to Woodsboro on the last stop of her book tour. There she reconnects with Sheriff Dewey (David Arquette) and Gale Weathers (Courteney Cox), who are now married, as well as her cousin Jill (played by Emma Roberts) and her Aunt Kate (Mary McDonnell). Unfortunately Sidney's appearance also brings about the return of Ghostface, putting Sidney, Gale, and Dewey, along with Jill, her friends, and the whole town of Woodsboro in danger.
Release Date
: April 14, 2011
Website
:
www.scream4movie.com.au
About the Production
Fifteen years after Scream began with a terrifying phone call that changed horror forever, director Wes Craven, writer Kevin Williamson and stars Neve Campbell, Courteney Cox and David Arquette are back for a bold new entry in the beloved series. Scream's legacy is undeniable: The films smartly skewered its genre, launched the careers of many young actors, and redefined horror for a new generation of moviegoers. In an era of reboots and remakes, Scream 4 honors its fans with a sequel as sharp and irreverent as the original.
Scream has always been about ingenuity. Wes Craven found Kevin Williamson's take to be inventive and different and yet totally Scream. "You have to come back with something worthy of coming back," Wes Craven comments, noting the high standards set by Scream 4's predecessors. "You're addressing a generation of young fans, but also the generation that has gone with you for three, as well as a decade worth of other films. You have to be as good as or better than all those films."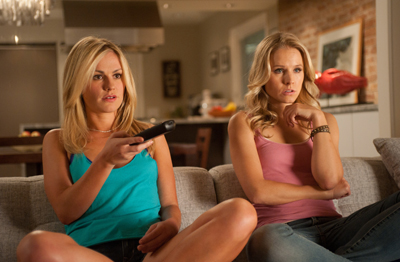 With Wes Craven and Kevin Williamson on board, the surviving Scream alumni greeted Kevin Williamson's script with enthusiasm and jumped at the opportunity to revisit their iconic roles in a completely new, ultra-modern world. The characters that were set in motion fifteen years ago were central to his pitch. "It's more like the original Scream than the other two that followed," David Arquette says. "It's a new generation. It's a new twist. There's more technology, more films, and more media to have fun with."
Courteney Cox longed to become Gale Weathers once again, in part for the fun of reconnecting with her cast and crew. "People always talk about bringing things back, but this was one that I was hoping would come back one day because we had such a great time making the first three," Courteney Cox comments.
As the landscape of horror has changed in the eleven years since Scream 3, so have the lives of Scream's unmistakable, unforgettable main characters. Dewey, Gale and Sidney are re-introduced at completely different, challenging phases in their lives. Sidney Prescott has penned a bestseller about overcoming personal trauma. "She's come to a different place in her life and has come to accept what happened to her," Neve Campbell explains. "She has found a way of dealing with her history and has chosen to help people who might have a similar history in some way. At the beginning of the film she is on her book tour."
While Sidney has found success, Gale has faltered. "She's just gone through a major writer's block," says Courteney Cox Cox of Gale. "She's written six 'Stab' books, and now has running out of ideas". She's in this small town of Woodsboro and she's pretty unhappy."
Courteney Cox Cox, David Arquette and Neve Campbell found that revisiting these roles was an effortless endeavor especially with the franchise back in the hands of masters of the genre Wes Craven and Kevin Williamson. "When a director like Wes Craven and a writer like Kevin Williamson put this world together, it's easy to fall into these roles," David Arquette notes.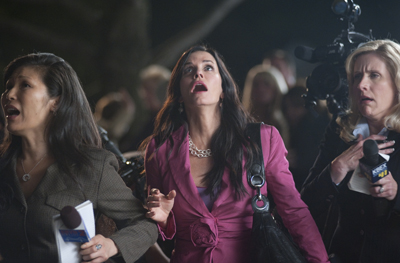 While Scream 4 reunites its lead trio, it also introduces a talented new group of young actors to the series as a ghost from the past meets a new generation.
New cast members include Emma Roberts as Sidney's cousin Jill, who has a relationship with Nico Tortorella, Woodsboro's resident bad boy Trevor Sheldon. "Trevor has this whole energy of being the big man on campus, and the whole time he's trying to win his love back and give himself to Jill," Nico Tortorella says. "When anyone else is around he kind of hides all that, but when it's just him and her, he lets his heart out."
Hayden Panettiere plays Kirby, a quick-witted, outspoken, tough cinephile. "She's sassy, she's strong and she's savvy," Hayden Panettiere says of Kirby.
Erik Knudsen plays Robbie, the most technologically adroit of Scream 4's teens. "A big part of this film is not only the effect of movies on these characters but also the effect of the Internet and the fact that movies are leeching into the Internet. He's the one who bridges those two generations. He has a lot of fun with the role," Wes Craven says of Erik Knudsen.
Rounding out Scream 4's cast is newcomer Marielle Jaffe, Lucy Hale of "Pretty Little Liars," Brittany Robertson of "Life as We Know It," Aimee Teegarden of "Friday Night Lights" and "90210" star Shenae Grimes.
Two-time Academy Award-nominee Mary McDonnell stars as Aunt Kate, Jill's mother. Alison Brie, star of "Mad Men" and "Community" plays Rebecca, Sidney's driven publicist. "She's very ambitious. She's a little go-getter. She loves Gale Weathers. She looks up to her, and wants to be her," Alison Brie says of her role. Attempting to maintain order in the chaos are the film's three new cops: Marley Shelton, Anthony Anderson and Adam Brody. Adam Brody, a longtime Scream fan, was excited to join this beloved franchise. "Having liked these movies in high school, it's cool and almost surreal to act with the same actors playing those characters. It's a pretty great experience," Adam Brody says.
Anthony Anderson loved being part of a project so legendary and clever. "There are a lot of twists and turns along the way," Anthony Anderson says.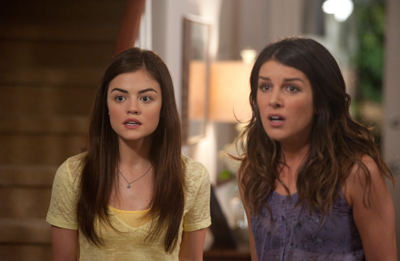 Scream 4 wouldn't be a Scream movie without cameos: Academy Award-winner Anna Paquin and Forgetting Sarah Marshall star Kristen Bell.
Scream 4 was filmed during the summer of 2010 in Ann Arbor, Michigan. The production brought out some of the series' rabid fans, who hoped to catch a glimpse of Sidney, Gale, Dewey or Ghostface. The joy of Scream is in the art of surprise, so everyone in the production kept quiet about the many secrets and twists of their watermarked and guarded scripts.
Nevertheless, Wes Craven expanded the set experience and occasionally teased his legions of fans on Twitter. He found himself a part of the technology that Scream 4 lambastes. "I was tweeting all the time on this film," Wes Craven remembers. "There are all these new technologies that are affecting our world events. That is a big part of this film. A whole generation has a whole new tool set of communicating."
Bringing back Scream's trademark look is Scream 4 (as well as Scream 3 and Scream 2) director of photography Peter Deming. "Peter Deming is the backbone of the look of the picture. He came on halfway through the first Scream," Wes Craven enthuses. "He gives it that rich, wonderful, big look. We use anamorphic lenses so it has a widescreen, larger-than-life feel to it. Everything is mounted beautifully. It's a wonderful thing to set off the terror. You always feel like you're seeing something special. And that very much is Peter Deming's work."
Courteney Cox was extremely happy to reunite with Wes Craven again, too. "It's been ten or eleven years since we did Scream 3 and I don't think he's changed a bit," Courteney Cox says of her director. "He's so funny and dry, and he makes me laugh."
Wes Craven has a deep connection with Sidney, Gale and Dewey, as well as the actors who play them. "It's a relaxed family feel," Wes Craven says of working with Neve Campbell, Courteney Cox and Davod Arquette. "I think I know how to bring out the best in them and they know how to bring out the best in me, in a way. The characters are known, and they're rich. Those three people I'd love to work with any time."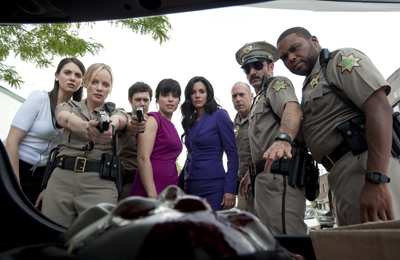 "You don't get this experience that often in this business," David Arquette notes of Scream's unusual place in film history and its lasting legacy.
You're working with people that you've worked with for sixteen straight years. It's something special. I was supposed to die in Scream. Wes Craven said, "Let's do a take where we roll Dewey out and he's still kind of alive." And that changed the rest of my life."