Sanctum
Cast
: Richard Roxburgh, Rhys Wakefield, Ioan Gruffudd
Director
: James Cameron
Genre
: Action Thriller
Synopsis
: Universal Pictures invites you to view the trailer for the highly anticipated production Sanctum.
The 3-D action-thriller, from executive producer James Cameron, follows a team of underwater cave divers on a treacherous expedition to the largest, most beautiful and least accessible cave system on Earth. When a tropical storm forces them deep into the caverns, they must fight raging water, deadly terrain and creeping panic as they search for an unknown escape route to the sea.
Master diver Frank McGuire (Richard Roxburgh) has explored the South Pacific's Esa-ala Caves for months. But when his exit is cut off in a flash flood, Frank's team-including 17-year-old son Josh (Rhys Wakefield) and financier Carl Hurley (Ioan Gruffudd)-are forced to radically alter plans. With dwindling supplies, the crew must navigate an underwater labyrinth to make it out. Soon, they are confronted with the unavoidable question: Can they survive, or will they be trapped forever?
Sanctum employs 3-D photography techniques Cameron developed to lens Avatar. Designed to operate in extreme environments, the technology used to shoot the action-thriller will bring audiences on a breathless journey across plunging cliffs and into the furthest reaches of our subterranean world.
Release Date
: February 3, 2011
Website
:
www.trailers.apple.com/sanctum
About the Production
Spelunking to Production: Sanctum Begins
In 1988, producer and renowned caver Andrew Wight led an expedition to explore and dive into a remote cave system hidden beneath the Nullarbor Plain in Australia. During the course of his trip, a freak storm caused the cave entrance to collapse, leaving 15 people trapped deep underground. A rescue mission was mounted and, incredibly, everyone survived the harrowing ordeal.
The experience left an indelible mark on Andrew Wight and led him to develop, with longtime colleague James Cameron, a film inspired by these life-changing events. Along with writer John Garvin, Andrew Wight crafted a classic coming-of-age story about a young man who is at odds with his father before the ultimate test of survival brings them together. Set in an alien world that is as beautiful as it is terrifying, their screenplay examined the strength and fragility of the bonds that develop when we are faced with the onslaught of nature and our very possible death.
At the center of the story is a team of underwater cave divers who are in the middle of an expedition in the most beautiful, most unexplored and least accessible cave system in the world. We meet tough-as-nails master explorer Frank McGuire, his 17- year-old son Josh McGuire, who is participating under absolute protest, and billionaire Carl Hurley, who is underwriting the expedition.
When a tropical storm arrives suddenly, the team's only exit is cut off in a flash flood, and they are forced to move forward deeper into the uncharted cave to escape the raging water. With lights and supplies vanishing fast, they must navigate the treacherous terrain and brutally cold water in search of a theoretical escape route to the sea. But the labyrinthine cave is unforgiving of mistakes, and soon they are all confronted with this looming question: Will any of them make it out alive?
Executive producer James Cameron shares how the partnership began: "Five years ago, Andrew Wight, my longtime collaborator, brought me the idea for Sanctum, and I loved it. Andrew Wight and I had previously been on some great adventures together. We dove deep into the ocean to uncharted depths to explore and discover never-before-seen parts of the ocean floor and marine life for Aliens of the Deep. We dove the Titanic [for Ghosts of the Abyss] and the Bismarck."
Along the way, the men developed a new photographic system that could operate in these extreme environments and deliver a cinematic experience that James Cameron describes as "beyond any other." He explains: "It's a system I was thrilled to use on Avatar and which Andrew Wight utilised on Sanctum: the James Cameron/Pace Fusion 3D Camera System-a stereoscopic HD camera system that delivers such incredible results that we can deliver flawless IMAX projection in 3D. But as mind-blowing as all this new technology is, filmmaking is not about the equipment. It's about ideas, images and imagination. It's about storytelling, and I believe in this story."
Though Andrew Wight and John Garvin had their genesis for Sanctum from Wight's life experience, the men didn't want to re-create the almost ill-fated trip as a documentary. The writer/producer offers: "Rather than tell that exact story, it was far more exciting to use the essence of the experience. We wanted to drill down and look at what happens to people when they are in a difficult environment, under extreme pressure. How do they survive? Our story is about a group of people who are on an expedition in the wilds of Papua New Guinea and become trapped. It becomes a story of survival and selfdiscovery in an alien environment. We explore how they will react under such extreme pressure."
Partnering with Andrew Wight on script duties was an easy decision for John Garvin. He explains how he joined the production: "Andrew Wight and James Cameron realised they wanted to make a cave-diving movie, and they were looking around for writers. I had quite an extensive diving background, so I was able to bring realism to the screenplay that they were looking for. Having some diving experience was very useful for writing the screenplay.
For most people, the thought of being in an underwater cave system is the most frightening thing they can imagine, but the reality of it is that underwater caves are the most beautiful, serene places you can imagine. They are absolutely silent, very dark, and it's just the sound of your own breathing down there. Believe it or not, most cave divers dive to relax."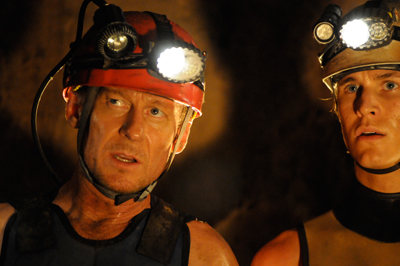 He agreed with James Cameron and Andrew Wight's core idea not to make the film simply a diving adventure, but one that focuses on a family and a group of friends who must cope when everything "is stripped away." John Garvin adds: "We were very careful to make sure that the screenplay is fundamentally a father and son story. It's a rite of passage about a young man learning lessons from his father, as well as the environment of the cave, before he becomes a man."
After a thorough search, James Cameron and Andrew Wight selected director Alister Grierson to helm Sanctum. The two men responded to the feature debut from the young Australian director, who had made quite a name for himself soon after film school. In 2006, he directed Kokoda, one of the top-grossing Australian films. The drama told the true story of a platoon of soldiers lost in the New Guinea jungles during a pivotal World War II battle in 1942. It was met with praise from audiences and critics alike.
James Cameron offers that they were looking for a young filmmaker, but not a director who was a novice. "We wanted someone who had already made their first mistakes and someone who could show us something," he says. "We wanted someone with a vision who knew how to accomplish it. And Alister Grierson did that with Kokoda. It was a very strong first film, and he presented himself as a director with a real opinion."
Once James Cameron and Andrew Wight believed that Alister Grierson was the ideal candidate for the job, they spent some time with the director to gauge his intentions for the project. But it was a trial by submersion that sealed the deal for the filmmakers. James Cameron laughs: "Andrew Wight took Alister Grierson cave diving and scared the crap out of him, but he kept it together and came out with a real respect and understanding for caving. At that point, he was 100 percent ready to make the film. The most challenging part for him was to learn how to work with 3D. It's not like he came to us and said, 'I want to make a 3D film.'"
But that was in their plans from the beginning. James Cameron adds: "We said, "We want you to direct this film, and it's going to be in 3D.' So he and his director of photography, Jules O'Loughlin, had to convert from shooting film to HD. They had to learn to light for the digital cameras, how to use the stereo space and how to use this whole new camera system. To do all that for only their second feature was all pretty daunting, but they stepped up and mastered it. They didn't let us down."
Alister Grierson admits that he was not only drawn to the project because of the chance to work with James Cameron and Andrew Wight, but he was also attracted to the story because of its underlying themes. "I'm interested in stories of human beings under pressure and how they react to those circumstances," he says. "Kokoda had a lot of similar elements.
Sanctum has a very strong father-son relationship in its story, which appealed to me. The 3D element is the icing on the cake, although I do think that when audiences see this film in 3D, it will open up a whole new world that they haven't previously experienced."
Soaking the Performers: Casting the Film
When it came to casting Sanctum, it was clear that only the brave need apply. The producers and director knew that their cast had to be very game to take on a film that would require so much physical preparation and endurance during the shoot. Says Andrew Wight: "If the script didn't scare them off, then they certainly were when they first met Alister Grierson and me. They soon realised that they would need to learn to scuba dive, use rebreathers, dive in the water tank at night in the pitch dark and do all sorts of other crazy things-either in the water or already soaked in water. I'm pleased to say that all the cast took the challenge on board, and to their absolute credit, they were all fantastic."
The first to be cast was Australian performer Richard Roxburgh, brought onto the production to play the leading authority in the world of cave diving. As Frank McGuire, he is a tough nut who is far more adept at life in a subterranean environment than the one aboveground. Notes Alister Grierson of the choice: "Richard Roxburgh is just a wonderful actor, and his name very quickly jumped forward. He's got so much experience and depth. We felt he could bring the right tone to Frank McGuire."
To prepare for the role, Richard Roxburgh had to learn to dive in a scuba-diving boot camp. He explains: "The training incorporated the face-mask rebreather, a whole other piece of entertainment. It's a form of torture that enables you to recycle your own carbon dioxide so you can stay underwater for a long time. Great in theory, but in practice, it's a bit of a nightmare. The rebreather doesn't like you to take a big breath. It will eventually give you one, but then it won't let you breathe that breath out. So you're constantly wanting a bit more air or trying to push air out. It's something that takes a while to get used to."
Richard Roxburgh learned all the necessary skills for this intense role and met all the physical challenges head-on. There were occasions during the shoot, however, that he found genuinely terrifying. He offers: "On some days, I would think, 'If I slip here, I'm going to fall and die. Or if I mess up this face rebreather exchange in this particular stunt sequence, then I'm going to drown.' Even though there's a stunt safety person who's only four or five meters away, it was genuinely hard work and frightening. But then, I was warned. I did know what I was letting myself in for!"
As the story is told through Josh McGuire's perspective, discovering the right actor to play Frank McGuire's son was also key to casting Sanctum. The team found just the performer they wanted in fellow Aussie actor Rhys Wakefield, known for his powerful performance as the brother of an autistic young man in The Black Balloon. Comments Andrew Wight: "In Rhys Wakefield we saw a young, instantly likeable guy who is also a very good actor. He had the range necessary for the role, and in Alister Grierson's hands he turned in a spectacular performance."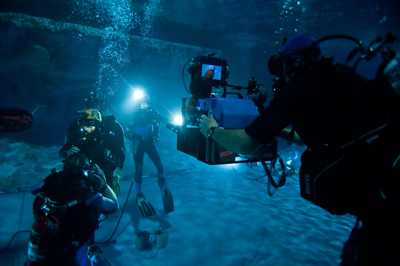 Rhys Wakefield's director agrees with Andrew Wight's assessment. Says Alister Grierson: "The role was a big challenge for Rhys Wakefield, but it was quite astonishing to watch his skill and to see him mature as an actor through the process of making the film."
Initially, all that Rhys Wakefield knew about the film was what he read in its synopsis. However, that was exciting enough to warrant his signing onto Sanctum. "The script was completely action-packed," the actor remembers. "Also, all the skills I learned training for the role were just amazing. Learning to scuba dive, to rebreathe, to rock climb and all the other crazy things we did was so much fun. It was my first experience of having to learn skills for a role, and I loved it. I had to progressively work my way up to it all."
Being able to coordinate his line delivery with swinging from rocks and diving headfirst into frigid water were talents Rhys Wakefield didn't know he'd be acquiring so soon in his career. "The hardest thing for me was to find the balance between the performance and the action," he continues, "especially when it comes to rock climbing and you've got water pelting down on your face, and a big explosion happening underneath you."
Welsh actor Ioan Gruffudd was cast to play Carl, the reckless entrepreneur who funds the expedition for Frank and insists on coming along to check on the progress. As Sanctum unfolds, we learn Carl's motives aren't as altruistic as they once seemed. Laughs Ioan Gruffudd: "They tried very hard to kill me on this one, but luckily, I'm still here to tell the story!"
In addition to the rock climbing and hours of scuba diving required of most of the cast, Ioan Gruffudd also had to learn base jumping for the scene in which he rockets past Josh and his on-screen girlfriend, Victoria, into the mouth of a huge cave. He recalls: "I did get a taste for it, even if it was only for a short time. I was strapped to a crane and had a safety line tied to my back. But I did throw myself off a cliff and put my faith in the safety line, and I certainly did get an element of how exciting it must be to do that for real. I free-fell for a few seconds. It's actually me doing it in the film, so that was a big personal thrill."
For another pivotal scene, Ioan Gruffudd had a pot of "burning" oil thrown on him. He states: "We had to practice that a few times so I was comfortable enough with it. We had to get to the point where I was actually on fire for a couple of shots before they cut to the stunt guy. But you do see the flames in front of my eyes and that is my face behind it. So yes, I did well to survive this particular project."
Australian actors Dan Wyllie and Alice Parkinson round out the principal cast as, respectively, diver Crazy George and Carl's adventure-junkie girlfriend, Victoria. Shares John Garvin of Victoria's part in the underwater world: "James Cameron is, in particular, very keen of writing strong-female lead roles. So what I tried to do with Victoria is to create this everyman character so that when we see the cave for the first time, we actually see it through Victoria's eyes. Her sense of wonderment and achievement-and also beginning to realise why the guys are diving and pushing on in this cave system-happens at the same time that the audience views that."
As one of the few women in the actioner, Alice Parkinson realised it was a good thing that she's always been a bit of a tomboy. She laughs: "My happiest memories of childhood are climbing trees, rolling down hills and playing in the mud. So the action woman role really appeals to me, as long as it's not just all about the action. Character driven narratives excite me as well, and Sanctum is certainly one of those."
Completing the core cast of Frank McGuire's crew that is trapped below the surface are Allison Cratchley as Judes, Christopher Baker as J.D., Nicole Downes as Liz, Cramer Cain as Luko and Andrew Hansen as Dex. The final key crewman is actually writer John Garvin himself, who plays manager Jim Sergeant. John Garvin explains the casting choice: "As one of the writers, I knew that there was going to have to be a character that was going to be the base camp manager- this bossy guy who basically takes care of all the logistics. I admit I fully wrote the part with myself in mind, hoping that I would be able to convince Alister Grierson to give me a crack at playing it. And it worked!"
As Sanctum's dive coordinator, John Garvin also supervised the underwater training for his fellow performers during the shoot. With a substantial learning curve, the principal performers completed a scuba-diving open-water course and were placed straight onto the rebreathers. A team of experienced cave divers spent weeks working with the actors to help build their confidence and improve their buoyancy. After they mastered their basic safety drills and buoyancy techniques, they were introduced to ancillary equipment-such as the helmet, full-face mask, lights, stage cylinders, reels…and even diver propulsion vehicles.
Commends John Garvin: "It was pretty hardcore diving to say the least, and it's amazing to think that many of the underwater stunts you see in the film were done by the actors themselves. Removing a rebreather and pushing it down a tight body-tube? The actors did it. Buddy breathing with a flooded full-face mask? Richard Roxburgh and Allison Cratchley nailed that stunt…a drill that many experienced commercial divers would balk at! All of the actors and the stunt divers-who were chosen from Australia's CCR [Closed Circuit Rebreather] cave diving elite-should be very proud of themselves."
James Cameron agrees that the entire cast stepped up for their parts: "All the actors I've worked with, and certainly those on this film, really rise to a challenge. They enjoy having the opportunity to task themselves with something beyond and above what they've done before. They don't want to do the same thing over and over again."
Imagining the Unexplored: Designing the Underwater Adventure
One of the biggest challenges in making Sanctum was to re-create a truly believable underground world that few have ever seen. While crafting the screenplay brought up many visceral memories for Andrew Wight, he could only imagine which past events would be jogged when production designer Nicholas McCallum finished his designs. Comments the producer: "Where the film is set, Papua New Guinea, is home to some of the most amazing underground environments in the world. There are long flowing rivers, waterfalls, beautiful decorations, stalactites, vast caverns underground… things you could never imagine unless you've been there. To replicate that on a small scale was an onerous task."
Indeed, it was the type of task that Nicholas McCallum took on with much enthusiasm. About the process, he reflects: "I love a challenge, as well as the chance to work with like-minded people. The biggest challenge was simply to get everything built and ready in the allocated time. I also had to be mindful of the 3D process involved and to give enough depth and height to the sets."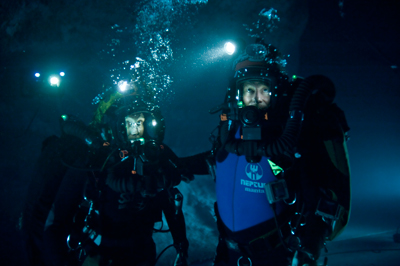 In addition to re-creating a series of underground caves that would make the audience believe they were leagues underwater, Nicholas McCallum also had to build an enormous "underground" waterfall to match the specifications set forth by Garvin and Wight's script. Explains Andrew Wight of the daunting set piece: "The waterfall set was about 14 meters high, with a real-life waterfall coming out of the top. We had a pump that was capable of delivering 20,000 liters of water per minute. It was a gushing stream. So it felt very real, even though it was a set on a soundstage."
Nicholas McCallum was cleverly able to recycle and reuse many of the sets, turning over 16 major sets in three footprints. He offers of their construction: "The labyrinth set pieces were made out of concrete, partly so the actors could scramble over them and they wouldn't move, and partly to enable us to reuse those set pieces in the water tank. So when we finished with the set on the stage, we put it all into the water tank under seven million liters of water."
All of the underwater sequences took place in the large water tank at the Village Roadshow Studios in Queensland, Australia. Andrew Wight paints a picture of what this enormous container allowed the team to accomplish. "The tank is 40 meters long, 30 meters wide, seven meters deep and holds 7.2 million liters of water," he says. "It's one of the largest anywhere in the world and that allowed us to build a very big underwater set, with lots of interesting cave environments."
To complement the tank shoot, the production headed into the wild. Adds Andrew Wight: "We also filmed in real caves in South Australia's cave-diving region around Mount Gambier. Filming in the limestone, water-filled caves added a scale and an authenticity to the tank shoot at the studio."
Director Alister Grierson offers that he enjoyed the work in the water tank more than he expected he would: "Every day I'd go swimming with my cinematographer, his support staff and our operator so that we could work out the day's schedule from underneath the water, look at the shots we were going to film, and then talk about them. Back on dry land, we had a scale model of the cave system, so then we would stand around and brief the safety divers and the cast about the work we would do for the day.
"It was a very enjoyable experience because it seemed to be very pure filmmaking," he adds, "in that it's all very silent and you have to tell the story visually. It was very challenging to communicate with everyone underwater and to block the camera and get the lighting just so, but I did really enjoy it. Th actors might tell you a different story though…"
For director of photography Jules O'Loughlin, the biggest obstacle to overcome during the course of production was lighting the cave system. "It's not everyday as a cinematographer that you get to light a cave," he notes. "It's a very alien environment, and one that not many people ever go into. It's also an environment where there's no natural light whatsoever; all the light is brought in by the characters in the film. So representing the cave and the story through this lighting was an exciting challenge."
Jules O'Loughlin and Alister Grierson agreed that when a character moves into a space, there should be a sense of growth in the lighting, and when the character leaves the space, the light should waste away. Jules O'Loughlin adds: "To achieve that, I had to use up to six or seven electrics on set at any one time-all handholding lights and bounce boards. Then we would choreograph the lighting, depending on what our characters were doing and where they were moving. It was almost like a dance-a dance of light and action within the cave."
Life in an Alien World: 3D Experience of Sanctum
The cameras used on Sanctum included the same cameras developed for and used in James Cameron's epic Avatar. The team knew that if they were to fully immerse the audience in the underwater world, it had to be in 3D. Explains the filmmaker: "The camera on Sanctum is the end result of six or seven years of development between myself and my engineering partner, Vince Pace. We started with a very simple system that we used on the documentary films, and then we evolved it for use in cinema. So now it has all the bells and whistles that you need to make great cinema images in 3D, and we consider it the best camera currently available. Maybe a year from now there will be something else, and of course we're still evolving the camera too."
Andrew Wight worked very closely with James Cameron and Vince Pace on the development of production techniques utilising the James Cameron/Vince Pace Fusion 3D Camera System. Andrew Wight explains their thought process in the design and what it means for moviegoers: "Good 3D is just easy to watch. Bad 3D hurts your eyes, and that's the simplest way I can put it. We developed a terminology we called 'brain sheer' or 'eye rippers,' meaning you have a picture that was taken and, for whatever reason, it can't be converged properly or there's some optical issue with it. When you look at it, your eyeballs literally have to scream and your brain has to figure out what it's looking at.
"If you have to do that and it hurts, that's bad 3D and bad 3D comes from people who don't fully understand how it works," he continues. Truly, Andrew Wight wants moviegoers to experience Sanctum just as he did, in an awe-inspiring, underwater world. "Good 3D, by comparison, doesn't draw attention to itself. You watch the picture; you're engrossed by it. You're into another world, and you don't even notice that you're watching 3D."
As Andrew Wight and John Garvin wrote the script, they wrote knowing their scenes would be brought to life in total 3D immersion. "When we were writing the script, it proved very useful that I am a cave diver myself," offers John Garvin. "I tried to bring that sense of claustrophobia to the audience, and of course it being a 3D movie, that lends itself perfectly to this type of film. We always wanted the 3D element of Sanctum to help us tell the story. We didn't want it as a very obvious gag. We'd very much like for the audience to forget that the 3D is there after the first few minutes of the movie and just relax into the story. I can't imagine any environment better to shoot a 3D movie than a claustrophobic cave system."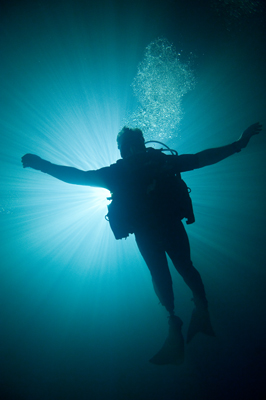 Reflects James Cameron on the power of 3D in helping tell this tale: "When you're watching a narrative film, you feel more drawn into the story, more drawn into the plight of the characters, and it doesn't have to be a big science-fiction movie to benefit from that. 3D works really well when you've got a claustrophobic setting because you feel that wall right here, that ceiling right there. We knew instinctively that the cave environment and 3D would fit together."
The production used two different types of 3D rigs on Sanctum-the older style, side-by-side rig for all the underwater work and the newer fusion beam-splitter rig that was used during photography on land and on the sets. The technology employed in this film is still relatively new, and with emerging technology comes a certain learning curve for all the cast and crew benefitting from its use.
Buoyed by support from Alister Grierson's previous collaborator, cinematographer Jules O'Loughlin, the two men went on a 3D "journey of discovery with all the technical issues," according to the DP. Jules O'Loughlin states: "We certainly put the rigs and cameras to the test with this. We took them underwater, we had them underneath waterfalls with massive amounts of water and spray, in extreme heat and fire, and in really rigorous aerial work."
The beam-splitter camera involved two F950 heads-one mounted vertically bouncing off a 45-degree mirror and the other mounted horizontally shooting through the mirror-with the main bodies of the cameras attached to the head via fiber-optic cables. Jules O'Loughlin walks us through the basics of these 3D optics: "We had the ability to reduce our intraocular-the distance between the lenses-to zero, and the capability to pull intraocular and convergence dynamically in any given shot. Our 'A' camera, which had the vertical camera top mounted, was mainly deployed on the Lev Head with a 50-foot technocrane, and the 'B' camera,' which had the vertical camera underslung, was ideally suited for the steadicam or handheld work."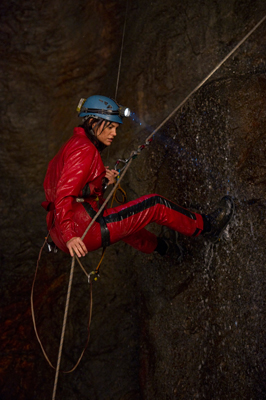 The production turned a large storage container into the 3D edit suite, referred to as "the pod," where renowned stereographer and veteran stereo 3D innovator Chuck Comisky spent his time watching the 3D feeds from the cameras. A frequent James Cameron collaborator, Chuck Comisky supervised the stereo-3D and visual effects for James Cameron's IMAX 3D documentaries Ghosts of the Abyss and Aliens of the Deep, as well as Avatar. It was his job to set the style of 3D for Sanctum, leaving the filmmakers free to concentrate on telling the story. He watched all the setups and rehearsals and then called out the intraocular settings to the intraocular pullers.
Chuck Comisky explains his role in the production: "What I've done is to set the style of 3D for the film so that it doesn't create eyestrain for the audience. Our goal is to give them the thrills that they want out of 3D and make it a good experience. Just by nature in everyday life, we see in 3D with our two eyes. Each eye has a slightly different perspective on things, and the brain fuses those two images so that we see depth-things close to us and things far away from us. What we try and do for 3D is to create left and right eye images so that the brain then thinks it's seeing depth in the image…whether that's bringing something out into the audience or something away in the distance."With a seasoned behind-the-scenes team that created Avatar, directing a 3D film wasn't too daunting a task for Alister Grierson. He felt fortunate to have masters of the field available to him at all times. He explains: "From a director's point of view, working with 3D isn't much more complicated than it is normally working. That is, as long as you've got a team in place that can manage the technical elements of it. The great thing about working with Andrew, who spent so long working with 3D and developing the technology with James Cameron, is that he has a strong working methodology. To Andrew Wight's immense credit, he's assembled a great team of people with a lot of experience in 3D.
Working in the pod as our stereographer, Chuck Comisky liaised with the back end of the camera-both in the engineering end with the intraocular pulling and focus pulling." Naturally, there would be challenges working in this arena for a young director, but he met them head on. "It only ever became an issue in the feedback loop if we were setting up shots that didn't feel like they would work as well for 3D," he continues. "In that case, you might change the lens or change the camera position or make another choice. I tried to let go of the 3D. Good 2D filmmaking should be kinetic, and it should use the space anyway. You want to have depth staging and so on. For me, it was just about concentrating on telling the story as best I could with the resource package that we have, and letting the 3D be handled by the professionals."
Sanctum's 3D elements also affected the visual effects of the production. VFX supervisor David Booth elaborates on Chuck Comisky's earlier comments: "We still apply the same principles of VFX and compositing and 3D modeling and rendering, but we usually have to do it twice-once for the left eye and once for the right eye. With everything that we've done, we have a left and right eye for our stereo. When we're easily mending an area or doing a set extension, we had to match in our set extension for our left eye to whatever the animation or tracking may be for that piece that we're replacing. Then, we also had to do the offset and do it for the right eye. Luckily, with the way stereoscopic work is going, a lot of the manufacturers are writing software and implementing dual streaming of left and right eye. So, when you do something on the left eye, it is automatically transferred over to the right eye."