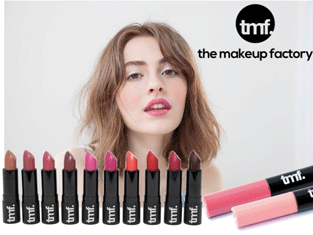 The Makeup Factory
Throughout history, women (and arguably, some men) have adorned their lips with deep and luscious hues of colour to enhance their natural beauty. From ancient Egyptian practices of using crushed red rocks to modern-day inventions of the swivel tube, lipstick has become a symbol for female liberation, rebellion and empowerment.
Inspiring women to look and feel their best naturally and affordably, certified organic and vegan-friendly Australian cosmetic label, The Makeup Factory (tmf) continues the lipstick revolution with their 100% natural and chemical-free range of sustainable lipsticks and lip gloss.
Edgy, stylish and fashion-forward, vegan lips offer 10 striking shades of long-lasting, matte colour. Lush and hydrating, the vegan lips range soothes, softens and regenerates skin while delivering essential fatty acids deep within the lip for complete moisture control and colour vibrancy.
For a sheer look, or to enhance the vegan lips colour range, the tmf lip gloss palette is infused with the goodness of vitamin E, cacao butter and kaolin clay, boosting skin tone and enhancing the lip's natural pigmentation in 5 flattering colours.


Providing clean cosmetics with no added sulphates, parabens or talcs, tmf is at the forefront of eco-luxe beauty, offering women of all ages a quality alternative to traditional cosmetics. Available globally at www.themakeupfactory.com.au, all products in the tmf range are designed in Australia and made in both Australia and the USA.