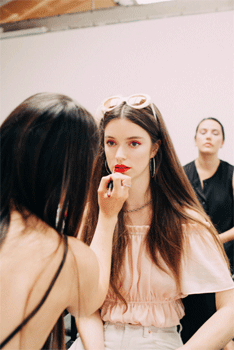 INGLOT Cosmetics Brings VAMFF To A Stand Still
INGLOT Cosmetics, one of the world's leading manufacturers in colour cosmetics, last night made their mark at VAMFF, partnering with the STAND STILL offsite runway event.

Coming together to present the collaborative collection as performance, Melbourne labels Abbey Rich, Caitlin She, Campbell Charlotte and Eat Me Do presented capsule collections in the STAND STILL exhibition / fashion show setting. The hybrid-fashion show drew attention to the detail and artistic process of the designers featured, all of whom work with slower production methods, and the colour red was chosen to represent a pause to consider the process of creating what we wear, how we wear it and how we can consume more consciously.

Known for their colour cosmetics, INGLOT proved the perfect backstage partner not only thanks for their ability to maintaining the strong connection to the theme of red, but also due to the brand's strong ethical foundation of non animal testing.

Using a range of looks from pops of colour, smokey eyes and minimal eyes, dewy skin, bold lips and nude lips, and pastel tones, the INGLOT styling team highlighted key features across each designer to create unique looks for each, whilst maintaining the greater connection to red as a means of exploration and a symbol of action.

'It's an absolute delight for INGLOT Cosmetics to partner with talented and ethically driven young designers such as Abbey Rich, Caitlin She, Campbell Charlotte and Eat Me Do. Being the exclusive make-up partner for the STAND STILL show really allowed all involved to unleash the creativity that INGLOT products are designed for, ' said Courtney Cavanagh, Marketing Manager of INGLOT Cosmetics.

Founded more than 30 years ago in Poland, INGLOT is available in almost 80 countries, including via more than 600 boutiques in some of the world's most prestigious places such as Times Square and Chelsea Market in NYC, The Dubai Mall, Westfield London, Plaza Carso in Mexico City, and Dundas Square in Toronto. INGLOT salons are also located at popular department stores including Macy's in USA, Sears in Mexico, Edgars in South Africa, Sogo in Malaysia and Falabella in Chile.