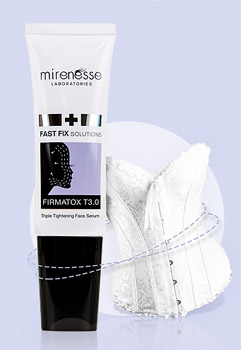 Mirenesse Firmatox T3.0
Problem: Sagging Facial Skin ?
Solution: Firmatox T3.0
What It Is:
A 2 in 1 splash mask and serum skin rejuvenator!
A temporary all-over skin tightener, that can be splashed off and instantly refines the look of fine lines and the appearance of enlarged pores and also infuses skin with a time-released firming peptide serum, to reduce the tired, lax look of lines and wrinkles over time.
What it does:
Advanced revitalising Plant extracts and Peptides firm the appearance of the saggy skin to affect the look of a tighter, firmer younger appearance to the skin, smooth and fill in lines, and correct uneven skin tone to provide the perfect canvas for your foundation to stay fresh all day.
Ideal For:
All skin types with fine lines, sagging tired looking skin.
May also be used for hooded eyelids, crows feet, under eye puffiness, enlarged pores, nose to mouth lines, loose skin along the chin.
Clinically Proven Key Ingredients

Anti-ageing Boosters
3 powerful Anti-ageing peptides : Peptides are miniature fragments of skin's proteins that play the role of messenger to signal the dermis to synthesise collagen and elastin.

Palmitoyl Dipeptide-10
Anti-glycation
DNA protection
Restores proteasome activity
Anti-ageing
Skin protection
Anti-stress

Acetyl Tetrapeptide-3
Stimulates extracellular matrix proteins; involved in collagen production

Acetyl Tetrapeptide-5
Improves the vascular system to strengthen the skin, reduces skin puffiness and under eye bags

Retinol
The gold standard of antiageing retinoids affecting gene expression and enhance collagen production, skin smoothing, and reduces pigmentation, leaving skin more radiant and younger looking with continued use.

Glycosaminoglycans
Essential for maintaining healthy skin moisture and protecting collagen and elastin skin proteins

Adenosine
Exhibits an anti-inflammatory effect it is naturally present in our skins cells and provides an energy source for healthy cells.