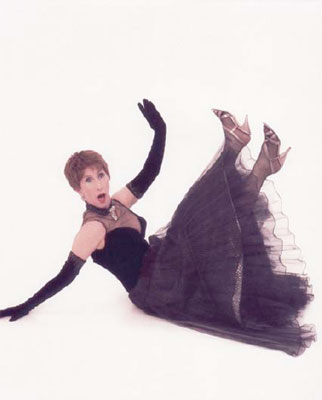 Judy Glen is coming to town for seniors' Christmas special Globe trekker and internationally acclaimed comedienne songstress, Judy Glen, will share the spirit of Christmas with Brisbane's seniors, by performing at this year's Lord Mayor's Seniors' Christmas parties.

Judy Glen, joined by a 9 piece orchestra, will headline the 75minute variety show themed "Christmas Around theWorld"; running from Monday 8 December to Friday 12December.

"For the past 15 years, I have been touring on theinternational concert/comedy circuit and have celebratedmany international Christmases. It will be grand to finallysing about it in Australia", Judy said.

Judy has spent many years touring throughout the UK,Spain, Singapore, Hong Kong, New Zealand, being describedin the Los Angles Times as "a true original like CarolBurnette and Lucille Ball, unquestionably a unique talent."After numerous trips to Queensland; including Expo 88,Man of Lamancha, Me and My Girl, and visiting in 1987 withPaul (Yes Priminister) Eddington for the Show HMSPinnafore, Judy has settled down on Queensland's beautifulSunshine Coast.

The audience can expect to be delighted by the escapades and visual gimmicks planned in Judy Glen'sperformance, which will include a hilarious acting lesson and unique rendition of The Holy City."I always aim to make my performances unique and memorable, and hope that the audience willhave as much fun as I do on stage", Judy said.

The Christmas parties are an opportunity for the Brisbane City Council to welcome Queenslandseniors and offer thanks for their contributions over the years.

The annual event of 10 free Christmas concerts for the over 55s of Queensland, is expected to attractabout 10,000 people and will provide free morning and afternoon tea throughout the five day event.


Lord Mayors Seniors Christmas Parties 2012
Monday 3 - Friday 7 December 2012
RNA Auditorium (Gregory Tce, Bowen Hills)
FREE
2 shows daily w/morning & afternoon tea:
9.45am + 12.15pm

Bookings essential - call QTIX from Monday 5 November on 136 246
For more information please call Council on 3403 8888