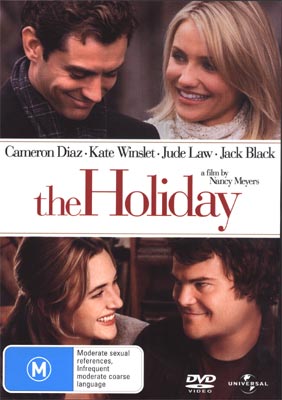 Cast: Cameron Diaz, Kate Winslet, Jude Law, Jack Black, Eli Wallach, Ed Burns, Rufus Sewell
Director: Nancy Meyers
Studio: Universal Studios
Runtime: 130 minutes

Meet Iris and Amanda, two women who couldn't be more different - one lives in a cosy English cottage, the other in a swanky Hollywood estate - but who are alike in their mutual bad luck with men.

After bad bouts of man trouble just before the holidays, Amanda Woods (Cameron Diaz) and Iris Simpkins (Kate Winslet) are desperate for a change of scene. Traveling in opposite directions (Diaz to London, Winslet to Los Angeles), each finds herself alone in an unfamiliar town, but neither remains a stranger in her new surroundings for long.

Cameron Diaz and Kate Winslet join an all-star cast that includes Jude Law, Jack Black, Eli Wallach, Ed Burns and Rufus Sewell in The Holiday, writer-director Nancy Meyers' latest take on the strange ways of love, and the high price of neglecting your own heart.

Review: Destiny has a funny way of finding you when you least expect it. This is a gorgeous story of love, sex and relationships that everyone can relate to. 'The Holiday' takes us on a journey through two women's lives of bad luck in their relationships. When Amanda and Iris exchange houses, life takes on new meaning.This once in a lifetime Holiday allows them to escape their current lives and discover themselves and a love in all the right places.

Arthur Abbt (Eli Wallach) steals the show, the special relationship between Arther & Iris is truely moving.

For anyone who believes in the power of love, this is a timeless, inspirational movie with brillant and powerful performances from Cameron Diaz, Jude Law, Kate Winslet, Jack Black and Eli Wallach.