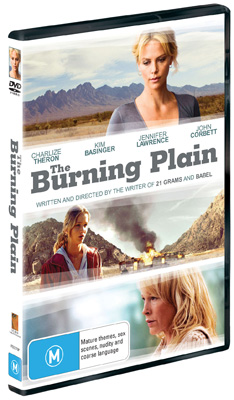 The Burning Plain
Cast: Charlize Theron, Kim Basinger, John Corbett
Director: Guillermo Arriaga
Rated: M
Genre: Drama
Running Time: 106 minutes

A film written and directed by Guillermo Arriaga the writer of Amores Perros, 21 Grams and Babel.

The Burning Plain follows the story of several people separated by time and space- Sylvia (Charlize Theron), a woman who must undertake an emotional odyssey to rid herself of the past; Mariana (Jennifer Lawrence), a teenager trying to piece together the shattered lives of her family in a New Mexico border town; Maria, a little girl who goes on a border-crossing voyage to find redemption, forgiveness, and love; and Gina (Kim Basinger), a woman who must deal with an intense and clandestine affair.

The Burning Plain
RRP: $39.95



The Burning Plain Review:

A burning trailer, housing two lovers secret affair goes up in flames seeming caused by an accident. Their death opens a series of scars to the two conflicted, now intertwined families. With some mesmerizing imagery we see the characters develop and show their raw human side in this drama centred on pain.The Burning Plain is split into 3 unconfusing narratives over different timelines to portray the interwinning family drama.