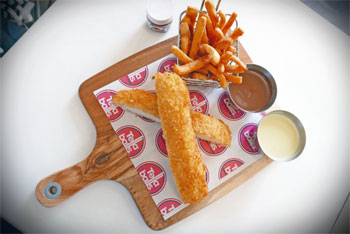 Tellafish and Chips
From the guys that brought you Tella Balls, Tella Ball Shakes, Pastatella and Tellababs, Tella Balls Dessert Bar introduces the all new Tellafish and Chips!
The 'fish' represents shallow fried house-made vanilla bean ice cream with a golden Panko crumb, the 'chips' are made of crunchy doughnut with a super soft filling, the 'tartare' dipping sauce is fine white Belgian chocolate and of course, finished with a shot of Nutella.
Tellafish and Chips will be available from both Concord and Dulwich Hill stores from the 27th of May, for $18.