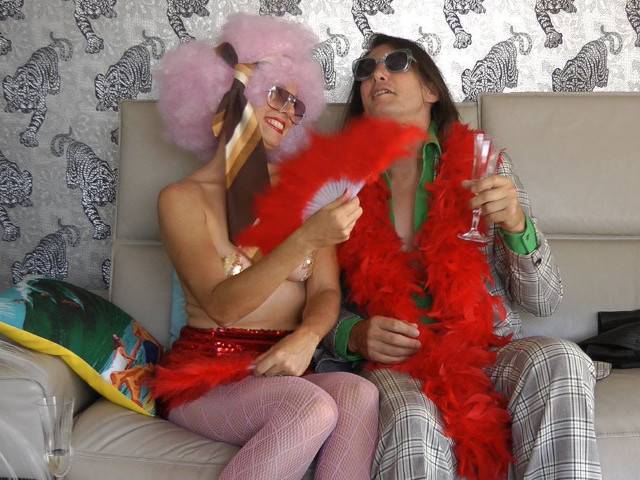 Super Massive released a videoclip for their infectiously-funky disco single 'I Like It' that is arguably the most entertaining Covid music video made since the start of the pandemic.

The video pushes the vintage 70s vibe and humour inherent in the song to the absolute max. The result is a four-minute mini-comedy designed to put a smile on your face, that sure delivers.

It's also pretty sexy. Super Massive's drummer/composer/producer Glenn Abbott, who regularly experienced semi-nudity and sexually provocative behaviour as a member of much-loved band Machine Gun Fellatio, said "It's the closest thing Super Massive has done to something Machine Gun Fellatio might have done."

Abbott stars in the video as a psychiatrist specialising in Don Juanism, nymphomania, disco-philia and other unusual fetishes, who has trouble containing his feelings towards his clients. The clip follows a day in the doctor's life, documentary style, as he sees his clients, intercut with images of the band playing in a frangipani-framed garden disco with colourful lanterns.

Singer/co-writer and actress Malina Hamilton-Smith, who appears on the HOTA screen tonight at Flickerfest co-starring as Emily, the mother character in the beautiful short drama Pools, also shows her comic acting ability in the 'I Like It' clip with a double dose of the doctor's sexed-up clients – a showgirl with a feather-tickle fetish and a dangerously jealous nymphomaniac, whose philandering husband is played by guitarist, Tyr Kovacic.

Hamilton-Smith said, "We wanted it to be fun, light-hearted and a little bit sexy."

For fans of Machine Gun Fellatio, Abbott's former MGF bandmate LoveShark makes a cameo from his own home-made lounge-room disco as "the greatest disco-philiac since Disco Sally."

Two former Super Massive members, former guitarist Marc Malouf and former bass player, Daniel Bruce, also appear as clients of the psychiatrist.

Just like the song itself, the videoclip is visually steeped in 1970s style. It was filmed mostly at Abbott and Hamilton-Smith's home on the Gold Coast – a funky weatherboard beach shack in Kirra, which, handily, the duo had already decorated with wild wallpaper and vintage 70s furnishings that were just perfect for the clip.

Hamilton-Smith filmed and edited the clip herself on the band's HD handicam and desktop computer. She said, "We filmed most of the video at home in our house and in the garden during shutdown while the Queensland / New South Wales state border was closed. A lot of our old Sydney friends had sung in the crowd chorus of the song and we had originally wanted to get everyone together for a fun, retro pool party idea, but we couldn't do that, so instead we invited everyone to film themselves singing and dancing along to the song and send the footage to us, Covid style, like a lot of bands have had to do during lockdown."

"Not everyone was able to send us some footage, but Dan and Marc sent us back a bunch of takes that made me laugh so hard my lungs were honestly burning. After that we had to up the ante on what we were filming of ourselves. We racked our brains for funny things we could do in the 70s comic style. The ideas came from the narrative in song lyrics, which are tongue-in-cheek. We borrowed a bit from comedy characters we knew from the 70s like Sir Les Patterson and Basil Fawlty. There's probably a bit of Ron Burgundy and Flight of the Conchords type absurdity that's crept in as well," Hamilton-Smith said.

"Somehow it worked out better than we imagined. We hope it gives people a lift and a good laugh," Abbott said.