Super Massive is the creative co-writing partnership of ex-Machine Gun Fellatio drummer/composer/producer Glenn Abbott and singer/songwriter/dancer Malina Hamilton-Smith. Formed due to a shared love of vintage 70's funk and disco, and a common vision of creating a true 50/50 blend of electronic dance music and rock, Super Massive now release their new single "I Like It", an infectious dance track inspired by the trademarks of classic 70s disco - premiered by Tone Deaf!

"I Like It" is a joy-filled, playful and infectious disco song that will take you on a summery trip back to the heady days of classic 70s disco. The song is driven by a big fat juicy bassline and snappy disco drums that are both lavished with the tasty licks only funk-loving musicians can deliver. There's real 70s funk wah wah guitar, provocative lyrics, the squonking synths that Super Massive have made their trademark, and exuberant vocals, including a high spirited crowd in the chorus. Glenn explains, "The song didn't change from its original concept. We wanted to get that good-time, happy vibe that a lot of disco tracks have. We wanted to have everything played in live, like all the classic disco tunes, like Michael Jackson, Chic. A lot of modern disco is all programmed and relies on loops. We wanted a bit more heart and soul in the track, so we laid all the parts down on a drum kit, bass guitar and guitar the way they did back in the day."

Uninterested in following musical trends, the duo explore the boundaries of pop, rock, electro, dance, disco and funk, seamlessly blending multi-layered synth-scapes with full live rock instrumentation, topped off by Hamilton-Smith's dynamic and expressive vocals. Exploring boundaries in the new single, Malina further explains "Glenn came up with the chorus 'I like it, I like it a lot' and then handed it over to me to write the verses. Disco funk is all about good times and hedonistic pleasures, so I took a suggestive angle on the words and decided to write the verses as a dirty limerick, for a bit of fun. The song doesn't take itself too seriously."

"I Like It" caps off an exciting year for Super Massive, with the band's sixth single "Invertebrate" reaching #3 on the AMRAP AirIt Regional Radio Chart and has had repeat play on alternative radio in Australia and they have become favourites on specialty synth and darkwave oriented shows overseas like SynthCity in the UK, Dark Noise Radio in the US and Radio Dark Tunnel in Germany. Earlier this year Abbott and Hamilton-Smith collaborated with The Soul Movers on a disco song called "Circles Baby", which was used as the soundtrack for a workout video by the original line-up of The Wiggles. Abbott produced the song and arranged all the lush disco orchestration on the track with Hamilton-Smith sang the backing vocals.


Interview with Super Massive
Question: How would you describe your music?

Super Massive: Funky and danceable music, with a blend of electronic and rock sounds and a good dose of classic disco and funk influence. We write in the classic pop style.


Question: Can you tell us about I Like It?

Super Massive: I Like It is a super funky disco track. It was intended to be a fun track right from the start. We wrote it in homage to the funky 70s disco acts we love, like Chic and Giorgio Moroder, which have influenced Super Massive's sound a lot. It has a call and answer chorus that we wrote with big festival audiences in mind, and to achieve the crowd sound, a dozen of our friends and family were kind enough to come over lay down vocals for us. The lyrics are a bit risqué - Disco funk is all about good times and hedonistic pleasures, so I decided to write words in the form of a dirty limerick, just for fun. The song doesn't take itself too seriously but it still has a lot of heart and soul in it and a monster 70s style disco groove.


Question: Is there a particular message you hope listeners take from your music?

Super Massive: To lose yourself in the music. Let yourself go, and have a good time.


Question: Which is your favourite song to perform live and why?

Super Massive: That's hard to get down to one song… I never get tired of performing Get Me Out Of My Head, because I really enjoy going deep into the intensity of the song, but I also love performing a song we have called Veronica, which is very hedonistic disco track that's all about having a wild time, and I can flirt with the audience, which is a lot of fun.


Question: Can we expect an upcoming tour?

Super Massive: If all goes well in terms of Government easing restrictions on live music, hopefully we'll be able to tour next year. There are still a lot of venues that are wary of bands that incite dancing (like us!), but we make sure that our performance is entertaining to watch, even if you can't get up and dance.


Question: If you could have anyone, in the world, attend a show, who would it be?

Super Massive: I would love Alice Cooper to come to a show. He is a master of the art of entertainment, and we occasionally do a cover of his synthrock song, 'Clones'.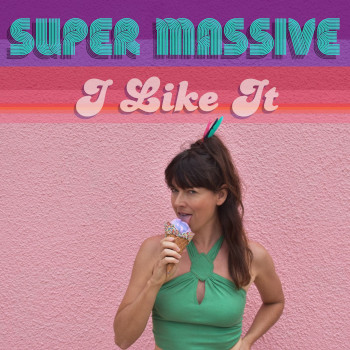 Question: What is the story behind the name Super Massive?

Super Massive: I was living in the inner city of Sydney and the name Super Massive was originally an observation of shopfront advertising in the city and the factory-outlet areas around Alexandria and Sydenham, which was obsessed with the words 'Super' and 'Massive," as in 'Super Deals' and 'Massive Savings'. The words seemed to be everywhere you looked, on shop windows, roadside light-up trailers, billboards. Glenn thought the two together, ie. Super Massive, would have to be the biggest thing ever. It fitted the band well because it was a good description of our sound, which features multi-layered synthscapes that created a wall of sound.


Question: How did you guys meet and when did you start making music together?

Super Massive: We met at the Hopetoun Hotel in Sydney when my very first band, The Green Light, supported Glenn's old band, Machine Gun Fellatio. We started making music together about three years later, when Glenn asked me to do some go-go dancing with his MGF side project, The Bryan Ferrysexual Experience. When we started spending time together in the BFSE we realised we both had a love of old 70s funk and disco, and we shared an interest in writing music that explored the possibilities of electronic / dance music within the context of a full live rock band, with the rock energy that brings. So we started writing songs together for The Bryan Ferrysexual Experience, but it felt like those songs belonged in a project of their own. When BFSE disbanded around the same time Machine Gun Fellation disbanded, we started taking Super Massive more seriously and spending more time writing songs for it.


Question: What motivates you most when writing music?

Super Massive: Originality is probably the main motivator for me. I like to write lyrics that say something that hasn't been said a dozen times before. I'll usually google title ideas and check whether there are other songs out there that say exactly the same thing before I throw myself into working up the lyrics. I got caught out recently when I wrote a song and came up with a title and googled it after writing it and discovered it was a trademarked species of a plant! It was too late though. We love the song and we're keeping it! Plants don't count in the pantheon of music anyway. Also, a really catchy beat with some interesting, unique sounds in the orchestration will get me inspired. I like to be sonically creative in how we express the feeling and meaning of a song. Sometimes I'll hear Glenn working on a cool new idea in our music room and I'll find myself dancing in the hallway outside. If it gets me moving like that it's a winner and ideas will come quickly.


Question: Was there a moment you contemplated throwing in the towel?

Super Massive: We took a break from live gigs for four years from 2014 to 2018, following the birth of our son. We didn't intend to take a break for that long, but other things became a priority for a while. I've never wanted to give away writing and performing. It's my creative outlet and I get immense satisfaction from creating songs, and telling stories through music, and getting up on stage to perform them to an audience. It makes me happy and I miss it when we have breaks from it. Glenn has definitely has moments of wanting to throw in the towel, mainly because we come from the perspective of pursuing originality in music, whereas the music industry tends to be more oriented towards whatever is the latest pop trend sound and multi-genre bands are harder to pigeonhole and therefore market. It's a harder road if you pursue complete independence from accepted formulas, but… those who do and succeed become iconic, eg David Bowie, Queen, Bjork, Alice Cooper. There was no-one else like them when they came along. They blazed a trail. Those people, who truly are an original creative force, are the kind of artists we admire most.


Question: What is the biggest challenge you have faced along the way to your musical success?

Super Massive: Having a mainstream sound on an indie band budget and the lack of support for Australian artists from commercial radio.


Question: What's a typical day like?

Super Massive: While we have a new song out at the moment, a typical day involves a fair bit of promotional energy - sending it out to radio stations, music mags and playlisters in various parts of the world who like our music or who are interested in receiving music from indie bands; sharing via socials and our newsletter; filming footage for a videoclip and finding things we need for it (today involved a trip to a lantern shop for paper lanterns, because this afternoon we are filming an outdoor disco scene under our frangipani tree); organising new merch (we are very excited to have Super Massive underpants to celebrate the release of I Like It, something we've wanted to do for a long time.) I try to get down to the beach for a swim or a sunset walk. and I do a lot of singing in the car driving my son to and from school. Often we dance in the lounge-room before or after dinner. He's five and loves funky dance music like Stevie Wonder and Pnau.


Question: What has been your favourite part of becoming a music artist?

Super Massive: Bringing together all the things I love – songwriting, singing, dancing, acting, filmmaking – into one project, and doing it with my special music /life partner, Glenn.


Question: What's next, for you?

Super Massive: We will be releasing a video for I Like It in coming weeks. We have a festival gig booked for 12 March 2021 in Glen Innes – Glenfest. We are working on recordings for an EP we hope to release in March/April, which we plan to tour in April, all being well.


Question: Can you share your socials? (links please)

Super Massive: Bandcamp
Spotify
Facebook
YouTube
Instagram
SoundCloud


Interview by Gwen van Montfort