Buena Vista Home Entertainment has the perfect collection of Disney DVDs and Videos to help you celebrate the delight and magic of Christmas this holiday season.
Enjoy the biggest and best collection of Christmas titles this year - with many titles released for the first time on DVD as well as some favourites. Get everyone in the holiday mood, celebrate the spirit and cherish the joy of Christmas with this special collection.
Winter Wonderland - Brand New Title
I'll be Home for Christmas - New to DVD
Mickey's Once Upon a Christmas - New to DVD
The Santa Clause - Special Edition DVD
The Muppet Christmas Carol - New to DVD & Special Edition
Beauty and the Beast: The Enchanted Christmas - Special Edition DVD
Winnie the Pooh: A Very Merry Pooh Year
Nightmare Before Christmas - Special Edition DVD

All the titles celebrate the magic of Christmas and make fantastic Christmas presents that the whole family can enjoy. Now Available from your usual stockists.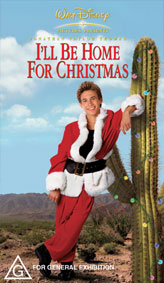 I'll be home for Christmas

In the holiday tradition of The Santa Clause, Disney presents a hilarious comedy that celebrates the believer in all of us.

Jake Wilkinson (teen star Johnathan Taylor Thomas), a wheeling and dealing, self-centred college student, has one thing on his mind - get home for Christmas dinner or forfeit the vintage Porsche his father promised him. Just days before his deadline, Jake awakens in the California desert - stranded and penniless, wearing a Santa suit and a white beard glued to his face! Desperate to claim his gift, he flies, crawls, cons, races, bullies and even sleighs his way east. But his non-stop mission turns into a non-stop comedy of errors as a multitude of weird and offbeat strangers look to 'Santa' for help and kindness. The closer Jake gets to home, the closer he gets to the true meaning of Christmas and the importance of family.

'I'll be home for Christmas' is a trip your entire family will enjoy taking all year long.

Order Now from CD Wow




The Muppet Christmas Carol

Charles Dickens' classic holiday story sparkles with humour and whimsy in the hands of the always hilarious Muppets! Michael Caine stars as penny-pinching Ebenezer Scrooge in a performance that's anything but "bah humbug!"

Alone on Christmas Eve, Scrooge is visited by ghosts who transport him to his past, present and future - and it's not a pretty sight! But along the way he comes upon poor, kind humble Bob Cratchit (Kermit the Frog) and his family, including Tiny Tim, who teaches scrooge the true meaning of Christmas. Complete with original music and dazzling special effects, this heartfelt holiday movie is exceptional entertainment your family will enjoy for every Christmas to come.

Order Now from CD Wow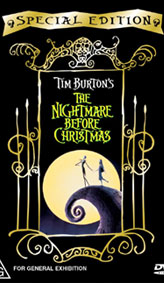 The Nightmare Before Christmas

This delightfully different holiday fantasy opens the door to an intriguing new world - where extraordinary surprises and captivating Grammy nominated* music awaits your whole family.

Journey on a phenomenal adventure of incredible sights and sounds with the whimsical Pumpkin King, Jack Skellington, and the rag doll, Sally. One day, Jack discovers Christmastown - a glittering glory of bright lights and shiny packages. Charmed by its magic, Jack brings back this newfound holiday to his ghoulish friends, triggering a hilarious turn of events.

This Oscar nominated* movie milestone captured the hearts of audiences and critics worldwide. Told through the innovative artistry of stopmotion animation and the imagination of Tim Burton (Batman, Beetlejuice, Sleepy Hollow), 'Nightmare Before Christmas' is an unparalleled holiday adventure that dazzles the eye and charms the soul!

Order Now from CD Wow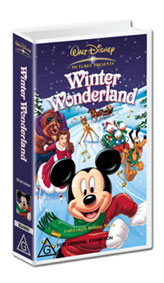 Winter Wonderland

Celebrate the season with this special collection of Disney's most treasured holiday moments - together on one volume for the first time ever! Join Mickey, Donald, Belle, Bambi and other favourite Disney characters for stories, songs and clips from these memorable Disney classics - Bambi, Beauty and the Beast, The Enchanted Christmas, Mickey's Once Upon a Christmas and many others.

'Winter Wonderland' is the perfect heartwarming holiday gift for the entire family.

Order Now from CD Wow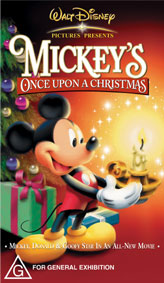 Mickey's Once upon a Christmas

Disney's biggest stars shine in a magical all-new movie - sur to become a holiday classic. Mickey, Minnie and their famous friends Goofy, Donald, Daisy and Pluto gather together to reminisce about the love, magic and surprises in three wonder-filled stories of Christmas past.

In the fine tradition of Disney's superb storytelling, Minnie and Mickey recall the year they both gave up what was most important to them for the sake of the other, making for one unforgettable Christmas. Goofy and Max retell when they experienced a series of hilarious but season-shaking events... until a visit from the real Santa made it a most magical holiday. Thinking back to when they wished Christmas was every day, Donald's nephews, Huey, Dewey and Louie, remember their dream turning into a comical catastrophe, eventually learning what true holiday spirit is all about.

Featuring the entire cast in a finale of merry, magical Christmas songs, all the excitement of 'Mickey's Once Upon A Christmas' is ready to unwrap for holiday family fun.

Order Now from CD Wow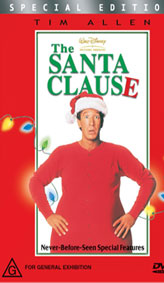 The Santa Claus

Home Improvement star Tim Allen trades his tool belt for a Santa suit to deliver outrageous laughs in this very merry hit comedy. 'Tis the night before Christmas when toy salesman Scott Calvin (Allen) finds himself in an awkward predicament. Santa Claus has fallen off the roof, and his "emergency card" instructs Scott to take his place. But by putting on the suit, Scott unknowingly accepts all responsibilities of the rosy-cheeked legend. Now, he faces a comical future of weight gain, beard growth, narrow chimneys and elves with attitude. Embraced by audiences worldwide, 'The Santa Clause' brings a sleigh full of dazzling special effects and hysterical holiday entertainment to all.

Order Now from CD Wow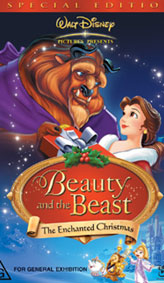 Beauty and the Beast

The enchantment of Disney's Academy Award winning film 'Beauty and the Beast' continues as this edition happily casts its song-filled spell on your holidays. An irresistible tale that "recaptures the magic and charm of the original" (New York Daily News) revealing a Christmas past when Belle does her best to warm the Beast's castel with the spirit and hope of the season. Despite the Beast's disdain over the holidays, she asks the castle's Enchanted objects to join the celebration, including stubborn Angelique - a delicate tree ornament who was once the castle decorator. But can Belle, Cogsworth, Lumiere and their friends undo the plans of Forte, the pompous pipe organ who hates happy celebrations and tries to keep the Beast apart from Belle's special holiday gift...

'Beauty and the beast: the Enchanted Christmas' overflows with five spectacular songs, spellbinding visuals, and the same delightful charms that brought Disney's original masterpiece to the screen. It's a holiday treat you'll find your entire family watching over and over again - not just for Christmas, but any time of the year.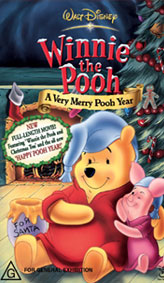 Winnie the Pooh, A Very Merry Pooh Year

Ring in the season with Winnie the Pooh in a new full-length adventure. Share the joy and magic of the holidays as Pooh and his lovable friends celebrate Christmas and New Year's in a delightful tale about spending special moments with those you care about most. After fond recollections of Christmas past... The countdown to New Year's begins! Rabbit plans a party, but when Pooh and friends bother Rabbit, he starts to sulk - threatening to move away. To appease him, everyone makes a New Year's resolution to change. But see what happens to the Hundred Acre Wood when Piglet starts bouncing to conquer his fear, Pooh becomes gloomy from not eating any honey, and Tigger... unbounc-able!

Order Now from CD Wow