SANDRA BULLOCK SAYS SHE'S READY TO SLOW DOWN.
Sandra Bullock, The Blind Side Interview by Paul Fischer.
Sandra Bullock has had quite the year, with her return to romantic comedy territory in the form of The Proposal, being her first major commercial hit in quite some time. In a Los Angeles hotel room promoting her latest movie, The Blind Side, the actress laughs when asked why it was that particular romantic comedy that struck such a chord with audiences. "I think nudity had a great deal to do with it," Sandra Bullock says laughingly. "Had I known that, I would have done it a long time ago."
She did also concede, more seriously, that her criteria for picking roles these days "are vastly different now than it was a long time ago, but I can only be that way now because of what I learned from the past. So, I'm choosing now not to choose any work, because when you've had such a nice ride, unexpected rides and fulfilling rides, you really don't want to take a step backwards. So it's really made me satisfied in a way that I wasn't looking for, but I was blessed with it, and now I feel really full in a good way, where I don't need to rush out and go find something." That change in attitude, she says, came when she "realized that I'm staring at a stack of scripts, and I can't bear to open them. I don't want to step into that world right now. I want to enjoy where I am. So I think it was over time, just having good life experiences that I was actually cognizant of in my work, and could remember, and was very satisfied with. I just want to enjoy the ride, instead of blasting forward and trying to fill a void that doesn't exist, in the workplace." That also includes her other role as a producer. "To me, the producing falls into the same as acting, because it requires so much time out of your life and I realize that I take it very personally. So, if I do something it just has to be something I love, and I don't want anyone else to do, so when I open projects, maybe something will appeal to me. I think I'm not opening them because I don't want anything to appeal to me right now and I don't want to be tempted to move from this place that I am."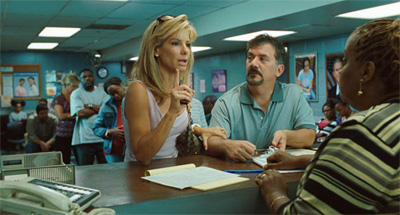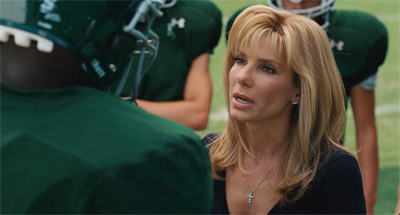 Builock initially turned down the part of real-life Southerner Leigh Anne Touhy in The Blind Side, the true story of a poor, oversized and under-educated teenager adopted by a family and eventually recruited by a major college football program. "I think I felt a great sense of fear in trying to tackle that person she is," explains Sandra Bullock. "But I also felt a great sense of obligation to be true to this wonderful, dynamic person and when I met Leigh Anne, I knew she was original. But there's such a dynamic that exists between those people and their children that you wanted to pay homage to them and I wanted to as closely as I could."
Sandra Bullock eventually said yes to doing the film after she read the book upon which the film was based. "It was a beautifully-executed book, especially for someone who has been around football players her whole life, and still knew nothing or cared anything about the game. By the end of the game, I was in such awe of what it takes to be an athlete, and what the coaches contribute to these children's lives, and how they support and push and inspire. I had a real sense of jealousy that they got to experience that and I never did as an athlete, or as someone who could be brought to that point. But even though I didn't think I could make this movie, the inspiring part of is that here's this family that does this and didn't do it because someone was writing an article or a book, or making a movie, but because that's where the instinct said, 'This is what we're going to do: we're going to give love and reach out a hand.' And everyone came and questioned them, of course. We don't trust anyone who does anything nice. That's just the sad world we live in, but they didn't care, and they kept going, so it makes you feel like you need to step up your game. So whatever wonderful actress was going to play Leigh Anne Touhy, it was going to be an inspirational story, because we don't really live in a world that supports the good that we can do. They all want us to do something bad, so it sells some papers, or some news report," the actress says passionately.
Sandra Bullock has been part of the Hollywood scene for over two decades now, and finally admits she is slowing down. Asked if she a next project in the works, she smiles sweetly and says, "I'm going to work on my restoration buildings. I'm not looking at scripts, or doing anything."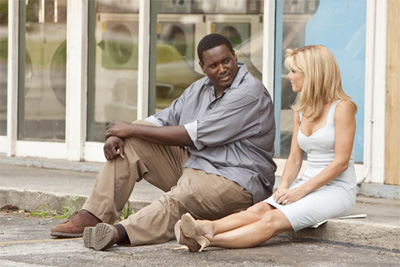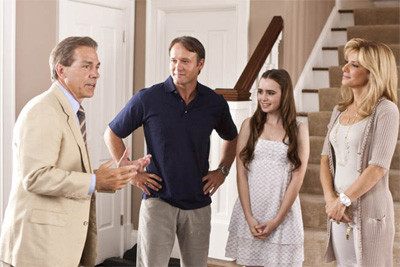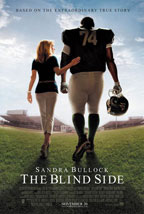 The Blind Side
Starring
: Sandra Bullock, Tim McGraw, Kathy Bates, Quinton Aaron
Director
: John Lee Hancock
Genre
: Dramas
Drama. "The Blind Side" depicts the remarkable true story of Michael Oher, a homeless African-American youngster from a broken home, taken in by the Touhys, a well-to-do white family who help him fulfill his potential. At the same time, Oher's presence in the Touhys' lives leads them to some insightful self-discoveries of their own. Living in his new environment, the teen faces a completely different set of challenges to overcome. As a football player and student, Oher works hard and, with the help of his coaches and adopted family, becomes an All-American offensive left tackle.