Ryan Gosling The Nice Guys
Cast: Russell Crowe, Matt Bomer, Ryan Gosling, Kim Basinger
Director: Shane Black
Genre: Crime, Mystery
Rated: MA15+
Running Time: 116 minutes

Synopsis: Oscar winner Russell Crowe ('Gladiator," 'A Beautiful Mind") and Oscar nominee Ryan Gosling ('Half Nelson," 'The Big Short") star in Silver Pictures' action comedy 'The Nice Guys," from writer/director Shane Black ('Iron Man 3," 'Kiss Kiss, Bang Bang," 'Lethal Weapon").

'The Nice Guys" unfolds in 1970s Los Angeles, when down-on-his-luck private eye Holland March (Gosling) and hired enforcer Jackson Healy (Crowe) become the unlikeliest of partners. Working together, they have to find a missing girl who seems to have a target on her back. And is her case related to the violent death of porn star Misty Mountain in a car crash? During their investigation, March and Healy begin to uncover a shocking conspiracy that reaches up to the highest circles of power…and just might get them both killed.

The Nice Guys
Release Date: May 26th, 2016



About The Production
Healy
What's going on? Everybody worked on this Amelia flick... They're all dead.
March
Before we deal with the crime of the century, let's get rid of the f***ing rotting corpse.

Los Angeles, 1977. The famed Hollywood sign is crumbling. People are lining up for gas instead of movies. The glitter of Tinseltown is clouded by a thick blanket of smog. Shrouded in the burnt orange haze are the seemingly separate but intertwined mysteries surrounding a missing girl, the death of a porn star, and a high-level corporate conspiracy. Unfortunately, the case has fallen into the hands of a hapless private detective named Holland March and his new client/de facto partner, Jackson Healy, a hired enforcer who introduces himself to March by breaking his arm…while simultaneously providing the diagnosis. And even more unfortunately"especially for this mismatched duo"everyone who gets involved in the case somehow winds up dead.

Writer/director Shane Black relates, 'L.A. in the -70s was this moldering town where smog covered the city like a crust and Hollywood Boulevard had turned into this cesspool of pornography. And in this scenario, you get these two numbnuts who kind of stumble into shoes they can never fill when they uncover this huge conspiracy. So you've got your corruption, you've got your decadence, and then the question became how unsettlingly inappropriate could we make these two guys for the task for which they set themselves up."

This is not the first time Shane Black has created an unlikely pairing and pitted them against a powerful adversary for which they would, on paper, seem outmatched. Exactly 30 years ago, he sold his first script to producer Joel Silver"an actioner about a by-the-book detective reluctantly partnered with an unhinged cop named Riggs. That movie was 'Lethal Weapon"…and the rest, as they say, is history. Following three 'Lethal Weapon" sequels, Joel Silver also produced 'The Last Boy Scout" and 'Kiss Kiss, Bang Bang," the latter of which marked Shane Black's directorial debut. After 10 years, they reunited again on 'The Nice Guys."

Joel Silver remarks, 'I think Shane has a unique cinematic voice. His movies are not traditional comedies; they are action pictures with humour, which is a different aesthetic. They're serious stories about hardboiled, tough guys. There are comedic moments throughout the film, but the hard-edged action helps to make the humor work."

In this case, the tough guys"a.k.a. 'The Nice Guys""are Healy and March, played by award-winning actors Russell Crowe and Ryan Gosling respectively. 'Shane Black creates these worlds that have their own tone, slightly surreal but rooted in reality," Ryan Gosling observes. 'And his characters are heightened, but somehow you feel like you know them. On a fundamental level, -The Nice Guys' is a detective story, but Shane is able to subvert it. You think you're going to go right, and he takes you left."

Russell Crowe agrees, 'A good detective movie is always going to be complex. As it's unfolding, you don't really know what's going on, and then, when you find out, all the parts of the journey have added up. Ultimately, you earn the right to get to the end of the story."

Shane Black co-wrote the screenplay for 'The Nice Guys" with Anthony Bagarozzi, starting out with each focused on one of the central roles. Black reveals, 'We had a mutual love of pulp detective novels and wanted to do a private eye project, so I said, -I'll tell you what: you do one character and I'll do the other.'"

Anthony Bagarozzi, who also served as an executive producer, details, 'I began with Jackson Healy while Shane Black wrote Holland March, and then we traded and went back and forth. After a while we got to know them both so well, it was pretty easy for either of us to say, -That's not something Healy would say or that March would do.'

'We call them -The Nice Guys,' but they're both kind of jerks when we meet them," Anthony Bagarozzi continues. 'Healy basically beats people up for a living and March is a private investigator but barely one step up from a con man. The idea that these two are our heroes was fun for us because they're almost the opposite of heroic at every turn. But I think that's the thing we liked most"that you could have such anti-hero heroes."

Russell Crowe attests, 'You've got one character who's on a moral slippery slope and then you have the other guy who wants to be useful, but, currently, thinks he can only be useful by breaking people's arms. So, in a way, it's that classic thing where these two guys together make one whole man. But it's also completely unconventional and that appealed to my sense of humor."

'The script doesn't take itself too seriously…I mean the characters do, but that's what's ridiculous about them," Ryan Gosling laughs. 'I think that's also what makes you root for March and Healy"because they want to be, or are pretending to be, more than they are."

When he read the screenplay, Joel Silver recalls, 'It was a page turner; it had a tremendous pace to it. It was one of those scripts where you start reading it and, before you know it, you're done. I knew it would give us an opportunity to take the audience on a wild ride, and that's something Shane is really great at doing."

'It felt good to be on a film with Joel Silver again," says Shane Black. 'He's a high-energy force of nature in this business. He's also a virtual encyclopedia of movie history and all things cinematic, so listening to him is always fascinating and working with him is a privilege. Plus he has a knack for finding the same things intriguing in a movie as I do, and he respects the kinds of stories I like to tell. So I think Joel Silver and I will continue to make movies together…I certainly hope so."

Both Russel Crowe and Ryan Gosling share Shane Black's admiration for the veteran producer. 'Joel Silver has been in this business for a long time and had some great successes and you can see why," Russell Crowe says. 'He's passionate about what he does and has a definite creative perspective. It was very enjoyable getting to know him through this project."

'I don't think I've ever worked with a producer who's more involved in every detail," Ryan Gosling adds. 'He was very enthusiastic about the movie and very supportive of Shane Black's vision, and Shane Black really respects Joel, so they have a strong collaboration."

'The Nice Guys" is set in 1970s Los Angeles, where a core issue of the times is at the crux of the mystery March and Healy are trying to solve. Anthony Bagarozzi offers, 'L.A. was at the center of a lot of stuff that was happening and it just had such a cool vibe to it, a kind of sun-drenched, burnt out noir landscape"sunny noir, if you will. And the events that act as a catalyst in the film affected Los Angeles more than pretty much any other city in the country."


Shane Black asserts, 'What was interesting to me is it's not far off base from some things we're dealing with now. There was corruption, panic over oil prices, fears about pollution… It's the `70s, but I felt it was a wonderful mirror for societal problems that still persist today."

The film also returns Shane Black and Joel Silver to a framework for which they share an obvious appreciation. The producer explains, 'The dynamic of a two-hander movie is one I've come to love and cherish. Shane Black and I employed it with Mel Gibson and Danny Glover, and with Robert Downey Jr. and Val Kilmer, and it's been a key part of other films I've produced. Watching Russell Crowe and Ryan Gosling together…they have an explosive connection and played off each other perfectly. It feels like Shane had them in his head when he was working on the script because they are both fantastic and informed the personalities of Healy and March with their own ideas of the characters and their own brand of humor."

Shane Black says, 'They are both powerhouse actors who brought an organic life to their characters and the story that makes it not just a comedy and not just an action film, but a fully realised combination of both."

Healy
You know, I asked around about you. There's a couple of people I trust that say you're pretty good at this.
March
Well, that's surprising. I would have thought your job ended with breaking my f***ing arm.

The first time Jackson Healy and Holland March met, the latter ended up with his arm in a cast, so March is understandably trepidatious when Healy shows up in a bowling alley men's room, where March is otherwise occupied and in a rather vulnerable position. Even more surprising, Healy says he now wants to hire March to track down Amelia. Ironic, to say the least, because it was Amelia who originally hired Healy to throw March off her trail"a task he accomplished quite literally. But circumstances changed when Healy learned, the hard way, that some rather nefarious people are looking for Amelia, who's gone missing. It's not their mission Healy objects to as much as the way they go about it.

Russell Crowe affirms, 'Healy believes there's a code for everything. He comes from time in the service, so that's still his mindset. It wouldn't have bothered him so much that these men beat him up, but they were unprofessional and crossed a boundary so now Healy feels obligated to get to Amelia before they do. Problem is, he no longer knows where she is."

'Healy is interesting because he's a pragmatic man for whom violence is simply part of doing business," Shane Black says. 'He has a personal creed by which he lives and it doesn't tolerate people barging into his place waving guns. They act like fools and do damage they didn't need to do, so Healy gets offended.

'March, on the other hand, is less concerned about moral niceties because he's pretty much been in a state of oblivion," Shane Black continues. 'He's subsisting on the notion that things will get better; however you've got to do something differently in order for things to change. He's on a downward spiral, but he keeps pushing forward, trying desperately to get through one more day, make one more buck, and stave off the wolves that much longer. But eventually this kind of existence is not going to sustain him, and he's going to learn a lesson from an unexpected source: this other screw-up who comes into his life."

To that point, Ryan Gosling notes, 'I think Healy comes around just in the nick of time because March is already kind of a loser and would likely dedicate himself to being an even bigger loser if it wasn't for his daughter, Holly, holding his feet to the fire. But she can't do it all on her own. He's constantly looking for the angle, for the shortcut, but now he's come into contact with someone whose approach to life is very different. And however much it's possible for March to change, Healy does have a positive effect on him."

Russell Crowe says it was the script's interplay between his character and March, as well as the actor playing him, that attracted him to the project. 'I really liked the balance between the two characters and the way they interact. And Ryan Gosling has a magnificent, innate sense of timing, so the two of us operated really well together. We made each other laugh every day."

The admiration between Ryan Gosling and Russell Crowe is mutual. 'Russell Crowe is one of those actors who's constantly raising the bar," Ryan Gosling remarks. 'He's an amazing actor with an incredible range, so it was great to get to work with someone I've admired for so long."

While both stars loved the screenplay, they appreciated Shane Black's willingness to let them 'try other ways to get to the point of a scene," Russell Crowe says. 'Being able to jump off the proverbial cliff and know that Ryan Gosling would jump off at the same time was the most fun." 'Shane Black and Anthony wrote a terrific script, but Shane wasn't married to what was on the page and wanted us to bring our own ideas," Ryan Gosling confirms. 'We were always looking for opportunities to take things further."

Shane Black comments, 'I prefer to work with actors whose take on a scene isn't always predictable, but you can't wait to find out what they're going to do because they elevate the material. They'll give it some extra gravitas or weigh it with the kind of introspection that a less seasoned actor might not have found. There are certain things you have to hit to cross the finish line, but there is some leeway and if you have good enough actors, you'd be foolish to ignore their input."

Holly
Dad, there's like whores here and stuff.
March
How many times have I told you…?
Don't say, 'and stuff." Just say, 'Dad, there are whores here."

Even before Healy came into March's life, there was one person keeping him from utter ruin…or at least trying to. Young Australian actress Angourie Rice plays the role of March's teenage daughter, though it's often unclear who the parent is in this scenario. 'March's relationship with Holly is definitely dysfunctional," Ryan Gosling admits. 'You can see she's vexed by his shortcomings and she's trying to keep him on track and force him to be a better man, but he's slipping."

'They argue a lot, but Holly is determined to help her dad in everything he does because she wants to make sure he doesn't make a fool of himself," says Angourie Rice, knowing that's probably a lost cause for her character. 'But Holly does think it's cool that he's a detective and wants to get involved in the action. Sometimes that's a good thing, but she also gets herself into some sticky situations. I like that she is a strong character; she's tough and very smart. She's really the brains behind all of it," she teases.

Rice won her role over hundreds of other hopefuls in an extensive search. Anthony Bagarozzi recalls, 'It's an important role so the casting process ranged far and wide. Angourie Rice was in Australia, so none of us had met her, but she sent in a tape and everyone was blown away. We brought her in and she was the clear choice. She's not only a good actress but also has the quality of an old soul in a very young girl, which was perfect for the character. And she can just throw on an American accent."

'I guess that's a sign I watch too much American TV," Angourie Rice laughs.

To better portray father and daughter, Ryan Gosling and Angourie Rice spent some bonding time prior to the start of production. Angourie Rice recounts, 'I went to his house and it was right before Halloween, so we carved pumpkins together, which was fun. It was great having Ryan Gosling play my dad."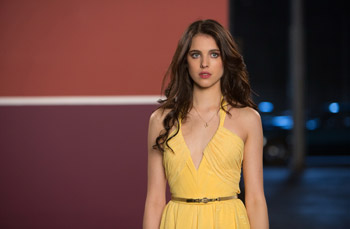 Both Ryan Gosling and Russell Crowe were more than impressed with their younger costar. 'She's so talented and even though she's very young, she had a strong sense of what her character would and wouldn't do. She was a true peer in our scenes," Ryan Gosling states.

'She's wonderful," says Russell Crowe about his fellow Aussie. 'The focus and concentration she displayed was way beyond her years and experience."

March
So you think these guys are gonna hurt Amelia?
Healy
Sure…after they're done killing her.

The search for Amelia actually began with the car crash that took the life of porn star Misty Mountain. Days later, Misty's grieving aunt came to clean out her place and spotted a young woman she believed was her niece, alive and well. It didn't take long for Holland March to follow the clues and discern the girl in question was Amelia, not Misty.

That should have been the end of it. In fact, it was just the beginning.

Amelia has been deeply invested in forcing the powers that be to take measures to curtail the smog that is choking the city…measures that are already available but cost big bucks. Cast as Amelia, Margaret Qualley says, 'Amelia is passionate about what is happening to the environment and is determined to do whatever it takes to call attention to her cause. She is very brave to put herself in that position, even though she has good reason to fear for her life."

It turns out that Amelia has powerful connections of her own: her mother, Judith Kuttner, played by Kim Basinger, heads up the California Department of Justice. Nevertheless, Kim Basinger allows, 'I don't perceive them as being close. Many mother-daughter relationships are very difficult and this is one of those. It's very complicated," she adds cryptically.

'The Nice Guys" reunites Kim Basinger with her 'L.A. Confidential" costar Russell Crowe, which was only one of the things that drew her to the project. 'I've known Joel for many years, and then I met Shane Black and instantly connected with him," she relates. 'I love the way he writes so I wanted to be part of this film."

Russell Crowe says, 'It felt like a lifetime ago we worked together on -L.A.Confidential'"two lifetimes in this business"but it was wonderful to be on a set with Kim Basinger again."

Judith Kuttner's right-hand woman, Tally, is played by Yaya DaCosta, who shares, 'I was so excited to play Tally because she has an unexpected twist. It was really fun to take on a character with two very different sides."

March and Healy are not the only ones seeking Amelia; there are several dangerous people on the hunt for her, none more so than a hit man who goes by the name John Boy. 'He's a kind of fixer, the guy you call in when others can't get the job done," describes Matt Bomer, who plays the role. 'I'm sure he assumes March and Healy are no match for him, but I don't know that that's true because they are so wily and unpredictable and fly by the seat of their pants. I think it adds a certain element that a professional assassin like John Boy can't prepare for…and also what makes it comedic."

Matt Bomer continues, 'Shane's script was so funny; it was one of the few scripts I've read that made me laugh out loud multiple times. I've also wanted to play a baddie for a long time, and with the pedigree of this project"having Shane and Joel on board and two incredible actors as the leads"I thought these are the best people with whom to do it."

Two other hired guns are referred to only as Older Guy, played by Keith David, and, for reasons that are abundantly clear, Blue Face, played by Beau Knapp.

It is their rather unprofessional encounter with Healy that results in the partnership of 'The Nice Guys."

Healy
You were in the pool? Why?
March
I had to question the mermaids…

To depict the Los Angeles of 1977, Shane Black collaborated closely with his behind-the-scenes team, including cinematographer Philippe Rousselot, production designer Richard Bridgland and costume designer Kym Barrett. All three department heads credit the script with setting a certain tone, which they then realised through camerawork, lighting, sets and costumes.

Phillippe Rousselot affirms, 'It was a balance between having fun with the period and at the same time taking it seriously. It's a comedy, but Shane Black didn't want it to be bright"more along the notion of making a film noir with elements of comedy."

Richard Bridgland adds, 'Shane Black's writing style is very direct, so with just a few well-chosen words, he can conjure up the atmosphere of a place or what a character is like. That made it tremendously helpful because we immediately had a sketch of that person in mind and could work from there to create their environment."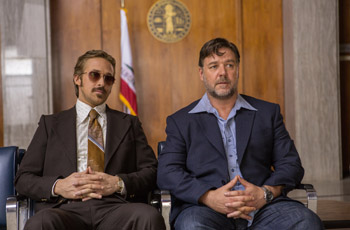 As an example, Richard Bridgland points to Healy's apartment, which was designed to reflect the influence of his time in the Navy. 'It was something that was important to Russell Crowe in building his character, so his home is relatively Spartan and very neat and tidy."

By contrast, the designer says, 'March is something of a slob, so we layered his house with the kind of mess his lifestyle would entail. But within that, we wanted Holly's room to be her little sanctuary and decorated it with the pop culture stuff that was happening with teenagers at the time."

Although 'The Nice Guys" is set entirely in Los Angeles, most of the interiors as well as a number of exteriors were filmed in Atlanta, Georgia. Richard Bridgland and his team had the dual challenge of accurately portraying not only the era but also the locale. They began by researching the period, watching movies of the time and poring over magazines, newspapers, and even people's personal photo albums. They also found many authentic items for their set dressing in antique stores and vintage shops.

Shooting exteriors in Atlanta posed several issues. Richard Bridgland explains, 'The main thing I noticed when I started location scouting was the architecture because so much of L.A. grew up in the -50s and -60s, so you've got that mid-century style that's unique to the West Coast and Los Angeles in particular. The other thing you notice is Georgia is lush with trees, whereas L.A. has a starker view, with rooflines punctuated by palm trees. One of the hardest things was finding places with a lot less trees. And we were shooting in the fall heading into winter so, of course, the climate was also very different."

Where necessary, visual effects were employed to adjust the surroundings, whether removing foliage or signs of the current times or adding the appropriate period touches.

One location was already suited to the times: the Hilton Hotel in downtown Atlanta, which became the site for a climactic confrontation at the Los Angeles Auto Show. 'It was built in 1976 and much of the interior has hardly changed," Richard Bridgland observes. 'And where they did update, they maintained the `70s style to blend into the original building, so it could not have been better. They pretty much turned over the entire hotel to us and we made good use of it."

From the beginning, Richard Bridgland reveals, Shane Black's edict to the designer was 'a movie full of color. Fortunately, the 1970s lend themselves perfectly to having a loud palette, so that gave me carte blanche to incorporate a lot of vibrant colors."

That was especially true in the ultra-flashy design of porn king Sid Shattuck's palatial house, where Healy and March crash an outrageous, neon-hued party looking for Amelia. Richard Bridgland says, 'Shane Black and Joel Silver both wanted to stretch the limits of the party to an extreme fantasy, so when these two guys turn up, they're completely out of their depth. We started by finding this amazing house in Atlanta that looks something like a spaceship"it's based on a John Lautner house in Palm Springs that was built in the `60s"and once we had the house, everything grew from there. It was very groovy," he adds in the parlance of the day," so we really pushed that whole vibe."

Behind the bar, there was a window to the pool, where guests could watch mermaids swimming in the water. And on the roof, the dance music was being provided by none other than Earth, Wind & Fire.

'Earth, Wind & Fire was the biggest thing at that time, and they would play at these exclusive parties," Bridgland relates. 'It was something Joel vividly remembered about those years, so he wanted to recapture that. Problem was, it was a big house but had a relatively small backyard, so we built an entire stage on the roof for their performance. It was magnificent with that music and those incredible costumes."

Costume designer Kym Barrett also enjoyed getting creative with the style of the time. 'What's special about L.A. in the late `70s," she describes, 'is that, despite all the problems, L.A. had a particularly optimistic esthetic, inspired by the entertainment industry, which was in a brightly colored, effervescent period"it was -Grease,' it was -Xanadu'"and so we wanted to try and convey that feeling. It was also a very electric time in fashion; some people were still wearing flares and were still hippies, and then others were watching Debbie Harry and David Bowie and a lot of that kind of New Age influence was coming in."

That said, Barrett acknowledges that neither Healy nor March would be too concerned with trends, so she designed their clothes to reflect their personalities and current circumstances. 'I would call March's look elegant dishevelment," she smiles. 'Yet somehow he manages to look suave and handsome while still being quite sloppily put together."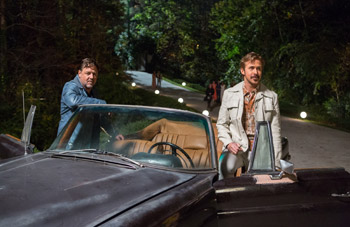 She continues, 'Healy is a guy who was used to wearing a Navy uniform, so when he was finished with the Navy, he basically put on civilian attire that followed the same rules. We made the decision to keep his silhouette very simple. The one wild card was his blue leather jacket, which became a main staple of his wardrobe."

Equal to fashion and décor, music always serves to evoke a sense of time and place. Apart from Earth, Wind & Fire, 'The Nice Guys" features some of the songs and artists who defined the era, including The Bee Gees, KISS, Kool & the Gang, America and Al Green. The songs are interwoven in the score by John Ottman and David Buckley.

'The music, the colors, the styles… It all does an incredible job of setting the tone of the period," states Joel Silver. 'You know, it wasn't that long ago, and yet it was"the world is definitely different"but the movie gives you a sense of being back there. It's a great ride." Shane Black concludes, 'Hopefully, at the end of -The Nice Guys,' people will feel like they've shared a unique experience with these characters. And though the journey has ended, they'll be sad to leave them."


The Nice Guys
Release Date: May 26th, 2016