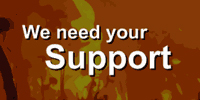 Communities under fire threat need volunteer medical practitioners to provide relief during this fire season
Rural Work force Agency Victoria is establishing a register of doctors and other medical practice personnel who are willing to provide relief on a voluntary basis to practices in fire affected areas. The purpose of the register is to provide backup support to divisions that are coordinating fire relief in their areas.
For more information and to register visit the RWAV website:
www.rwav.com.au
This Christmas show your Christmas spirit by giving a priceless gift of support to those in need for bushfire relief.
Volunteer Medical Practitioners Needed Urgently!
Register Now!
www.rwav.com.au