This Means War
Cast
: Reese Witherspoon, Tom Hardy, Chris Pine
Director
: Craig Brewer
Genre
: Drama, Comedy, Action, Romance
Rated
: M
Running Time
: 98 minutes
Synopsis
: Two of the world's top secret agents are best friends who never let anything come between them - until they inadvertently fall for the same woman. It's all-out war between them, as the two spies battle each other with high-tech surveillance, advanced tactics, and an arsenal capable of bringing down a small country. At the same time, she struggles with the difficult task of choosing between two very different, but equally attractive romantic propositions.
Release Date
: February 14th, 2012
Chris Pine and Tom Hardy portray the world's deadliest CIA operatives who are also inseparable partners and best friends… until they fall for the same woman (Reese Witherspoon). Having once helped bring down entire enemy nations, they are now employing their incomparable skills and an endless array of high-tech gadgetry against their greatest nemesis ever - each other.
Franklin Delano Roosevelt Foster, better known as FDR (Chris Pine), is handsome, suave, and self-assured, and possesses a preternatural ability to attract beautiful women. His best friend and partner James, better known as Tuck (Tom Hardy), is ruggedly good-looking and dangerous, but not nearly as skilled at romantic matters. Together, their unrivaled flair, formidable covert abilities, and good looks, make them the best of the best among CIA agents. But FDR and Tuck's longstanding personal and professional bond is put to the test when they unwittingly begin dating the same woman.
That would be Lauren Scott (Reese Witherspoon), a senior product evaluator for a leading consumer advocate publication. She has a far-reaching knowledge of products ranging from ovens to smartphones, and is a skilled leader at her workplace. What Lauren is not good at is meeting men, until her best pal Trish (Chelsea Handler) takes matters into her own hands and signs Lauren to an on-line dating service - which Tuck had recently, and reluctantly, joined.
Tuck and Lauren's first date is full of sparks and promise. After they say their goodbyes, Lauren wanders into a video store, where, coincidentally, FDR is looking for yet another romantic conquest. Unaware that Lauren has just met Tuck, FDR is intrigued when she blows off his advances. Lauren ultimately gives in to his charming "won't-take-no-for-an-answer" tactics, and agrees to a date.
Lauren can't believe her good luck. She's gone from being alone to dating two gorgeous, perfect men. Meanwhile, the guys are quick to realise they're deeply attracted to the same woman and their competitive instincts kick in. Ground rules are established. May the best man win. Friends become foes, and every covert trick in the book is deployed.
This means trouble. This means war.
"This Means War is about two of the world's top spies who've been partners and best friends for many years. Through a series of circumstances even they couldn't anticipate, they fall in love with the same woman," says producer-screenwriter Simon Kinberg. "FDR and Tuck decide they're both going to date Lauren and see which one she chooses. As each begins to fall for Lauren, they get increasingly competitive and employ their spy tactics and techniques to sabotage each other. Lauren, who just wanted to find the right guy, has no idea that FDR and Tuck are waging war for her love."
The "spy against spy" storyline - what happens when two best friends who have incredible skill sets turn on each other - is integral to the film's humor and action. At the same time, director McG wanted these bigger than life situations to be relatable. "We wanted to present that in a way that felt very credible," says the Charlie's Angels and Terminator: Salvation helmer. "We weren't interested in making a spoof. And I liked taking advantage of Tuck's and FDR's 'Alpha' characteristics. I would ask, if James Bond encountered [Mission: Impossible protagonist] Ethan Hunt, would they have a great deal of respect for each other? Of course they would. But would one ever acquiesce to the other? No way. Each man recognises the skill of the other but at the end of the day, each is betting on himself. And that is a great engine for a movie."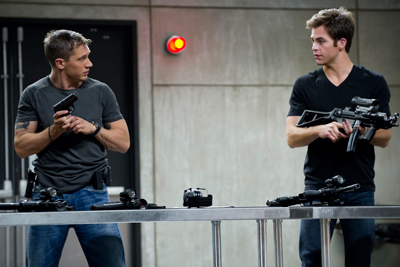 "It's every woman's fantasy to have two unbelievably hot, sexy guys battling over you," says Reese Witherspoon. "Lauren doesn't know that Tuck and FDR are secret agents for the CIA. This Means War is almost like two different movies. My character's in a comedy and Chris Pine's and Tom Harvey's are in a big action film."
Reese Witherspoon also appreciated the two sides of Lauren. "At work, Lauren is the most decisive woman in the world, but in her personal life, she's very indecisive. I think a lot of people can relate to her feeling of, 'Am I picking the right guy for me.'"
It's a tough choice, to be sure, because her suitors are handsome, smart, romantic... and the world's greatest secret agents. For generations, movie audiences have been entertained and beguiled by the thrills, chills and sex appeal of super spies. "With FDR and Tuck, we were going for the classic movie special agent," says McG. "What's sexy about that world is it's life and death; it's international; and it's the antithesis of what most people experience in their everyday lives. I think we all want to travel around the world, go to exotic locations, drive fancy cars, fire guns, and be romantically irresistible. We're having fun with that, and FDR and Tuck are incredibly proficient in that world. But when it comes to affairs of the heart, they're just like everyone else. Clueless."
For the character of FDR, the filmmakers were looking for what McG calls a "rogue - somebody who was lovable, even while possessing supreme self-confidence. And when it comes to that kind of energy, someone who embodies that magical mix, Chris Pine is the heavyweight champ."
Chris Pine has become one of Hollywood's hottest stars with his critical and box office success portraying the young James T. Kirk in Star Trek, and an inexperienced train conductor in the heart pounding drama Unstoppable. Chris Pine describes FDR as "a consumer of all things - of fine whiskey, good cigars, nice suits, fast cars, and beautiful ladies. Not necessarily in that order. He enjoys being a spy. He's the guy who would have watched James Bond movies as a kid and said, 'I want to do that.' There's not a lot of brooding or complication in FDR's life."
"Tuck, however, comes from a more serious school of espionage," Chris Pine continues. "Tuck is complicated, interesting, and internal. He's the spy existentialist while FDR enjoys the bacchanalian universe of being a spy. The infuriatingly talented Tom Hardy plays Tuck. Tom Hardy is super charismatic and handsome as all hell and he brings a complicated nature and an English sensibility to his role."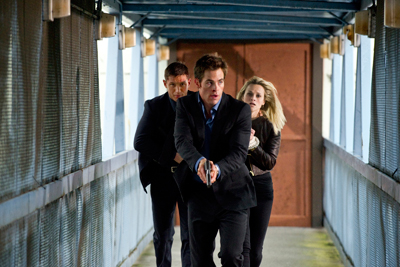 The filmmakers' long search to cast the role of Tuck ended when they saw Tom Hardy's performance in the box office hit Inception. "Tom Hardy had everything we wanted," recalls Kinberg. "His sense of humor had a much different tone than Chris Pine'. Tom Hardy has an aura of danger, which we really wanted for Tuck. He was very physical, conveyed the character's complexities, and was perfect for the role."
Though Tom Hardy seemed to become an overnight sensation with his breakthrough work in Inception, he has also turned in much lauded performances in the recent dramas Warrior; Tinker Tailor Soldier Spy, Bronson, and RocknRolla. So his role in This Means War, a big comedy-action film, was a substantial departure from his earlier work. "Tom Hardy is an actor who loves challenges," observes Simon Kinberg. "He had done heavy drama and action, so I think the challenge of playing This Means War's humor and fun is what drew him in."
Hardy concurs the film presented a very different kind of opportunity than his previous work. "Comedy, in itself, is not an easy thing to do," he explains. "I thought it was going to be a walk in the park, but it's one of the hardest things I've ever done. I'm very grateful for the experience." Tom Hardy was also drawn by the opportunity to play opposite Reese Witherspoon. "Working with Reese Witherspoon was like a master class in the comedy genre for me."
Joining Reese Witherspoon, Chris Pine and Tiom Hardy in the starring cast are Til Schweiger and Chelsea Handler. Til Schweiger, one of Germany's biggest movie stars and film directors, portrays Heinrich, a menacing international arms dealer who seeks revenge against FDR and Tuck for causing his brother's death. Best known to U.S. audiences for his memorable turn as Sgt. Hugo Stiglitz in the Quentin Tarantino's Inglourious Basterds, Til Schweiger says that while his character figures in some of This Means War's enormous set pieces, there's much more to it than high-powered action. "Most of the film is about fun, friendship and trust," he notes.
Starring as Lauren's best friend Trish, is inimitable talk show host, comedienne actor, and author Chelsea Handler. Trish is a wife and mother whose mission in life is to offer frank and explicit opinions on her single friend's love life. "Trish is basically me, but married," says the famously single Chelsea Handler. "Trish is not the best advisor, but Lauren needs her to provide a jolt of energy. "'Listen,' Trish tells Lauren, 'you better get out there and do the things every woman wants to do! So get the party started, Chaka Khan' (who's not in the movie, by the way)."
Says Reese Witherspoon: "Everybody has one of those crazy friends who does wacky things and lives vicariously through their dating friends. I've known Chelsea Handler for a while, and it was fun that we got to make this movie together. She's just perfect person for the role."
About the Production
It will come as no surprise that Chris Pine and Tom Hardy handled the high-octane spy action and stunts with skill and daring. But This Means War audiences will see a movie "first": Reese Witherspoon mixing it up with the boys in full throttle action mode. Not only does she get to drive at excessive speeds on a military racetrack in a drophead coupe, she flew on a swinging trapeze, and donned a mask and firearm for an intense, ruthless game of paintball. "By the end of the movie, Reese Witherspoon is at the center of the action," says McG.
Making FDR and Tuck believable as CIA agents was tasked to Paul Maurice, a military advisor with extensive wartime experience, who serves as the film's CIA technical advisor. Paul Maurice worked closely with Chris Pine and Tom Hardy to give them a high proficiency in weapons-handling and hand-to-hand combat.
Production designer Martin Laing and his team upped the spy-against-spy action by devising gadgets utilised by FDR and Tuck as they wage war against one another. Martin Laing's team researched CIA weapons and surveillance techniques and made them even more high tech and fantastic.
FDR's bachelor pad had to reflect his expensive and exotic tastes, so the production found a converted penthouse apartment in Vancouver's Chinatown with a swimming pool in the ceiling. The pool had a glass bottom, making the pool visible from the downstairs dining room. When Laing showed the apartment to McG, the director looked up and was astonished to see the pool - and a beautiful girl in a bikini doing laps (which Martin Laing had prearranged).
After principal photography had wrapped, McG and his teams went to work editing, scoring, mixing and putting the finishing touches on the visual effects. Later during this post-production period, they would show the picture to select audiences to gauge reactions and fine-tune the picture. The screenings yielded outstanding scores, which revealed that This Means War plays to men, women, singles, and couples. This, and the ensuing positive word of mouth, led the studio to pick an unexpected release date: Valentine's Day, which falls on February 14 - a Tuesday. (Most films go out on a Friday, in time for the weekend.) But for McG, the holiday release seemed perfect. "After all," he points out, "everyone needs a little action on Valentine's Day!"
This Means War Review -
www.femail.com.au/this-means-war-review.htm