Isabella Rossellini Late Bloomers Interview
Cast
: Isabella Rossellini, William Hurt, Joanna Lumley, Simon Callow
Director
: Julie Gavras
Genre
: Drama
Running Time
: 88 minutes
Synopsis
: In writer/director Julie Gavras' delightfully warm and wise romantic comedy, the inestimable Isabella Rossellini and Academy Award-winner William Hurt play a couple whose 30-year marriage is starting to run into trouble.
Hurt is Adam, a London-based architect horrified to find himself the recipient of awards that suggest he's reached the end of his career, while wife Mary (Rossellini), taken aback by an unexpected health scare, sets a course of radical action in league with her vivacious best friend Charlotte (Joanna Lumley). As Adam & Mary respond to these challenges in completely opposite and unpredictable ways (successfully infuriating each other in the process), their three adult children plot to find ways to keep them together...
With luminous supporting performances from a mix of established and upcoming British acting talent (including Simon Callow, Kate Ashfield and Luke Treadaway), Late Bloomers is an elegant and engaging portrait of marriage, and the joys & realities of getting on.
Release Date
: February 23rd, 2012
Interview with Isabella Rossellini
Question:
Why did you want to work with Julie Gavras?
Isabella Rossellini
: Strong personalities attract me, ranging from directors such as David Lynch to John Schlesinger, not forgetting Guy Maddin. I try to choose films directed by people who deserve to be called authors. With Blame It On Fidel, Julie was already proving to be a genuine author and this film confirms it. She is sincere and offers her own vision of things. The combination of sensitivity and humour should move many people.
Question:
What attracted you in the script?
Isabella Rossellini
: Julie has managed to create a 'tragicomedy' side that is so typical in European films, especially in those from the South, that blend laughter with tears so well. Her film tackles important themes: age, our perception of it and the fact that no one lives forever. It's about the time we have left in life and what we decide to do with it. We encounter my character, Mary, just as she is becoming aware of all that. Despite the fact that we all know about death from childhood, the deadline is nevertheless rather abstract, until it actually arrives. That's where Mary's at. Nearing 60, she is caught up by reality and wants to make sure her husband and all her family are fully aware of it.
The script is extremely powerful because it broaches a serious situation with great elegance, affection and hope. It is a very particular story that spectators will be able to relate to. I was very impressed when I read it. Julie is an amazing director and I have no doubts about her whatsoever. She just needs some time for recognition!
Question:
How would you describe your character, Mary?
Isabella Rossellini
: Although her mother and husband are English and her children have grown up in England, Mary's father was Italian and she grew up in Italy. Therefore she is not a typical English mother which adds nuances to her character. I think she would define herself as a 'mamma', a spouse whose family is the most important thing in her life. Mary has that Latin European quality.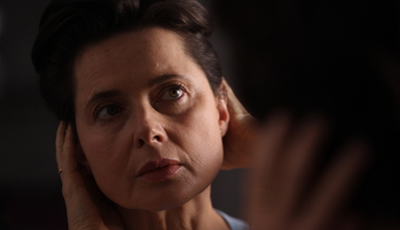 Question:
Do you feel close to your character?
Isabella Rossellini
: I am Italian, even though my mother was Swedish. And I am not a typical 'mamma' either. Probably due to the culture, or mixture of cultures, I immediately related to Mary and the way she behaves with her children. Mary is very familiar to me.
Question:
Her observation of life concerns us all…
Isabella Rossellini
: There is what she has accomplished and what she still has to do. She has always supported her husband and children, putting her own career on stand-by. Women often do this. Then all of a sudden, Mary realises that death is much closer than it was when she was only 20. And she realises that our society does not have a real place for those between 60 and 80, although many could still be useful and would love to participate. Depending on which country you live in, retirement age is between 60 and 65, even though you are still young and full of energy. So what do you do with yourself and what does your life become? Faced with a husband who is in complete denial, Mary is going to try to be realistic and reacts. It's funny, moving and deeply compassionate.
Question:
How did you work with Julie Gavras?
Isabella Rossellini
: We rehearsed for two weeks, which is highly unusual. You usually have one or two script readings, but not real rehearsals as for a play. Julie asked us to arrive a fortnight before shooting started to work with William Hurt and the team. We discussed everything; Mary's childhood, the way she landed in England, how she met Adam. Knowing the history of your character, even elements which are not in the film, helps you to define it and interpret it better.
Julie was there all the time to answer our countless questions. It's her job and she does it very well; she really had thought of everything.
Question:
What was working with William Hurt like?
Isabella Rossellini
: It's the first time we've ever acted together. I admire his work and this gave me the opportunity to get to know him better. He is really very, very good. A large part of the acting consists of reacting to your partner and I found working with William was so easy. Our first meeting was quite out of the ordinary. I was on a plane and a man with a long white beard grabbed my arm as I was heading towards my seat, and declared that he was my husband! I smiled and continued towards my seat. Once I was seated I started wondering who this strange 'Father Christmas' was. I hadn't recognised him, but it was William! He patiently waited for the plane to land before coming back to me and repeating that he was my husband in the film we were going to shoot! This meeting was just like him, unusual and elegant. I was immediately struck by his charm, which is a good start to playing a woman in love! He's a real man and working with him was fascinating. He's a great actor.
Question:
Does the subject of this film affect you?
Isabella Rossellini
: The title refers to late blooming. It's a metaphor about maturity. The story evokes the journey to maturity through the different phases of a person's life. One day, William asked Julie what the film was about and she answered that it was about people trying to find their place in life.
Lightly and subtly, the film goes over many questions to which we have no answer. Only shared experience can help us. Mary finally realises that she is a good person and although not perfect, she does what she believes is right. She realises that she has made a pretty good job of things and that her family has turned out the way she wished it would.
Question:
Is Late Bloomers a woman's film?
Isabella Rossellini
: Probably, yet it stresses their compassion more than simple feminism. The film is obviously a woman's point of view, Julie's point of view, as she is more likely to be interested in relationships between people and family than a male director would be. Though one must not generalise. The truth is that it is rare to encounter a good film about life and family, but this is definitely one of them!