One For The Money
Cast
: Katherine Heigl, Jason O'Mara, Daniel Sunjata
Director
: Julie Ann Robinson
Genre
: Drama, Romance
Rated
: M
Running Time
: 91 minutes
Synopsis
: Stephanie Plum (Katherine Heigl) can't catch a break. At 30, she finds herself newly-divorced, recently laid-off, and living with her hamster in Trenton, N.J. Broke and desperate, she lands a job working for her slimy cousin and his bail bond business. In need of fast cash she latches on to his biggest case - a local cop wanted for murder who just happens to be the guy that broke her heart in high school. Stephanie gets resourceful and tough, as she is swept up in a suspenseful world of murder, deceit, with a bit of romance.
Release Date
: February 16th, 2012
About the Production
"Stephanie Plum is a woman who moves through the drama of her life with all the grace of an 'I Love Lucy' episode," laughs best-selling author Janet Evanovich. "She destroys every car she owns. Her hair frizzes up in Jersey humidity. She can't cook. She's not going to stop a speeding train like Superman or catch a bullet in her teeth. But she's the woman we all want to be."
Since her first appearance in the 1994 bestseller, One For The Money, Janet Evanovich's beloved New Jersey girl-turned-bond recovery agent has solved crimes and nabbed felons over the course of eighteen global bestsellers, the latest of which, Explosive Eighteen, hit bookshelves this November. As a recovery agent, Stephanie's record is stellar; but she's won the hearts of readers everywhere more for her genial humanity than her investigative prowess. "She's heroic in small ways," offers Janet Evanovich. "She puts one foot in front of the other and at the end of the day, she's proud of what she's accomplished."
Back in 1994, Janet Evanovich could never have anticipated that Stephanie Plum would garner her a worldwide following and firmly establish her as a leading writer of crime fiction. Neither could she have believed that after seventeen years of interest from Hollywood, she would actually be watching film and television star Katherine Heigl bring Stephanie Plum to life. "Seeing One For The Money made into a movie after all these years is...it's terrifying," admits the author. "It's also exciting, it's wonderful; it's amazing. I absolutely love the movie. "
Known for her charismatic work on television's "Grey's Anatomy" and the $200 million dollar box office hit The Ugly Truth, 27 Dresses ($160M worldwide) and Knocked Up ($219M worldwide), Katherine Heigl eagerly embraced the opportunity to create Stephanie Plum onscreen. "For me, it's always been about the story and it's always been about whether or not I liked the character, and that limits me," admits the star. "But Stephanie Plum is so much fun and has so much life in her. I fell in love with her."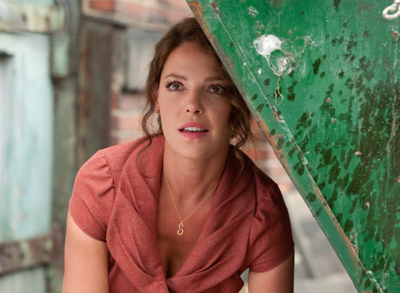 Over sixteen years ago, before it hit bookstores and the bestseller list, One For The Money caught the attention of producer Wendy Finerman. "When I first read the galleys, I thought Stephanie Plum was the most relatable, enjoyable character anyone could connect with," Wendy Finerman recalls. "She's a little bit of an every-woman. She's outspoken and she's brash and fun. And she's hit a sticky point where things haven't worked out like she planned. She's back in her hometown, trying to sort out her life."
Wendy Finerman spent years developing a screen adaptation, working with different writers on several variations of the story. At one point, a Stephanie Plum television series was seriously considered. But Wendy Finerman still felt the adaptations hadn't effectively captured the tone of Janet Evanovich's sharp dialogue and her skillful mix of suspense and character-based comedy. "Janet Evanovich does an amazing job combining humor and drama," she explains. "That's a very hard thing to capture on film. She's so detailed in her writing, so it's difficult to capture the world she creates and the sassiness she gives to Stephanie."
Eventually the project found its way to Lakeshore Entertainment, where Wendy Finerman partnered with producers Tom Rosenberg and Gary Lucchesi. "I was introduced to the material by my wife," Gary Lucchesi recalls. "Every year she'd bring home another Janet Evanovich book and at a certain point there were twelve of them on the shelves and I turned to her one day and I said, 'What is it with these books?' she said, 'They're fantastic books.' So I read the first three and I thought they were great. It happened to be at that time we were making The Ugly Truth for Sony Pictures and had discovered that Sony held the rights to this material."
Like Wendy Finerman, Gary Lucchesi and Tom Rosenberg knew that effectively translating Janet Evanovich's sparkling tone to film was crucial to the project's success.
"I was attracted to the fact that Stephanie Plum is a working class hero," says Tom Rosenberg, "and I thought it was the right time to deliver that to audiences. Stephanie isn't a doctor or a lawyer. She's very relatable and we thought that honesty and vulnerability would make her a character moviegoers could get behind."
But finding the right screenwriter proved difficult. Gary Lucchesi explains, "It wasn't until Liz Brixius, who's the show runner on 'Nurse Jackie,' became involved that we found a writer who could completely capture the voice of the material."
"Liz Brixius brought not only her experience as a successful screenwriter and filmmaker to the project," observes Tom Rosenberg, "but also her love for the books and for Stephanie herself. She was terrific at guiding the journey of the character from the page to the screen."
For Liz Brixius, adapting One For The Money for the screen wasn't just any job offer. "The whole thing started for me about 10 years ago when my sister gave me a paperback to read on the plane ride home from L.A. to Minneapolis," Liz Brixius recounts. "I read One For The Money and fell in love with it. I read the second one. Read the third one. My sister's read all of them. Then I got a phone call on the set of 'Nurse Jackie' from my manager saying, 'Lakeshore wants you to read One For The Money. I'm like, 'I already read One For The Money. I know One For The Money. I love One For The Money!'
Moments after she got the job, Liz Brixius felt the immensity of the responsibility she had enthusiastically taken on. "This comes out of Janet Evanovich's brain," she explains, "and it's beloved by millions and millions of people and you just want to do it justice."
Meanwhile, Gary Lucchesi and Tom Rosenberg had become friendly with Katherine Heigl on the set of The Ugly Truth and thought Stephanie Plum would be an appealing change of pace for the actress. Gary Lucchesi explains, "Katherine Heigl's a very interesting actress and extraordinarily talented. We wanted to see her play a slightly more adult character that was a little tougher, a little bit out for the norm. She responded to that challenge."
Continues Tom Rosenberg, "Katherine Heigl's talent lies in her versatility. She is capable of comedy, romance, drama, all of which are present in the script for One For The Money. In this film she really is Stephanie Plum, she's not Katherine Heigl."
Not only did Katherine Heigl have to transform herself into someone radically different, she also had the opinions of millions of fans with which to contend. "Katherine Heigl has a heavy burden because of the fan base," continues Tom Rosenberg. "Everyone has their idea of what Stephanie Plum should be. Katherine Heigl had to make it her own while still delivering what the fans expected. There really aren't too many people who could pull that off."
"This project has been my little mountain to climb this year," says Katherine Heigl. "It's been really, really satisfying on a million levels to get to be a part of it and to make the trek up the mountain and get to see the view."
Having seen Katherine Heigl's performance in the film, Janet Evanovich can't imagine another actress in the role. "Katherine Heigl is so talented," she enthuses. "She's bold, she's brave. She's afraid. She's vulnerable. She's sexy. She has this wide range of emotions in this movie and she just nails them all. She walks like Plum. She talks like Plum. She absolutely is Stephanie."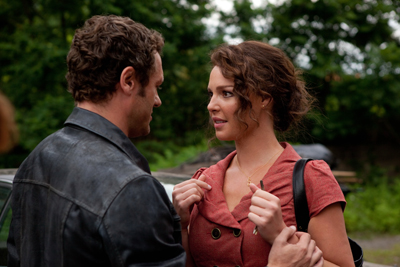 With Katherine Heigl in place, the production focused all of its efforts on doing justice to the source material, which meant finding the ideal supporting cast and creating just the right look for the film. As Gary Lucchesi explains, "We made a conscious effort to be loyal to the books' following. We paid very, very strict attention to every detail."
"I think it's really, really important to get everything right," adds Katherine Heigl, who is also an executive producer on the film. "You really don't want to alienate the fans. They're the people who have made this franchise. They're the people who have given Stephanie and these characters a life after the first book."
Director Julie Anne Robinson turned to the novel again and again for guidance. "I've looked at it down to details of dress colors," reveals Julie Ann Robinson. "The description of Stephanie's apartment, I pulled it from the book. It had to be a red brick building. It had to be a place where a lot of old age pensioners could live. Even small details like Mrs. Delgado who lives opposite Stephanie; she's there in the book. The fact that Stephanie drinks a Big Gulp. The fact that she feeds Ritz crackers to Rex. We've gone down to the smallest detail. The actual cage that Rex is kept in is identical to the one described in the book."
At first glance, Julie Ann Robinson, a British director with a background at the Royal Shakespeare Company, the Royal Court and the National Theatre, might seem an unlikely choice for a New Jersey-set story about working class Americans. But Katherine Heigl, who fondly remembered her experience working with Julie Ann Robinson on several episodes of Grey's Anatomy, suggested the director be seriously considered. "After spending some time talking to her we realised that her vision was exactly right for the movie," recalls producer Gary Lucchesi. "Being a director you've got to steer a big ship of about 150 people and everybody's got an opinion. You need a captain who can really channel the way to the right port. And Julie Ann Robinson did that."
"Julie Ann Robinson came onto this project with such unbelievable energy and passion and determination," reports Katherine Heigl. "She has incredible focus and I never saw her get tired or burn out. And I think she's just done a beautiful job with the casting of this movie, with the locations, the set design, everything. The right look and feel of this movie, the balance between comedy and drama, will be thanks to Julie Ann Robinson, for sure."
Actor Jason O'Mara, who plays Joe Morelli in the film, credits Julie Ann Robinson and the clarity of her direction for the vibrancy of the cast's performances. "She's really what you want from a director. You come prepared, you know how you want to play the scene, but she says one thing to you and it changes the way you deliver the lines and suddenly it comes alive. Julie Ann Robinson knows what she wants and there's never any indecision, but at the same time she's open to a lot of ideas. So she's been very collaborative and that's given everybody on this movie a sense of ownership and pride in their work. Hopefully that will come through."
Joe Morelli's tumultuous love/hate history with Stephanie Plum began when she was only six and culminated in a disastrous high school date. A former bad-boy turned vice cop, Joe Morelli becomes an unlikely suspect in a homicide investigation and jumps bail, which seemingly points to his guilt. But as Stephanie tracks him down as her very first FTA ("Failed To Appear" in bail bond speak), she realises the case against Joe Morelli is more complicated than she initially thought.
"Joe Morelli has to have humor, a little bit of danger, be handsome, but also authentic," says Tom Rosenberg. "You have to buy he's from Trenton and that he's a policeman. It's a very tough role to pull off, but Jason did it effortlessly."
"In Jason O'Mara and Katherine Heigl, we've got two actors who can match each other," adds director Julie Anne Robinson. "She's a very powerful actress and he meets her head on in their scenes together. There's a tension and an electricity in every frame. They play off each other. They play off the script. It's great fun to watch. I fell in love with their chemistry."
From the moment Jason O'Mara read the script, he was ready to sign on to the project. "It really jumped off the page," remembers the actor. "And when I read Katherine Heigl role I realised she was perfect for it and she was going to really knock this one out of the park. She's got a great sense of comic timing. The part of this I've really enjoyed is the comedy."
"Jason O'Mara is going to be the only person people can think of from now on when they read the books," affirms Katherine Heigl. "He's brought Joe Morelli to life in the most seamless and perfect way."
But Joe Morelli isn't the only sexy, eligible - and potentially dangerous - man in Stephanie's life. When she realises she needs formal training in order to succeed at her new job - and hopefully survive it - Stephanie enlists Ranger, a bounty hunter who specialises in fugitive apprehension, bodyguarding and other semi-legal business ventures, to show her the ropes. As played by actor Daniel Sunjata, Ranger is cool, confident and knowing, and his scenes with the bumbling Stephanie teasingly suggest that opposites really do attract. "Stephanie and Ranger have a mentor-student relationship with sexual tension as the undertone," says Daniel Sunjata. "I found his character to be interesting and appealing. It's a color that I haven't had the opportunity to show so far in my career."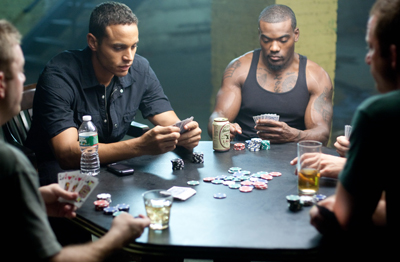 Of all the people in her brash dysfunctional family, Stephanie Plum relates to her Grandma Mazur the most. As played by screen legend Debbie Reynolds, Grandma Mazur is a plucky, opinionated woman who's resolutely unwilling to grow old. "Stephanie and Grandma Mazur are actually kindred spirits," explains Janet Evanovich. "They're like the two bad apples on the family tree, in a good way. Grandma Mazur's a woman of a certain age who doesn't see any limitations to her life. She's up for extreme bowling. She'll do nude karaoke. You name it, Grandma Mazur's there."
"Grandma Mazur is a real character," admits Debbie Reynolds with a laugh. "The part reminded me of my girlfriend Thelma Ritter years ago when all she did was wonderful character parts, and I never really had the opportunity to play those roles. So when this was offered to me, I said, 'Well, I'd like to do that.'"
"As a person she's fantastically funny and sharp-witted and raunchy, and she brought all of that to the part," says Katherine Heigl of Debbie Reynolds. "I love her. And I love how she brought Grandma Mazur to life."
As Stephanie's mother, Mrs. Plum, New York actress Debra Monk appreciated portraying a real working class family onscreen. "I think everybody can relate to this family," offers Debra Monk. "In today's world where people need jobs and are being let go and there's no money, it really speaks to what's happening today. It speaks to all working class families."
Having grown up in a blue-collar neighborhood, actor Louis Mustillo immediately understood the part of Mr. Plum. "I see Mr. Plum as a really well-liked guy," he says. "He says what he has to say at home and his mother-in-law is there all the time who's quite a lot to handle. So he's a saint, really. He's the type of guy who you could call at four o'clock in the morning and he'd come and help you fix your flat tire."
Apart from her family, Stephanie Plum encounters a colorful range of characters in her transition from lingerie salesperson to recovery agent. As she explores the seedy side of Trenton, Stephanie meets Lula, a prostitute played by Sherri Shepherd, who offers her information about the Morelli case. "It was kismet," says Sherri Shepherd of winning the part of Lula. A longtime fan of Janet Evanovich's book, Sherri Shepherd had fantasized about playing Lula before she ever heard of a film adaptation. "I remember thinking, 'Gosh, if it ever becomes a movie I really want to play this woman. She's evolved and sassy and she's fun.'" Sherri Shepherd got her wish, and she's thrilled to have a hand in bringing Stephanie Plum's world to life. "Stephanie Plum is a woman who goes after what she wants even when the chips are down," she says. "She fights, and she's a strong woman. I think we need to see more women like that."
As Stephanie investigates the darker underbelly of Trenton, she crosses paths with volatile men like Benito Ramirez, a boxer with a violent temper played by Gavin Keith Umeh, and Benito's manager, Jimmy Alpha, played by John Leguizamo. "I'm the boss," says John Leguizamo. "I'm the alpha male in the movie. I'm a boxing manager and I've got my fighters that I promote and I'm trying to just make an honest living like a regular guy."
Observes Tom Rosenberg, "John Leguizamo had different approaches to each take, he ad-libbed new lines that were really very good. He gave us a lot of options to work with. He's a very creative actor who actually makes his role better."
All of these characters come together to create the vibrant diversity of Trenton, N.J., a city Janet Evanovich knows well from her early years and which serves as the setting for the entire Plum series. Stephanie's particular neighborhood, known as "The Burg," is an area with a strong cultural identity, a lot of attitude and plenty of food.
"The Burg is a real character in the film," says Janet Evanovich. "It's an inner city neighborhood, a little enclave of second-generation Americans. They're proud to be Americans and they're working class people for the most part. They have their rituals. They sit down to pot roast dinner at five o'clock and you'd better not be late. They gossip at the deli - this is the major way that information is passed in the Burg - and it's a very family-oriented situation. I like that the neighborhood is a family."
The production team searched extensively for locations that would stand in for Trenton as it looked fifteen years ago, finally settling on Pittsburgh, PA and its outlying areas. "The look of the film is urban and it's not pretentious," Gary Lucchesi says. "It's very middle and working class, and Pittsburgh afforded us a number of locations. We shot in Braddock, which was once a thriving steel town. We also shot in a neighborhood called Friendship and in Bloomfield, which is the Italian-American district. That's where the Plum house is and it felt very right for Stephanie."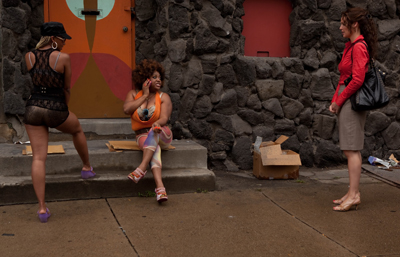 "There wasn't one set that I went to and thought, 'I think that should be different,' or, 'It looked different in my mind,'" asserts Katherine Heigl. "The look of this film is so vital. It was really important to all of us that this film not look like a glossy romantic comedy, because that's not what this is. It has the romance. It has the comedy. But it's also a murder mystery that takes place in Jersey. It has tough characters and a really blue-collar sense to the whole thing. These are real people in real situations."
Gary Lucchesi hopes that Janet Evanovich's loyal fans will experience a similar thrill watching the film as they did reading the novel. "In most of the Plum novels, there are murders, people die and Stephanie's life is in danger," he says. "But at the same time you've got characters like Grandma Mazur and Lula or Vinnie Plum who deliver broad character comedy. So you have this interesting blend of comedy and drama and action. That's what sets these books apart. And I think we've achieved that in our film version."
Janet Evanovich agrees wholeheartedly. "I think the movie was very successful in translating the tone of my book. In fact, I think it enhances it. This is an action adventure film. The movie is fast paced. It is sexy, it is funny, it is Jersey. I love the movie. Even if I didn't write the book I'd love th