Q. What attracted you to the role of Summer in this film. Do you find in her something of yourself?
Rachel Weisz
: I think the energy and spirit of Summer is what attracted me to the role. Shes a lot of fun. Shes curious and wants to experiment with life. Shes bold. Shes very bold. Im English and a bit more polite. Shes direct, very direct. We are very different. Im an English born actress. Shes an uptown Manhattan journalist. So, we are very different.
Q. What was the challenge to play this part?
Rachel Weisz
: It was not tremendously challenging where I had to go to an emotional place or a dark serious drama. It was fun and light. It was kind of a delicious experience. Very sweet.
Q. What was the atmosphere like on the set?
Rachel Weisz
: The spirit on the set was fun. A lot of credit goes to the director Adam Brooks. He wanted the atmosphere to be happy and the mood on the set all comes from the director. He wanted to keep it light and fun and sweet.
Q. Describe the relationship between Summer and Will.
Rachel Weisz
: She meets him first when shes a graduate student. Hes from the Midwest, real innocent, naïve and wide-eyed. Hes never been to a big city. Hes never met a woman like Summer before. She is very sophisticated and up-town, cosmopolitan, and she calls him a boy-man. Later in the film when she meets him, hes grown up, more sophisticated and mature and she calls him a man-man. Shes attracted to him. She falls in love with him. She really does. And then she has to choose between telling the truth in her profession as a journalist about a politician, or to cover up the story, and as a journalist she has to choose between the two. The relationship is very passionate. I think they are in love. He grows up and then becomes her equal.
Q. The story is about second chances. Do you have a second chance life experience?
Rachel Weisz
: Nothing major so far, like divorce and children, but I feel that Ive had a lot of extra chances. For me, I feel that every new job is a new chance.
Q. Do you enjoy working in comedies?
Rachel Weisz
: I did one more comedy that is coming out in the fall and another film that is already out. So far Ive done three comedies.
Q. Is it easy for you to speak with an American accent?
Rachel Weisz
: Ive played so many American roles lately, in fact now Im a bit scared that I have an upcoming British role! It will be strange.
Q. Do you enjoy the nineties music soundtrack?
Rachel Weisz
: I loved the nineties music, especially Nirvana.
Q. How is it to work with Ryan Reynolds?
Rachel Weisz
: Hes sweet. Handsome and kind. Hes a different type of leading man.
Q. Do you enjoy now living in New York?
Rachel Weisz
: I love the international feeling here. Different foods. Different people. Theres everything here. Museums, theatre, theres so much to do I feel guilty about not doing too many things.
Q. What do you miss about living in London.
Rachel Weisz
: I miss London very much. The conversations, the little things like the little shops there. Its a different way of interacting with people there. Its fast here, and its a little more mellow back in London.
Q. What do you look for in a role?
Rachel Weisz
: Complexity. To play contradictions in a person. Complex roles.
Q. What did you see in this movie to choose this role?
Rachel Weisz
: Its a different kid of story. Its about real life complexities of having a kid, then being divorced, and then getting a second chance at love. It also reminds me of the old films from the fifties, where you grab a duvet and get a box of chocolates to curl up with and watch the film.
Q. How they handled the topic of divorce and its impact on a family in the film is modern. How do you feel about this?
Rachel Weisz
: The child of divorce seems well adjusted in this film. Sometimes people analyze too much. The thing about life is that the world is changing and there are some incredible things about it and there are some terrible things about it. I think that we should look that the good outweighs the bad.
Q. How about relationships?
Rachel Weisz
: Its very human to adjust to the people you are in relation with. Then you perhaps find yourself. Sometimes you feel open when you find the right person, you can find your true self.
Q. How about politics. The Clinton campaign was big in the nineties, and currently there is another Clinton campaign. What do you think about the issues of a woman in politics, like the American Presidency or like a Margaret Thatcher?
Rachel Weisz
: Gender differences in England or America is a big topic.
Q. In politics is there a place for truth?
Rachel Weisz
: That is what the character says that is played by Kevin Kline… that you must go intensely after the truth.
Q. Is it difficult for you to find good female roles?
Rachel Weisz
: This film has three. I think all the roles for the women have great qualities. I was happy to play the role of Summer.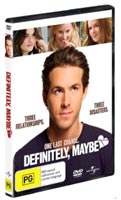 Definitely Maybe DVD
Cast
: Ryan Reynolds, Abigail Breslin, Isla Fischer, Rachel Weisz, Elizabeth Banks, Kevin Kline and Derek Luke
Director
: Adam Brooks
Genre
: Romantic Comedy
Rated
: M
Running Time
: 100 minutes
From the creators of Love Actually and Bridget Jones Diary comes Definitely, Maybe, a romantic comedy that tells not one, but three stories of love.
Definitely, Maybe is not your average romantic comedy, with three star actresses, Isla Fischer, Rachel Weisz, Elizabeth Banks and an all-star support cast Kevin Kline and Derek Luke joining Ryan Reynolds and Abigail Breslin.
When faced with her parents impending divorce, Maya Hayes asks her father to tell her about how he met her mother. Concerned that they are making a mistake, she hopes that reminding him of his original love will bring them back together. What she doesnt anticipate is that her father, Will Hayes, has been in love three times.
Changing each of the names of the women he has loved, Will talks his daughter through a 'G-Rated Love Story Mystery where she has to try and guess which of the three women is her mother.
There is Emily (Elizabeth Banks), his college sweetheart, April (Isla Fisher), his long-term best friend and Summer (Rachel Weisz), a free-spirited but ambitious journalist who is out-of Wills league.
A not-so-ordinary love story, Definitely, Maybe takes its audience through the love, life and trials of one man and his constant bad luck with Cupid. Three Romances....Three broken hearts.... can his daughter Maya put the pieces of her dad's romantic puzzle together so she can understand that love is not so simple or easy.... and Will realises that it's never too late to get a second chance in love.
DVD Bonus Material
Deleted Scenes,
Creating Romance-How the film was made,
The Challenging Times of Definitely Maybe,
Feature commentary with director Adam Brooks and Ryan Reynolds.
"Sweet, funny, simple, entertaining -everything a good rom-com should be" Empire US
Definitely, Maybe is available to own or rent on DVD now
www.definitelymaybemovie.com.au
Order Now from Chaos
Order Now from Sanity